2015 was bookended by the Charlie Hebdo and Bataclan massacres in Paris. Meanwhile, Islamic States violated human rights through blasphemy laws, lack of due process, persecution, floggings and executions, and ISIS tried to bring us back centuries to an even more barbaric implementation of Sharia law.
Ireland was at the forefront of both secular progress and resistance to secular progress. We became the first country in the world to legalise marriage equality by popular vote in a referendum, an outcome that would have been unthinkable a short few years ago.
However, although the people have moved on, the politicians and laws have to catch up. The Catholic Church still runs 90% of state-funded primary schools, Ireland still has a law against blasphemy, and the Government claims it is constitutionally obliged to buttress religious discrimination.
This is my review of 2015 as an atheist and secular activist, along with links to some important books published during 2015 by Ayaan Hirsi Ali, Dan Barker, Jerry Coyne, Michael Sherlock, Raif Badawi, Richard Dawkins, Sam Harris, Maajid Nawaz, John Loftus, and David Silverman, and the IHEU Freedom of Thought Report. Some highlights/lowlights of the year include:
January 2015: 'Je Suis Charlie' response to terrorist murders
February 2015: Atheist Ireland meets with Irish Prime Minister
March 2015: One Law For All petition to Bangladeshi Government
April 2015: Atheist Ireland publicly dissociates from PZ Myers
May 2015: Ireland legalises marriage equality by referendum
June 2015: UN briefing in Geneva on religious discrimination
July 2015: Andrew Gilligan misrepresents Abdullah al Andalusi
August 2015: Atheist Ireland launches Schools Equality PACT
September 2015: OSCE human rights conference in Warsaw
October 2015: Catholic schools teach: confused Mary says 'Yes!'
November 2015: Paris murders show need to protect democracy
December 2015: IHEU publishes Freedom of Thought Report
I would like to thank everyone who has helped Atheist Ireland in any way during the year, particularly the incredibly hardworking (and voluntary) members of our national and regional committees, as well as our colleagues in Atheist Northern Ireland and Atheist Alliance International. Also, thank you to everyone who has read or commented on my blog, my Facebook page and my Twitter account. I look forward to an equally productive 2016.
January 2015: 'Je Suis Charlie' response to terrorist murders
The Charlie Hebdo massacre united people around the world under the slogan 'Je Suis Charlie', in support of free speech and condemnation of religious terrorism. But several States also support execution for blasphemy. Christian woman Asia Bibi still faces execution for blasphemy in Pakistan, where two politicians who supported her were murdered. Ireland is the only European country to have introduced a contemporary blasphemy law. At the United Nations Human Rights Council in 2009, Pakistan proposed adopting wording from the Irish blasphemy law, as part of efforts by the Organisation of Islamic Cooperation to limit human rights on freedom of conscience.
Atheist Ireland helped to found a new international campaign to end blasphemy laws. The new Coalition was a merger between two concurrent campaigns, one coordinated by the International Humanist and Ethical Union and the European Humanist Federation, and the other by Atheist Alliance International, Atheist Ireland, Centre for Inquiry Canada, Humanist Canada, Association Humaniste de Quebec, the Humanist Society of New Zealand, and the Icelandic Ethical Humanist Association. The End Blasphemy Laws campaign argued that blasphemy and insult to religion laws are wrong in several ways:
They violate the human right to freedom of expression
They protect religious belief and practices, institutions and leaders, from legitimate and necessary criticism
They are intrinsically bad laws
They legitimise mob violence, vigilantism, and persecution of minorities.
Pope Francis responded to a question about the Paris massacre by saying "I believe that you cannot react violently, but if my good friend Dr Gasparri says a curse word against my mother, he can expect a punch. This is normal. It is normal. You cannot provoke. You cannot insult the faith of others. You cannot make fun of the faith of others." Such language by a public figure about a mass murder, even when intended rhetorically and humorously, is irresponsible. Such violence is wrong, even if the Pope thinks it is normal. And of course you can make fun of the faith of others. You have rights; your beliefs do not.
On RTE's The Meaning of Life, host Gay Byrne asked Stephen Fry what he would say if confronted by God after he died. Fry replied that he would say: "Bone cancer in children? What's that about? How dare you create a world in which there is such misery that is not our fault? It's not right. It's utterly, utterly evil. Why should I respect a capricious, mean-minded, stupid God who creates a world which is so full of injustice and pain? Because the God who created this universe, if it was created by a God, is quite clearly a maniac, utter maniac. Totally selfish. We have to spend our life on our knees thanking him?! What kind of god would do that?"
I discussed and debated atheist, secular and religious issues on RTE Television, BBC Radio Ulster and Today FM, and at UCD Law Society and TCD Metaphysical and Theological Societies:
February 2015: Atheist Ireland meets with Irish Prime Minister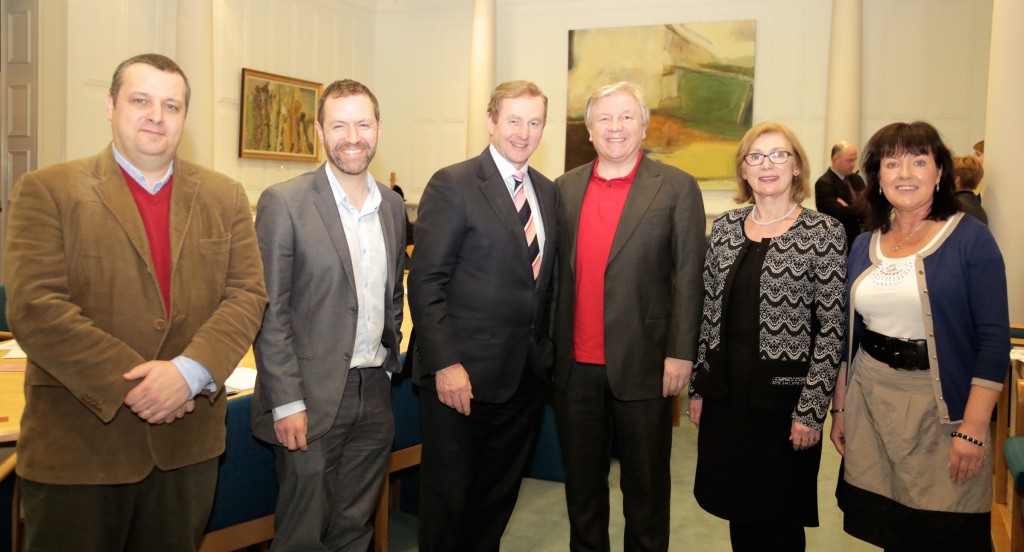 Atheist Ireland had a breakthrough dialogue with Taoiseach Enda Kenny and Minister for Education Jan O'Sullivan, at the first ever formal meeting between an Irish Prime Minister and an atheist advocacy group in the history of the State. We brought an atheist parent, an atheist student at and an atheist teacher to give first hand accounts of the religious discrimination they face. The meeting lasted more than twice its scheduled time as we explained our philosophy, our aims, and our work in promoting an ethical secular State based on human rights. It marked the start of an ongoing dialogue process, in which we are still having detailed follow-up meetings with Department officials and Ministerial advisors about the changes that we believe are needed to respect our fundamental rights.
An American man, Craig Hicks, murdered three of his neighbours, Deah Shaddy Barakat, Yusor Mohammad Abu-Salha, and Razan Mohammad Abu-Salha, in Chapel Hill, North Carolina. I analysed what Hicks wrote online about his beliefs, and I found nothing to justify the public speculation by others that he murdered his neighbours because he was an atheist and they were Muslims. I also analysed and wrote about two other issues: his stated Native American ethnicity and his defence of Muslims, and his anger at people driving in passing lanes on highways. In doing this, I was reporting about what Craig Hicks had written online about his beliefs. I was not speculating about why he murdered his neighbours, because I do not have enough reliable information.
Atheist Ireland met with officials from the Department of Justice to discuss the Irish blasphemy law. Following this meeting, we are more optimistic about the eventual removal of blasphemy from the constitution, and of its possible replacement with a more positive clause about freedom of expression, that Atheist Ireland had proposed to the Constitutional Convention, but that the Convention had not voted on. However, we remain concerned about the timescales that are ultimately dictated by the Government's shifting policy priorities.
Atheist Ireland met with CFI Canada in Toronto to announce the charter of International Coalition Against Blasphemy Laws. We also gave Taoiseach Enda Kenny an open letter about the Irish blasphemy law, coordinated by John Hamill and signed by more than forty Irish and international scientists, philosophers, writers, comedians, politicians and activists, including Richard Dawkins, Maryam Namazie, Steven Pinker, Taslima Nasrin, Lawrence Krauss, Ann Marie Waters and Michael Shermer. The Guardian also published the open letter.
I discussed and debated atheist, secular and religious issues on BBC Radio Ulster, Radio Kerry, Today FM, Newstalk and KFM Radio:
March 2015: One Law For All petition to Bangladeshi Government
Atheist Ireland supported the One Law For All petition to the Bangladeshi Government, seeking prosecution of the Islamists who killed Avijit Roy and protection for freethinkers. Avijit had received numerous threats over the years for publishing articles critical of Islam, and promoting secular views, science and social issues on the Bengali-language blog, Mukto-mona (Free Mind), which he founded, before Islamists brutally hacked him to death and seriously attacked his wife. Avijit was the first of five secular bloggers or publishers who were hacked to death in Bangladesh during 2015. Oyasiqur Rhaman was killed in Dhaka in March, Ananta Bijoy Das was killed in Sylhet in May, Niladri Chattopadhyay Niloy was killed in Dhaka in August, and Faisal Arefin Dipan, Avijit Roy's publisher, was killed in Dhaka in October.
Atheist Ireland met with the National Council for Curriculum and Assessment (NCCA) to discuss our concerns about the proposed Education about Religions and Beliefs (ERB) and Ethics course for Primary Schools. Given the legal framework in Ireland, and the fact that we have direct experience of a Religious Education course at second level, we requested that our right to exempt our children from this course is recognised and guaranteed. We cannot see how this course will promote respect for our human rights, given the fact that the NCCA have no power to ensure that schools deliver this course in an objective, critical and pluralistic manner and in accordance with the Toledo Guiding Principles and human rights law.
I wrote about how a psychic medium jailed for stealing can legally solemnise marriages in Ireland, but atheists can not. Tom Colton had just been jailed for two and a half years for stealing €320,000 from an elderly couple, one of whom has Alzheimer's disease. Colton remained legally allowed to solemnise marriages, because his Spiritual Union of Ireland is considered a religion, despite Atheist Ireland not being allowed to nominate solemnisers under the same law. The Humanist Association of Ireland has signed up to solemnise marriages under this law, making personal financial profits for their solemnisers, despite the law overtly discriminating against atheists.
I gave the Irish Skeptics' first public lecture of 2015 on the topic: "Tough on ideas, supportive of people – how atheist and skeptic groups can be robust, inclusive and ethical." I covered five areas where we can be tough on ideas and supportive of people:
Promoting skeptical inquiry over faith-based conclusions
Promoting atheism over faith-based supernaturalism
Promoting natural compassion and ethics
Promoting inclusive, caring atheist groups
Promoting fair and just societies with secular government
I discussed and debated atheist, secular and religious issues on BBC Radio Ulster and at the Islamic Society in University College Dublin:
Heretic: Why Islam Needs a Reformation Now by Ayaan Hirsi Ali was published. From the description: "Continuing her journey from a deeply religious Islamic upbringing to a post at Harvard, the brilliant, charismatic and controversial New York Times and Globe and Mail #1 bestselling author of Infidel and Nomad makes a powerful plea for a Muslim Reformation as the only way to end the horrors of terrorism, sectarian warfare and the repression of women and minorities."
April 2015: Atheist Ireland publicly dissociates from PZ Myers
Atheist Ireland publicly dissociated itself from the hurtful and dehumanising, hateful and violent, unjust and defamatory rhetoric of the American shock-blogger PZ Myers. Among many examples, he said that 'the scum rose to the top of the atheist movement', that it is 'burdened by cretinous reactionaries', that Richard Dawkins 'seems to have developed a callous indifference to the sexual abuse of children' and 'has been eaten by brain parasites', and that Robin Williams' suicide was 'the death of a wealthy white man dragging us away from news about brown people'. Atheist Northern Ireland supported Atheist Ireland's dissociation, and Friendly Atheist Hemant Mehta wrote that it was no wonder that Atheist Ireland wants nothing to do with PZ Myers.
Atheist Ireland joined the Coalition to Repeal the Eighth Amendment, to enable the Irish Government to legislate for abortion consistently with the human rights of pregnant women. In January 2013, Atheist Ireland were witnesses at the Irish parliamentary hearings on abortion law, along with representatives of six Irish religions. We asked the Irish Parliament to not limit itself to legislate comprehensively based on human rights and compassion, and to respect the right of religious people to act in accordance with their own religious values, but not to impose their own religious values on pregnant women who do not share those religious values.
Atheist Ireland hosted a public debate on marriage equality as part of our referendum campaign, chaired by Ashling O'Brien. Supporting the referendum were Max Krzyzanowski and Brendan Butler. Opposing the referendum were Susan Philips and Tom Carew.
The Iona Institute made a significant U-turn by finally registering as a third party with the Standards in Public Office Commission, just weeks after they made a declaration to the Commission that they did not consider that they had to register, and less than a week after Atheist Ireland challenged that decision in a letter to the Commission. The Catholic Church and the Humanist Association of Ireland have not registered with the Commission, despite both organisations clearly promoting political causes.
Atheist Ireland sent a submission to the United Nations Committee on Economic, Social and Cultural Rights, which will be examining Ireland in June about its human rights obligations under the International Covenant on Economic, Social and Cultural Rights. We told the UN that the Irish Constitution is incompatible with our human rights obligations, that the Irish State has no plans to adopt comprehensive anti-discrimination legislation, that two Ministers had claimed that a referendum will be needed to remove discrimination in our education system, and that there is no effective remedy through the courts to vindicate the rights guaranteed by the ICESCR.
Atheist Ireland and Atheist Northern Ireland marked Openly Secular Day by recording a video, along with our guests from America Aron Ra and Lilandra Ra, who also spoke to an Atheist Ireland meeting about how religion harms education and about atheism in Texas.
The Irish Times published a tribute that I wrote to my late wife Anne Holliday, on the fourth anniversary of her death from lung cancer. Anne was smart, sexy, funny and courageous and we loved each other very much for all of the twenty five years that we lived together. I still remember possibly the most profound thing Anne said while she was dying. We were lovingly cuddled in bed with three of our cats, and Anne said to me, "You know, I'm really going to miss this." Then she paused, and corrected herself. "Actually, I'm not going to miss this. You are going to miss this."
I discussed and debated atheist, secular and religious issues on RTE, Newstalk and Today FM:
Life Driven Purpose: How an Atheist Finds Meaning by Dan Barker was published. From the description: "Every thinking person wants to lead a life of meaning and purpose. For thousands of years, holy books have told us that such a life is available only through obedience and submission to some higher power… In this volume, former pastor Dan Barker eloquently, powerfully, and rationally upends this long-held belief. Offering words of enrichment, emancipation, and inspiration, he reminds us how millions of atheists lead happy, loving, moral, and purpose-filled lives."
May 2015: Ireland legalises marriage equality by referendum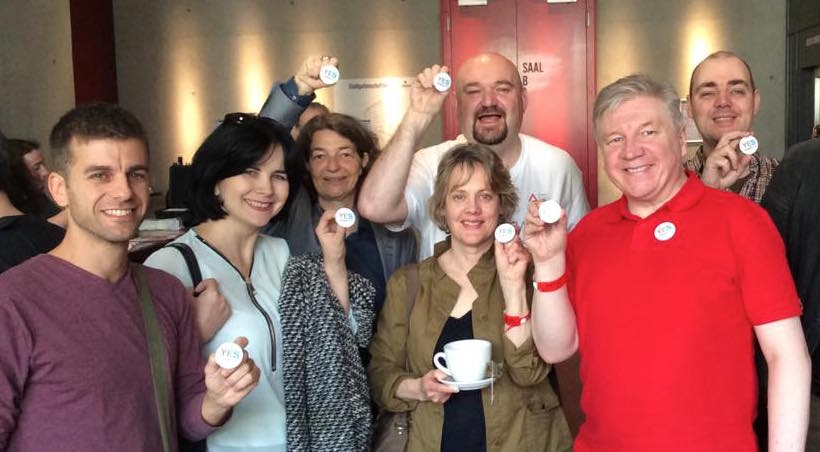 Ireland became the first country in the world to legalise marriage equality by popular vote. I was at the IBKA International Atheist Conference in Cologne, Germany, on the day that the referendum victory was announced. While I would have preferred to be in Ireland for the celebrations, it was invigorating to see the impact of the result on an international audience who had mostly seen Ireland as a purely Catholic country.
Although I also spoke about lessons from the Irish referendum result, my scheduled talk at the IBKA conference in Germany was about five steps to peaceful secularism. These were:
Stand up to violence
Seek respectful dialogue
Start with human rights
Be proactive in politics
Establish secular schools
Atheist Ireland asked RTE to reconsider its new Angelus video competition as disrespectful and pre-evangelising. We argued that As a national broadcaster with a public service remit, RTE should not propose that atheists and secularists should pause and reflect during a Catholic call to prayer. This is disrespectful to the philosophical convictions of many citizens, facilitates Catholic pre-evangelisation, and is contrary to Principle 5 of the BAI Code of Programme Standards.
Atheist Ireland hosted the Irish premiere of Chris Johnson's movie A Better Life, in the Screen Cinema in Dublin, followed by a Q&A session with Chris, who produced the film while traveling the world to photograph 100 atheists for his coffee-table book of the same name.
I contributed some content to Peter Boghossian, author of A Manual for Creating Atheists, for his coming iOS and Android app called Atheos. It will help people to have non-confrontational discussions about gods, religion, faith, and superstition. It will show how to gently explore a person's strongest beliefs, and use reason to politely help people understand why they may not be correct. Based on the progress to date, it will be both a comprehensive resource for the rest of us, and a labour of love for Peter and his team.
I discussed and debated atheist, secular and religious issues on Freethought Radio, Bread and Roses TV show and Trolling with Logic podcast:
Faith Versus Fact: Why Science and Religion Are Incompatible by Jerry Coyne was published. From the description: "The New York Times bestselling author explains why any attempt to make religion compatible with science is doomed to fail. In his provocative new book, evolutionary biologist Jerry Coyne lays out in clear, dispassionate detail why the toolkit of science, based on reason and empirical study, is reliable, while that of religion—including faith, dogma, and revelation—leads to incorrect, untestable, or conflicting conclusions."
June 2015: UN briefing in Geneva on religious discrimination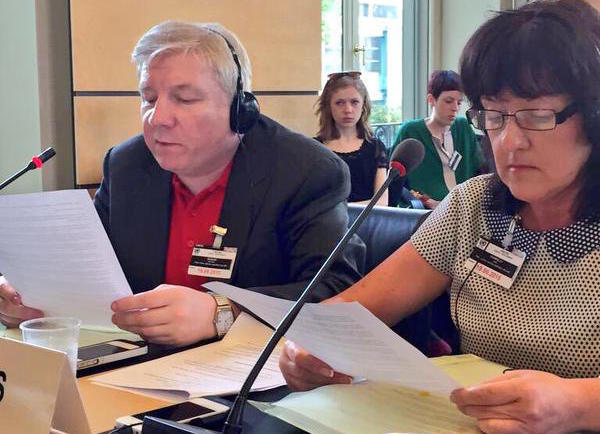 Atheist Ireland briefed the United Nations Committee on Economic, Social and Cultural Rights in Geneva, Switzerland, before the committee questioned Ireland about its human rights obligations. The Committee told Ireland to end all religious discrimination in education, vindicating the complaints raised by Atheist Ireland, and it made several recommendations that Atheist Ireland specifically suggested. Significantly, the chair of the Committee said that there are problems in the developing world with regard to separation of church and state, but by European standards separation of church and state is sacrosanct and Ireland is unique.
I spoke at the launch of a new Bill, proposed by the Anti-Austerity Alliance, to amend the Employment Equality Act to stop religious schools and hospitals from discriminating against LGBTQ and atheist teachers and other staff. The Bill has the support of a wide number of groups, including the Gay and Lesbian Equality Network, the ASTI, the INTO, the TUI, Atheist Ireland, LGBT Noise and ICTU Youth.
The Irish Taoiseach (Prime Minister) Enda Kenny reported to Parliament on his meeting with Atheist Ireland in February. He said that the discussion had focused on the philosophy and aims of the organisation, a secular constitution, laws and practices, matters concerning the education system, and the constitutional and human rights of atheists in Ireland. Other TDs gave their views on secular issues, including socialists and independents Ruth Coppinger, Joe Higgins and Richard Boyd Barrett; Micheal Martin of Fianna Fail; and Gerry Adams of Sinn Fein.
I discussed and debated atheist, secular and religious issues on Newstalk and BBC Radio Ulster:
July 2015: Andrew Gilligan misrepresents Abdullah al Andalusi
I wrote an analysis of how Telegraph writer Andrew Gilligan had misrepresented Abdullah al Andalusi of the Muslim Debate Initiative, by implying that Abdullah was a sympathiser for ISIS and terrorism. I have no vested interest in defending the Islamic worldview. I disagree with it fundamentally. I believe that religion corrupts our sense of reality and our sense of morality. I campaign actively against injustices perpetrated by Islamic States. I also believe that Abdullah al Andalusi is sincere and nuanced in his beliefs, and that he has the right to have his beliefs reflected accurately and debated rationally. If we (whether from a secular or Islamic viewpoint) are to collectively defeat ISIS, we need prominent Muslims who are prepared to publicly and explicitly condemn terrorism. When somebody like Abdullah repeatedly does this, from an Islamic rather than a secular perspective, it is both defamatory and counterproductive to imply that he is doing the opposite.
Russell Blackford wrote an analysis of another public smearing, this time by the controversial Gawker blog. As a free speech advocate, he examined how such situations can test our understanding of freedom of speech as being more subtle than the simple attitude of: "Government censorship bad; everything else okay." He concluded: "Beyond legal solutions, with their undoubted problems of interpretation, accessibility, and enforcement, and their frequent unforeseen consequences, we can do more. In particular, we can work to marginalise individuals and organisations that engage in the most serious kinds of defamation, public shaming of individuals, and invasion of people's private lives."
Atheist Ireland made a report to the Council of Europe about the Louise O'Keeffe judgment last year in the European Court of Human Rights, a ruling that has implications for all of the human rights that are breached by religiously-run national schools in Ireland. We asked the Council of Europe to not close its examination of this judgement until an effective remedy is in place in theory and in practice to vindicate our human rights. During the case, the Irish State was arguing that it was not responsible for protecting Louise O'Keeffe's human rights while she was in school, because the State did not run the school directly. The European Court told the State that it was responsible, regardless of whether it runs the schools directly.
Atheist Ireland produced a report that explains how Irish school teachers must be Catholic missionaries. The vast majority of publicly funded schools in Ireland are controlled by the Catholic Church, and if you want to get a job as a teacher you have to: (a) have a Catholic Certificate in Religious Studies, and (b) uphold the religious ethos of the school, which the Catholic Church sees as a central part of the mission of the Church. Failing to comply with this religious discrimination will mean that your chances of gaining employment are slim, and that you can be dismissed if you fail to uphold the religious ethos of the patron.
Atheist Ireland highlighted that the Government's proposed new protections for LGBT teachers would still discriminate against atheist teachers. The Labour Party seemed to have forgotten its pledge in the Programme for Government to protect non-faith and minority faith teachers along with publicly out LGBT teachers. A Labour Party press release selectively recast it as a pledge to protect teachers "on the basis of their sexual orientation or family status," without any indication that this was a different commitment to the one in the Programme for Government.
Blasphemy: The Selected Works of a Blaspheming Atheist by Michael Sherlock was published. From the description: "Blasphemy is an assault on some of the greatest insecurities of the religious world. In dealing with issues such as Hitler and his Christian ties and faith, and making the bold, yet honest statement, that ISIS is Islam, Michael strikes at the tender nerve of religion. With this no-holds-barred approach to these issues, backed by a wealth of factual sources, it's sure to be an eye-opener for many. Join Michael A. Sherlock as he dives headlong into the world of Blasphemy."
August 2015: Atheist Ireland launches Schools Equality PACT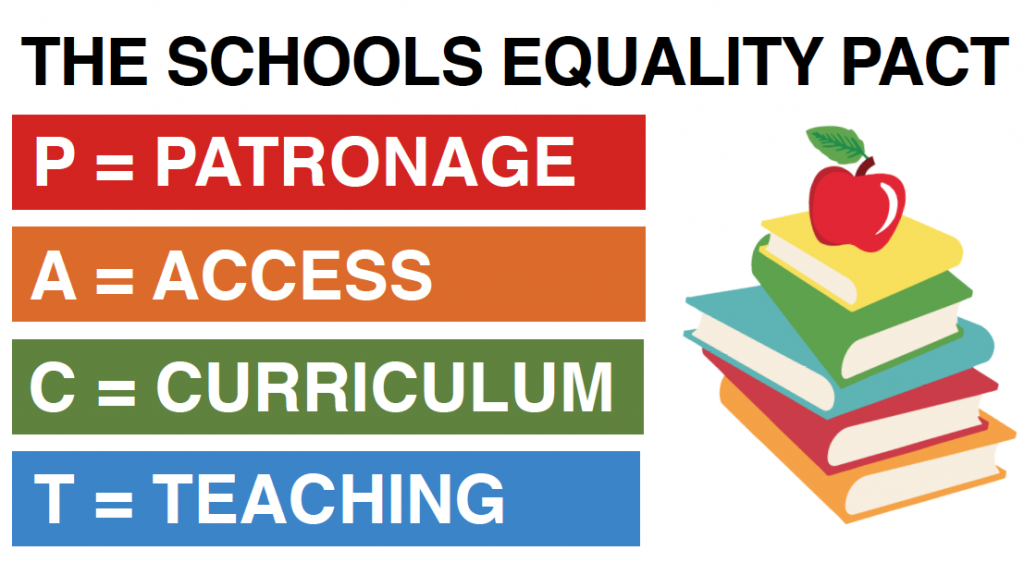 Atheist Ireland launched the Schools Equality PACT, a major new initiative to enable everybody, regardless of your religious or nonreligious beliefs, to support religious equality in Irish schools. It is part of an ongoing campaign of national political lobbying, and representations to UN and other international human rights bodies. PACT is an acronym for the four areas of change that are needed – Patronage, Access, Curriculum and Teaching – in Irish schools. This requires a national network of public secular schools, inclusive of all, neutral between religions and atheism, and focused on the educational needs of all children equally.
I wrote an article for the Irish Times about the Schools Equality PACT, titled 'Four ways to end school discrimination against atheists and minority faiths.'
After Atheist Ireland met the Department of Justice about religious discrimination in Irish equality laws, the Minister for Education and the Department of Justice blamed each other for the continued discrimination against atheists in State-funded schools. The Minister for Education, Jan O'Sullivan, said that she didn't have the legal power to say to schools that "if you are not baptised they don't have to take you in. It is legislation that comes from the Department of Justice and Equality." But at two separate meetings with Atheist Ireland, Deaglan O Briain, of the Equality Section of the Department of Justice, forcefully told us that the Department of Education, and not Justice, is responsible for how the education system is run.
I discussed and debated atheist, secular and religious issues on Newstalk, KFM Radio and the 99% Podcast:
1000 Lashes: Because I Say What I Think by Raif Badawi, translated by Ahmed Danny Ramadan was published. From the description: "Raif Badawi, a Saudi Arabian blogger, shared his thoughts on politics, religion, and liberalism online. He was sentenced to 1,000 lashes, ten years in prison, and a fine of 1 million Saudi Riyal, over a quarter of a million U.S. dollars. This politically topical polemic gathers together Badawi's pivotal texts. He expresses his opinions on life in an autocratic-Islamic state under the Sharia and his perception of freedom of expression, human and civil rights, tolerance and the necessary separation of state and religion."
September 2015: OSCE human rights conference in Warsaw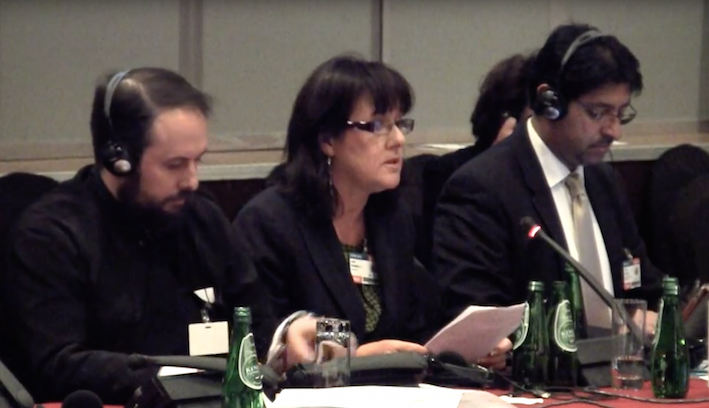 Atheist Ireland made two formal contributions to the OSCE (Organisation for Security and Cooperation in Europe) human rights conference in Warsaw, Poland, highlighting religious discrimination against atheists and members of minority faiths in Ireland and throughout the OSCE. Jane Donnelly spoke on discrimination in the Irish education system, and I spoke on other forms of discrimination. We also engaged in lobbying with various delegations. This was our fifth year speaking and lobbying at this annual conference, which includes over fifty States from Europe, North America and Asia.
Maryam Namazie of the Council of Ex Muslims in Britain had invitations to speak at Warwick University and Trinity College Dublin cancelled then reinstated. Universities should be prepared to host events at which speakers cause offence to people who do not share their beliefs, as long as such events do not break the laws of the land or incite violence or crime. This is important because universities are not the same as private bodies with their own political agendas. Universities are public bodies that should foster freedom of expression, and encourage critical thinking and intellectual growth among students and staff. Universities should resist pressure from student groups and from shock-bloggers to rescind such invitations.
Atheist Ireland submitted a report for the next United Nations Universal Periodic Review of Ireland's human rights record. We will also be attending the review, to lobby the Council members about religious discrimination against atheists and minority faith members in Ireland. As well as this individual report from Atheist Ireland, we contributed to and we endorse a joint report by Irish civil society groups coordinated by the Irish Council for Civil liberties, and we are part of the ESC Rights Initiative which also made a submission.
I discussed and debated atheist, secular and religious issues on Today FM, and at Humani in Belfast and the UCD Literary and Historical Society:
Brief Candle in the Dark: My Life in Science by Richard Dawkins was published. From the description: "In An Appetite for Wonder Richard Dawkins brought us his engaging memoir of his first 35 years. In Brief Candle in the Dark he continues his autobiography, following the threads that have run through the second half of his life so far. He paints a vivid picture, coloured with wit, anecdote and digression. For the first time he reviews with fresh and stimulating insights the evolving narrative of his ideas about science over the course of his highly distinguished career as thinker, teacher and writer."
October 2015: Catholic schools teach: confused Mary says 'Yes!'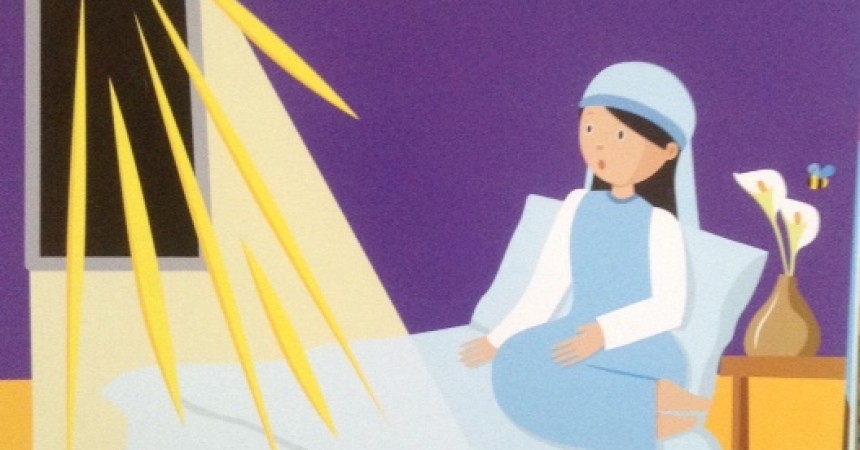 Atheist Ireland highlighted that, as part of the new Catholic religion course 'Grow in Love', six year old infants in Irish schools are being taught that 'Mary says Yes'! to God 'working through her' by making her pregnant, despite Mary being afraid, confused and not understanding what was going on. Mary looks like a little girl in the picture that is to be displayed in all classrooms. When Mary says 'Yes'!, she is sitting on her bed looking startled, it is nighttime, and there is a little kitten with a heart on it beside her on the floor. This is an extraordinary and dangerous message to give to young children. 'Say Yes!', even if you are afraid and confused.
Atheist Ireland made our formal recommendations to the OSCE (Organisation for Security and Cooperation in Europe) after taking part in the Human Dimension Implementation Meeting in Warsaw, Poland. We recommended that the OSCE:
Host an event to combat specifically discrimination against atheists
Appoint an official to report specifically on discrimination against atheists
Support the Dublin Declaration on Secularism and the Place of Religion in Public Life
Support the Dublin Declaration on Empowering Women Through Secularism
Change relations of OSCE and States with the Holy See/Catholic Church
Implement several specific recommendations related to Ireland
Atheist Ireland published the 200th edition of Secular Sunday, our free weekly email newsletter covering atheist and secular news and events. Editor Derek Walsh described it as an Arbitrary Milestone Edition, and rather naively predicted that he may not be here for another two hundred issues. Of course he will! You can subscribe to Secular Sunday here.
I discussed my atheism, as well as morality, religion and secularism, on RTE's The Leap of Faith with Michael Comyn.
I discussed and debated atheist, secular and religious issues on RTE, BBC Radio Ulster, Newstalk and WLR FM:
Islam and the Future of Tolerance: A Dialogue by Sam Harris and Maajid Nawaz was published. From the description: "In this dialogue between a famous atheist and a former radical, Sam Harris and Maajid Nawaz invite you to join an urgently needed conversation: Is Islam a religion of peace or war? Is it amenable to reform? Why do so many Muslims seem drawn to extremism? The authors demonstrate how two people with very different views can find common ground."
November 2015: Paris murders show need to protect democracy
ISIS terrorists murdered 130 people from 26 countries in Paris. 89 of their victims were attending a concert in the Bataclan Theatre by American rock band Eagles of Death Metal. They also attacked people in cafes and restaurants, and at a friendly football match between France and Germany. These murders showed the naivety of those who blamed the Charlie Hebdo cartoonists for the attack on their office in January. Terrorists do not need a reason to carry out specific murders: indeed, a key aim of terrorism is to strike terror into the population generally. This attack highlighted the urgent need to protect the citizens and values of secular liberal democracies.
A Catholic school cancelled, then reinstated, an invitation to me to speak to its final year students. It would have been the first time that a representative of an atheist advocacy group had spoken at a Catholic school in Ireland. However, the school cancelled the formal invitation, in order to uphold and reflect the Catholic ethos of the school, despite the fact that the school has had a Muslim guest speaker who presumably would not have reflected a Catholic ethos. After an Irish Times article and correspondence with Atheist Ireland, the Principal brought the issue to the Board of Management, which decided to honour the original invitation. The talk is now due to take place in January.
Atheist Ireland held our AGM in Cork. We argued that Ireland is gradually moving towards an ethical secular state, but that the politicians and laws have to catch up with the people. When Atheist Ireland was founded seven years ago, one of our first priorities was to make the words atheism and secularism a normal part of social and political discourse in Ireland. We have now achieved that, even though some people still misunderstand or misrepresent us. We will continue this work for as long as it takes to bring about an ethical secular state for a pluralist people.
I took part in The Big Debate in the Stormont Hotel in Belfast, where four hundred people watched I and Rev David Robertson discuss whether Christianity is holding society back in Northern Ireland and generally. The debate was chaired by William Crawley of BBC Radio's Talkback.
Atheist Ireland called for Schools Equality, at a march against religious discrimination in schools organised by Roopesh Panicker in Dublin.
I discussed and debated atheist, secular and religious issues on RTE, Newstalk and BBC Radio Ulster:
How to Defend the Christian Faith: Advice from an Atheist by John Loftus was published. From the description: "The first book on Christian apologetics written by a leading atheist figure that teaches Christians the best and worst arguments for defending their faith against attack. The Christian faith has been vigorously defended with a variety of philosophical, historical, and theological arguments, but many of the arguments that worked in an earlier age no longer resonate in today's educated West. Where has apologetics gone wrong?"
December 2015: IHEU publishes Freedom of Thought Report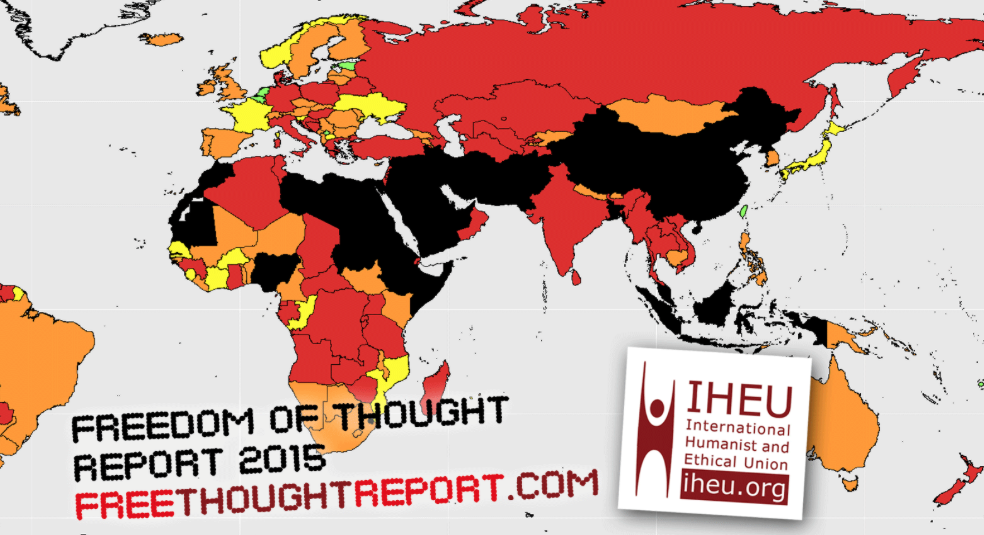 The IHEU published its 2015 Freedom of Thought Report, an annual global report on discrimination against humanists, atheists and the nonreligious. The countries with the best records are: In Eastern Asia: Taiwan. In Northern Europe: Estonia. In Southern Europe: Kosovo. In Western Europe: Belgium, Netherlands. In Oceania Melanesia: Fiji. In Oceania Micronesia: Kiribati, Nauru.
The countries with the gravest violations are: In Eastern Africa: Comoros, Ethiopia, Eritrea, Somalia. In Northern Africa: Egypt, Libya, Morocco, Sudan. In Southern Africa: Swaziland. In Western Africa: Gambia, Mauritania, Nigeria. In Eastern Asia: China, North Korea. In South Eastern Asia: Brunei Darussalam, Indonesia, Malaysia. In Southern Asia: Afghanistan, Bangladesh, Iran, Maldives, Pakistan. In Western Asia: Bahrain, Iraq, Jordan, Kuwait, Qatar, Saudi Arabia, Syria, United Arab Emirates, Yemen.
The Irish Government closed down a debate on ending religious discrimination in schools, by rushing through the final three stages of an Equality Bill in just over an hour, and then voting to betray its own pledge in the Programme for Government to protect atheist and minority faith teachers from religious discrimination. The commitment in the Programme for Government was: People of non-faith or minority religious backgrounds and publicly identified LGBT people should not be deterred from training or taking up employment as teachers in the State. Fine Gael and Labour have now formally abandoned that part of the pledge that protects atheist and minority faith teachers.
Atheist Ireland had sent a briefing document to all TDs, asking them to support amendments that proposed by Deputies Ruth Coppinger, Paul Murphy and Joe Higgins. These proposed amendments recognised the need to tackle together the four aspects of the Schools Equality PACT, in which PACT is an acronym for Patronage, Access, Curriculum and Teaching, in order to bring about religious equality in Irish schools. They also incorporated recent recommendations of the Irish Human Rights and Equality Commission.
The Anti-Austerity Alliance submitted a new Equal Participation in Schools Bill, which incorporates proposals from Atheist Ireland and the Irish Human Rights and Equality Commission on bringing about schools equality. The new Bill will propose fundamental changes to three of the four areas of Atheist Ireland's Schools Equality PACT – Patronage, Access and Curriculum. The Alliance previously proposed a Bill to tackle teaching – the fourth area of the Schools Equality PACT – but Fine Gael and Labour effectively defeated that with their own Government Bill that maintains religious discrimination against atheist teachers.
Atheist Ireland helped a Limerick family who were denied their constitutional right to opt their child out of religious education classes in Irish schools. In two interviews, on Newstalk Radio and Radio Kerry, Jane Donnelly of Atheist Ireland explained how to vindicate this right, as well as telling her own story of opting her child out of such classes.
I discussed and debated atheist, secular and religious issues on Newstalk and BBC Radio Ulster:
Fighting God: An Atheist Manifesto for a Religious World by David Silverman was published. From the description: "Fighting God is a firebrand manifesto from one of the most recognisable faces of atheism. In his book, Silverman-a walking, talking atheist billboard known for his appearances on Fox News-discusses the effectiveness, ethics and impact of the in-your-face-atheist who refuses to be silent. Silverman argues that religion is more than just wrong: it is malevolent and does not deserve our respect. It is our duty to be outspoken and do what we can to bring religion down."
Summary
In 2015, Islamic states and ISIS consistently violated human rights, while Ireland was at the forefront of both secular progress and resistance to secular progress. Atheist Ireland and I will continue to work, both in Ireland and with our colleagues internationally, for ethical secular democracies that respect equally the human rights of all citizens regardless of their religious and nonreligious beliefs. We will also continue to promote atheism and reason as more reliable worldview than religion and supernaturalism. We do not seek the support or funding of any States to promote these arguments.
My review of 2015 for atheists and secularists