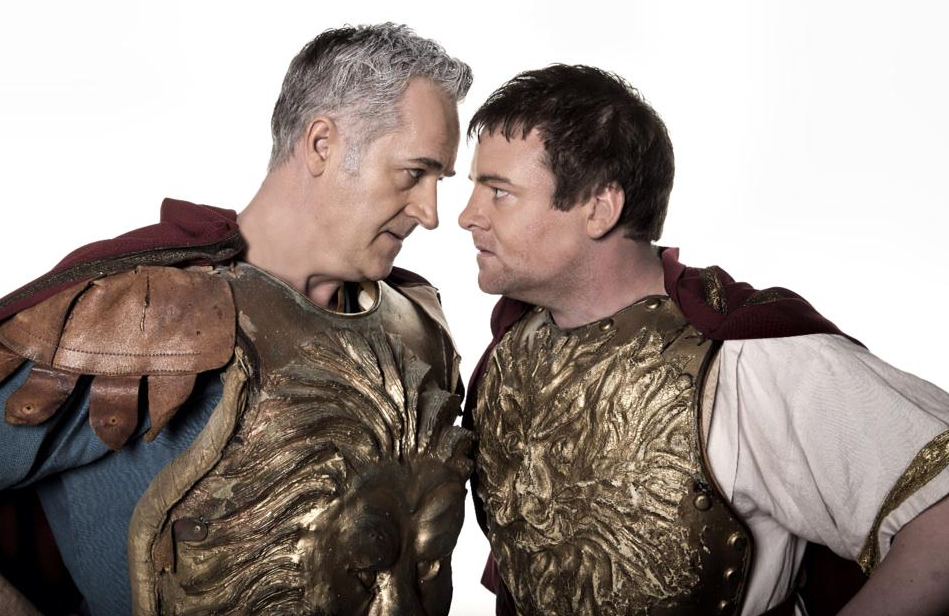 He came. He saw. He went home.
I wrote the comedy musical I Keano with two longtime friends, Arthur Mathews and Paul Woodfull, in 2005. The first production ran for four years to packed houses throughout Ireland and in Manchester, inspired by the nation's shared love for the repeatedly exploding clowns' car of the Football Association of Ireland, which we put to music and added togas. It returned in 2015 for another run in the Olympia.
We tried to capture the essence of the FAI, who once appointed Eoin Hand as national manager because an interview board member thought that rival candidate Paddy Mulligan was the person who had thrown a bun at him during an away trip. But the show's appeal stretched way beyond football fans to a mix of theatre aficionados, comedy fans, couples with a strange taste in dates, families who don't mind strong language, and groups of workers on office nights out.
The Show
The show was based on our generation's civil war, when Roy Keane was sent home from, or walked out of, nobody really knows, Ireland's preparations for the 2002 World Cup. For some reason, the FAI had decided to prepare for the world's most prestigious tournament by forgetting to bring proper footballs to Saipan, an island with no proper football pitch.
I Keano transformed that tragedy into a mock-melodramatic musical, with an ancient Roman Federation preparing for war while waiting for their togas and daggers to arrive. The perfectionist warrior Keano is outraged at the Federation's usual buffoonery, and seeks solace with the wood nymph Dunphia and the Hairdryer God Fergie.
The earnest General Macartacus is caught between the demands of the mythical Keano and the drunken orders of the Federation's leader Ridiculus. The noble Quinness is busy building children's hospitals, while his wife Surfia, the legion's washerwoman, plots a bigger role for Quinness as the Federation's peacemaker.
Packie Bonnerus tries to coach the legionnaires to use the daggers and net-things that gladiators use, while Duffus and Keano the Younger want to go the beach. The drama is chronicled by a team of scribes – Sanctimonius, Obsequius, Scandalus and Superfluous – who mirror the foibles of the mainstream media.
Forty Years of FAI Fun
From the sixties to Saipan, the Football Association of Ireland has always provided first class entertainment. Here is a nostalgia-trip checklist.
1965 – Ireland was in a play-off against Spain to qualify for the 1966 World Cup. The FAI agreed to play the game in Paris, where there would be more Spanish fans, if the FAI could have the Spanish share of the gate money. The Spanish agreed, and won the game.
1970s – The FAI regularly organised friendlies in Poland, where some officials enjoyed the night life, and once did not even stay in the same city as the match. The players travelled from one such game in the luggage carriage of a train, while the officials relaxed on seats.
1980 – After Johnny Giles quit, Eoin Hand beat Paddy Mulligan to the Ireland manager's job by one swing vote. Afterwards, one FAI board member said that he had voted for Hand because he thought Mulligan was the person who had thrown a bun at him on an away trip.
1986 – Jack Charlton became Ireland manager by accident, after the FAI messed up a vote intended to give the job to Bob Paisley. At first Charlton got only three votes out of eighteen, compared to nine for Paisley. The FAI then couldn't contact Charlton to tell him that he had got the job.
1986 – When a friend congratulated Charlton on his new job, he replied 'What job?' On being told he was Ireland manager, he replied 'Oh, I'd forgotten about that.' When Charlton sent his first squad list to the FAI, he found that an FAI official was adding players that he liked onto the list.
1994 – The FAI bought £296,000 of World Cup tickets, and gave most to a tout with the confidence-inspiring nickname of 'George the Greek', who unsurprisingly did a runner. The FAI ended up with a 'trading shortfall' of over £200,000, for which they obtained just 314 extra tickets for one Ireland match.
1996 – Two referees won a court case against the FAI after being downgraded for failing a new test. The judge called the FAI 'an autocracy which was incapable of abiding by its own rules'. The FAI quickly reacted by writing to 142 other referees, banning them all from refereeing for not taking the same test – the exact opposite of the court judgment.
1999 – The FAI announced a plan to spend £65m on a new stadium, but forgot to include the £16m cost of the site, then spent years debating which of two non-existent stadiums they would use. During the optimistic FAI bid to host Euro 2008, the UEFA panel was photographed examining an empty field.
2002 – The FAI prepared for the World Cup by forgetting to bring proper footballs to an island that had no proper football pitch, causing a minor civil war back home. On returning, the FAI ordered an independent investigation into itself. It was surely inevitable that there would be a musical about it.
The Writers
I wrote I Keano with two longtime friends, Arthur Mathews and Paul Woodfull. It was one of the most enjoyable projects I have undertaken, despite some similarities to Saipan attaching themselves to the original production. Here's some detail about us.
Arthur Mathews is one of Ireland's greatest comedy writers. He has written or contributed to numerous popular television UK comedies including The Fast Show, Alas Smith and Jones, Harry Enfield and Chums, Black Books, Big Train, Val Falvey, The Eejits, Hippies, Modern Men, The Catherine Tate Show, Coogans Run, The Day Today, The IT Crowd, Brass Eye, Jam but most notably Father Ted which he co-wrote with Graham Linehan. He has also co-written with Paul Woodfull, RTE's Luneen Live and Val Falvey TD. In 2001 he wrote the critically acclaimed book Well Remembered Days: Eoin O'Ceallaigh's Memoirs of a Twentieth-century Irish Catholic. In 2009 he created a film Wide Open Spaces starring Ardal O'Hanlon. Most recently, Arthur has co-written with Matt Berry, two series of the critically lauded Toast Of London for Channel 4.
Michael Nugent is a bestselling writer and chairperson of Atheist Ireland. His writing ranges from satire to serious, including the number one bestselling Dear John, The John Mackay letters (in which he convinced then Taoiseach Albert Reynolds to help seek an IDA grant to produce dog bowls modelled on dinner plates); Ireland on the Internet, the Definitive Guide; and That's Ireland, a Miscellany. He writes a blog about atheism, reason and happiness at https://michaelnugent.com. For inexplicable reasons, he has since childhood supported Bohemians and Leeds United, seemingly selecting his football clubs based on their future financial irresponsibility. In 1986 he applied to manage the Ireland football team, citing as experience his three games for Willow Park Wanderers Under 11s, but the FAI overlooked him in favour of Jack Charlton.
Paul Woodfull's entertainment career started in 1988, when with Arthur Mathews, he formed U2 parody band The Joshua Trio, riding a donkey into the Baggot Inn, appearing on British and Irish TV and selling out London's Marquee and Dublin's Olympia. Subsequently, Paul has been writing and creating numerous characters, which he has performed live and on Irish TV and radio. He has co-written with Arthur Mathews – RTE radio's Luneen Live, BBC 2's This is Ireland, Channel 4's The Eejits, RTE's Val Falvey and contributed to BBC 2's Big Train. He has also co-written with Paul Tylak the IFTA award winning RTE 2 comedy sketch series Stew. Recently, Paul has been performing live all over Ireland as Ding Dong Denny O'Reilly in events such as The Kilkenny Cat Laughs, The Vodafone Comedy Festival and The Forbidden Fruit Festival. He has also been writing and performing in Irish Pictorial Weekly on RTE 1.