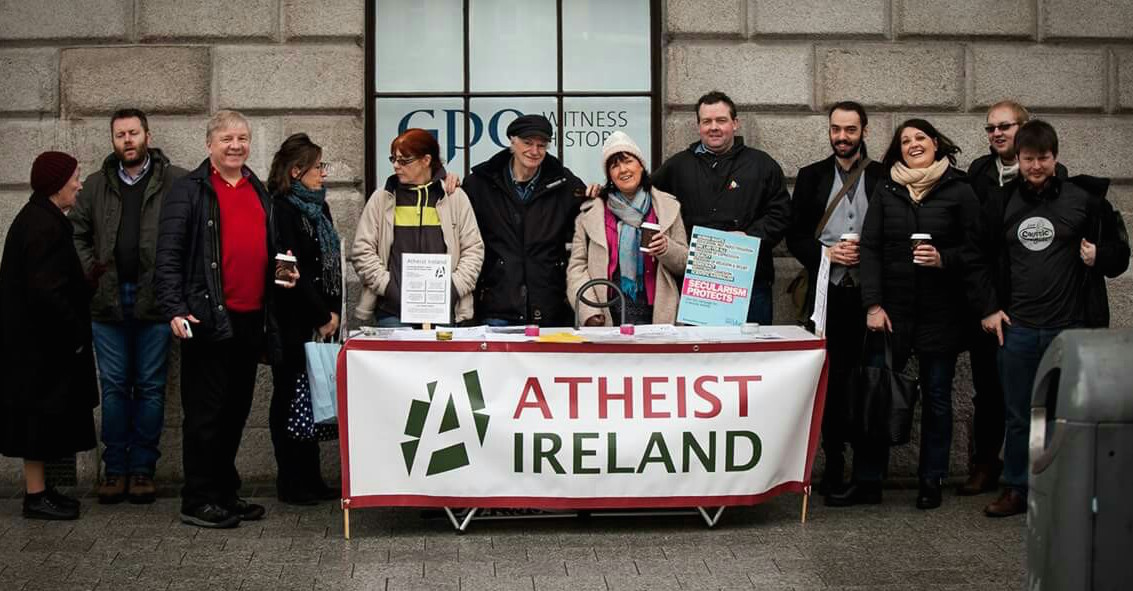 Atheist Ireland today published the following statement:
In a parallel to the ongoing pattern of regressive groups 'disinviting' and 'no-platforming' speakers with whom they disagree, the Dublin Anarchist Bookfair has unilaterally broken an agreement with Atheist Ireland that we would host an information stall at their event last weekend. They thus prevented people attending the event from hearing the opinions of Atheist Ireland about atheism, reason and ethical secularism. The Bookfair is run by the Workers Solidarity Movement.

They broke their agreement just two days before the event, because of unspecified communication between individuals, not on behalf of either organisation, that happened months ago. They interpreted this as implied threats of legal action, which they did not elaborate on, but they wanted Atheist Ireland to guarantee that they were withdrawn, despite us not making them, if indeed they even exist, as a precondition to them discussing their concerns further with us.

We then discovered that the Bookfair also had a stall hosted by AFA Ireland, who have boasted online about chasing and assaulting people on the streets of Dublin. We assume that the Anarchist Bookfair Committee is a law-abiding group of people, and we know that it is not responsible for AFA's behaviour. We also respect their right to invite AFA to their event, but Atheist Ireland does not want to be associated with violent criminality.

Atheist Ireland is happy to have no further dealings with the Dublin Anarchist Bookfair. We publish below their email to us, and our reply to them.
Letter from Dublin Anarchist Bookfair
Dear Atheist Ireland,

We regret to inform you that we are withdrawing our invitation to Atheist Ireland to hold a stall at this year's Dublin Anarchist Bookfair. Our apologies for the late notice which is due to our late circulation of the draft stall list to our own membership. After strong objections from our members, in particular our Queer members, we took the collective decision to withdraw the invitation.

The specific issue is the words and action of your Chairperson during and in the aftermath of the attempted racist protest by Pegida in Dublin. Because these actions included what were clearly meant to be read as threats of legal action against those raising concerns with his words and actions we do not intend to detail them here. We would be willing to discuss this after the Bookfair if we receive a guarantee that such threats have been abandoned.

We realise that Atheist Ireland may consider it unfair that we are withdrawing the invitation based on the actions and words of your chairperson in what he later claimed was a 'personal capacity'. Unfortunately it is our opinion that the failure of AI to formally distance themselves from his words and actions and his dominance as your public face makes such a distinction at this moment in time impossible.

Sincerely,
Dublin Anarchist Bookfair Committee
Response from Atheist Ireland
Dear Dublin Anarchist Bookfair Committee,

Thank you for your email withdrawing what you describe as your invitation to us to host an information stall at your event. Yours is one of the few correspondences that our committee considered replying to by simply saying that we are happy to have no further dealings with you, but on reflection we have decided to also explain why that is our position.

Atheist Ireland promotes atheism, reason and an ethical secular society. We are opposed to abuses of human and civil rights including fascism, street violence, censorship, defamation and discrimination on the basis of religious belief, race, gender, sexual orientation and other grounds. We support peaceful democratic means of promoting our aims. We work together with groups as diverse as the Abortion Rights Campaign, LGBT Noise, the Evangelical Alliance of Ireland, the Ahmadi Muslim Community in Ireland, and many more.

You are correct that your withdrawal was unfair to us, coming just two days before the event, and just one day after you had emailed us asking us to publicise the event. It was also unfair to those who attended your event, who you denied the opportunity to hear our opinions because of yours. However, it was not merely an invitation that you withdrew from. It was an agreement that we had both entered into, and your unilateral breaking of that agreement indicates to us that you cannot be trusted to fulfil agreements.

Atheist Ireland and some of our colleagues, including Richard Dawkins and Maryam Namazie of the Council of Ex-Muslims in Britain, have had similar experiences of agreements being broken in this way, though all have eventually been honoured. We strongly oppose this policy of unilaterally breaking speaking agreements to make a political point, just as we oppose the general policy of 'de-platforming' as an approach to preventing people from hearing different opinions.

Your position is particularly strange. You as an organisation have broken an agreement with another organisation, because of unspecified words and actions between individuals, not on behalf of either organisation, that happened months ago. You claim to interpret the unspecified actions of one person as 'clearly meant to be read as threats of legal action' against 'those raising concerns with this individuals words and actions'.

You have declined to elaborate on what it is that you claim was 'clearly meant to be read as threats of legal action,' yet you somehow expect us to guarantee that these implied threats are abandoned, despite us not making them, if indeed they even exist, and you set this conundrum as a precondition of you even discussing with us your unspecified concerns. It is truly bizarre. Have you even raised your concerns with the person himself?

You also, as an organisation, decided to break an agreement with another organisation because, in your 'opinion', the committee of that other organisation had failed to distance itself from words and actions of their elected chairperson, made in his personal capacity, which you failed to detail. Rest assured that, from whatever we can speculate that you might think you are talking about, the only actions or statements that we wish to distance ourselves from are yours.

Finally, having received your late notice that you were unilaterally breaking our agreement, we checked your website to see who else had information stalls. We noticed that one such group was AFA Ireland, who have boasted online about chasing and assaulting people on the streets of Dublin, alongside anarchists and football hooligans, while referring in derogatory terms to people from another ethnic background.

Atheist Ireland opposes discrimination and abuse based on religion or race or ethnic background, including anti-Muslim and anti-immigrant bigotry, and Islamist abuses of human rights of Muslims and others. We oppose fascism including fascistic street violence, whether it comes from the minority of violent people who attend the anti-immigration events of Pegida throughout Europe, or the minority of violent people who attended the recent pro-immigration event in Dublin.

We assume that the Anarchist Bookfair Committee is a law-abiding group of people, and we know that you are not responsible for AFA's behaviour. We also respect your right to invite AFA to your event, but Atheist Ireland does not want to be associated with violent criminality.

It seems to us that your organisation's aims and methods do not fit with ours. On that basis, as we said at the start of this letter, we are happy to have no further dealings with you.

Sincerely,
Atheist Ireland
Dublin Anarchist Bookfair breaks agreement with Atheist Ireland