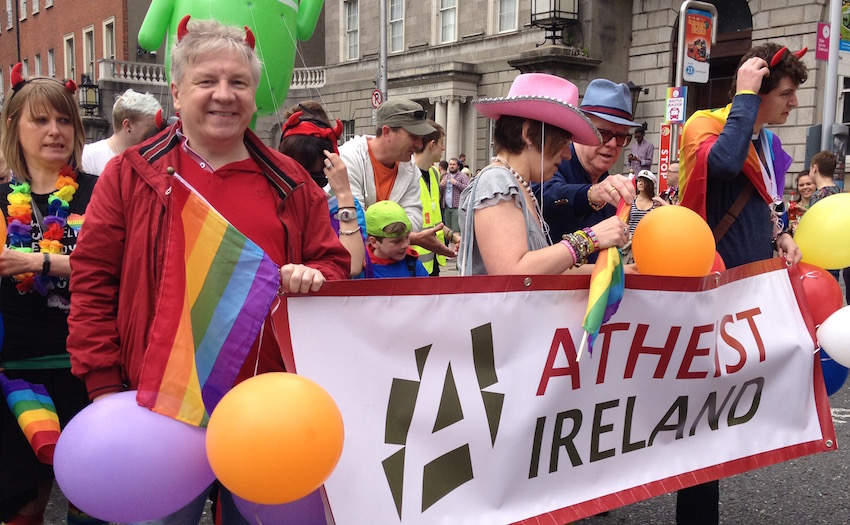 Every so often I must take a break from campaigning for an ethical secular society, to address the latest defamatory smear that some people on the Internet like to shovel in my direction. This one is particularly saddening because it comes from somebody who I considered a friend, who knows from personal experience that the smear is not only untrue but that the opposite is true.
Aoife Fitzgibbon O'Riordan, who before she joined FreeThoughtBlogs has marched alongside me on Gay Pride and Marriage Equality marches, has accused me on Facebook of using dog-whistle homophobia to defend dog-whistle misogyny (courtesy of the now familiar false smear that Richard Dawkins is misogynistic). Whatever Aoife mistakenly believes about Richard, she knows the smear about me is untrue. I ask her to withdraw and apologise for it.
Responding to Aoife's smear, Michael Barron, the Executive Director of the education advocacy group Equate, then bizarrely added: "This doesn't surprise me at all — and it gets worse." I'll address Michael's comment elsewhere. It is a nasty ambiguous smear that implies that he knows worse things about me that he is choosing not to share.
Later, a friend of Aoife's wrote about me on the Atheist Ireland Facebook Page: "Not only has he never read the bible but he is actually homophobic." I won't name her, as she has withdrawn and apologised for that defamatory allegation, but as it has been in the public domain I need to address it just as I have addressed previous smears against me.
The smear
The smear that I am homophobic is simply outrageous. It is part of the current Internet trend of personal insults that have no relation to reality, with people casually hurling the most hurtful allegations that they can think of with no thought of the effect on their targets.
I have campaigned for gay rights for more than thirty five years, longer than some of those who may hear or pass on this smear have been alive, from my days as a students union president to more recent advocacy with the Irish Government, the United Nations and the OSCE.
In the days before mobile phones, I sat with David Norris in his house listening to the hateful abuse left on his answer machine. My late wife Anne Holliday and I organised the first ever gay rights picket of the Irish Papal Nuncio's residence in Dublin, after the Pope said it was okay to discriminate against gay people in employment.
Recently in Warsaw, Jane Donnelly and I were the only people present to challenge the Vatican delegation when they tried to have gay rights taken off the agenda of an OSCE conference. Atheist Ireland has worked with LGBT Noise in picketing the Eucharistic Congress, and actively supporting the Pride Parades and the Marriage Equality referendum.
The smear that I am using homophobia to defend misogyny is even more outrageous. My late wife and I campaigned for women's rights for decades. My website includes links to 1500 suggested women speakers for conferences. Atheist Ireland has organised an international conference on empowering women through secularism, and we spoke to the Irish Parliament's Health Committee in favour of abortion rights.
If people who should know better label me homophobic and misogynistic, despite knowing that I am the exact opposite, what words have they left to use when they have to deal with actual homophobia and misogyny? Also, this makes me more cautious to take at face value descriptions of anybody else as homophobic or misogynistic, as I know how casually the terms can be falsely deployed.
The context of the smear
I recently had an exchange with a man who approached the Atheist Ireland information table in Dublin. He asked me rather confrontationally about Islamophobia, atheist States, France's ban on women wearing the veil, and Richard Dawkins who he alleged was misogynistic. Finally he flounced away, as do many people (mostly religious people) who are unable to deal with our rational answers to their challenges.
You can read a summary of the exchange here.
The next day Aoife wrote the following about me on Facebook:
"Gotta love a straight dude using the term 'flounced away' to refer to a gay man leaving a conversation with him. Especially when the straight dude just denied Dawkins' misogyny. Then again, nothing surprising about someone using dog-whistle homophobia to defend someone who does the same to women, right?"
I am saddened that somebody who I considered a friend would describe me in such impersonal terms related to my sexual orientation and gender, as if I am a rhetorical cartoon stereotype instead of a person with a name. And I am shocked that somebody who knows that I am not homophobic would accuse me of 'using dog-whistle homophobia,' and add that I used it for the specific purpose of defending dog-whistle misogyny.
The allegation that Richard Dawkins is misogynistic
The man in question flounced from our information table after he asked if I condemned the misogyny of Richard Dawkins, and I asked him on what basis he believed that. Richard is not misogynistic. This is another smear that is approaching the status of mythology. I have written extensively about this. Here are some examples:
The allegation that the word 'flounce' is homophobic
The core of Aoife's smear seems to be that I used the word 'flounce' when describing a man flouncing, and that I am 'a straight dude' and the man who flounced is gay. Actually, 'flounce' means to leave using exaggerated motions that suggest annoyance or impatience. That remains true independently of my gender and sexual orientation, and independently of any other meanings that some people choose to attach to the word.
My colleagues and I at the Atheist Ireland information table have no interest in the sexual orientation of anybody who approaches our table. I wouldn't even know this man's sexual orientation if he hadn't chosen to tell me. I treated him the same as I treat anybody else, without prejudice or favour based on sexual orientation.
This man approached us, not vice versa, he received answers that did not confirm his prejudice, and he flounced away when asked to give examples of his final allegation. That is a simple fact. It is an observation about his behaviour, not his sexual orientation. If anything, it shows prejudice against gay people to imply that only gay people flounce.
In fairness, he came to my blog to continue the discussion. However, again, after I answered his comments and asked him further questions, he ignored the substantive issues that he himself had raised and chose to comment only on the word flounce.
We have seen many people flounce away from our table, typically religious people who have run out of theological arguments after we have patiently and politely responded to the arguments they have made. We have also met many people, including religious people, who have stayed and continued to have interesting discussions, from which we have both learned more about each other's worldview.
The word 'flounce' as used in the media
There is a website called The Flounce, which describes itself as follows:
"The Flounce a website run by a handful of people who came together to prove that entertainment needn't be exploitative to also be compelling or informative, and corporate interest doesn't have to come at the expense of healthy communities. By giving a platform to working class men and women with widely varying cultural backgrounds, and supporting a space for healthy debate and dissenting voices, we seek to transcend the boundaries that define and separate us."
The word 'flounce' is used in mainstream media when describing developments in politics, business and sport, without attracting allegations of homophobia. Here are some examples.
From the Irish Times
"Not unlike Ruairí Quinn, although his flounce was far more understandable and stylish. He will not be involved in the reshuffle."
"Why would any self-respecting customer witness poor treatment of vulnerable staff and neither object loudly nor flounce out of the retail outlet in protest?"
"Perhaps Louis van Gaal should flounce out of his pre-match press conferences a little more often. It is, at least, a very Manchester United thing to do."
From the Irish Independent
"Flouncing out every time a cherished policy pledge fails to make the cut in the Programme For Government would satisfy the purists, but would rightly have been seen by most voters as an indulgence at a time of economic crisis."
"The Web Summit famously flounced off to Lisbon, from next year."
"In October 1996, he announced his departure from Ajax a full seven months in advance. Eight years later, as their sporting director, he flounced out in a delightful huff after a very public spat with coach Ronald Koeman."
The word 'flounce' as used on FreeThoughtBlogs
Aoife may not be convinced by the use of the word 'flounce' online or in the mainstream media, but she blogs on the FreeThoughtBlogs network, so she might consider looking at the use of the word there and ask if she is surrounded there by homophobia.
Whatever differences I have with that network, neither I nor anybody reasonable would suggest that they are homophobic. While they are not known for their civility or reason or empathy with those who have different opinions, they are known for their tight self-moderation of words that they deem 'problematic'.
In that context here are:
Examples of how eleven current and former FreeThoughtBloggers have used the word 'flounce': PZ Myers, Ophelia Benson, Stephanie Zvan, Alex Gabriel, Yemisi Ilesanmi, Jason Thibeault, Dana Hunter, Ally Fogg, Heina Dadabhoy, Hank Fox, Justin Griffith.
Examples of how some commenters on FreeThoughtBlogs have used the word 'flounce'.
A discussion on Pharyngula's Thunderdome about using the word 'flounce', which concludes that the consensus is that the usage is fine and not problematic when it comes to splash damage.
As a bonus, the word 'flounce' as defined on the Pharyngula Wiki fan site.
'Flounce' as used by bloggers on FreeThoughtBlogs
Here are some examples of FreeThoughtBloggers using the word 'flounce,' without any implications about anybody's sexual orientation, and typically in a similar way to my usage: to describe somebody leaving a conversation in an exaggerated way. The most recent such use on FreeThoughtBlogs was just two days before Aoife's smear against me.
"And look, he continues with his demands that we appreciate ruffled flounces and puffy pantaloons!"
— PZ Myers comparing an article by Be Scofield to the Emperor's New Clothes. As an aside, Be Scofield is a queer/trans writer who PZ refers to as 'he' throughout the blog post.
"They did stage a showy and often giggly walkout by way of dissent from what he was saying, and they did deserve a little derision in return… 'Bullshit' really isn't all that ugly, and 'pansy ass' isn't really all that insulting in response to people flouncing out in a huff."
— Ophelia Benson writing about students walking out of a talk by Dan Savage, in a post titled 'Flouncing versus Derision'.
"For that, you'll have to read the rest of the thread. Spoilers: At least until the flounce."
— Stephanie Zvan referring to a commenter who left a conversation saying "And I've had enough of bald assertions. Okay now I really am done. Gah! Must… have… dinner."
"Yeah, this is the one I woke up to this morning. This is also someone who's been commenting here for a while. I'll be enforcing that flounce."
— Stephanie Zvan referring to a commenter who wrote "I have no intention of putting up with another nine months of this, so I'll take my leave. You are a disgusting fat cunt. Fin."
"The mostly-atheist left, it turns out, has little time for those, apostates in particular, whose atheism is more than a rhetorical flounce – 'I'm an atheist for God's sake!' – when lambasting the politics of Maher and Hitchens."
— Alex Gabriel discussing atheism and Marxism.
"And he flounced out with 'I am out now! P.S. I don't hate fat people. I am only giving advice. HATE is such a big word.'
— Yemisi Ilesanmi describing a commenter on her Facebook wall.
"Most people took it okay, with a 'yeah, I joined here because I thought this was the official group' or 'good, the two were getting confused too often', though some took it harshly and flounced FOR REALZ. You'd think it would end at that, right?"
— Jason Thibeault describing actions to a change in the status of the FFRF Facebook Page.
"Still. Must admire his ability to stick a flounce for over twelve hours, a skill which is vanishingly rare amongst those who cry about how meeeaaaannnn we are and say they're really really leaving and they totally mean it this time. No, seriously, they're outta here. This time – no, this time – well, definitely this time, they are so leaving because we are soooooo mean and awful that they'll never be back again. Except for all those times they come back to tell us how mean we are and how right they are before leaving again for reals this time…"
— Dana Hunter writing about The Denver Atheist.
"Similarly, a passive-aggressive flounce from Twitter can generate waves of sympathy, notably from fellow /sister members of the elite Twitterati, who (understandably) sympathise with the experience of copping a timeline full of flak from angry detractors, and are quick to tweet about how sad it is that so-and-so has been bullied off Twitter to their vast followings."
— Ally Fogg discussing online disagreements.
"I replied to him by saying that I didn't have the energy to compile direct quotes and citations and was accordingly leaving the conversation (and I did, as I'm not one for the false flounce)."
— Heina Dadabhoy describing a discussion on a friend's post.
"When you make a mistake, as you will, there are two ways to deal with it. One is, you simply accept that you're wrong and take your emotional and social lumps — ouch! — and move on as best you can. The other is, you tinker with your mind and memory so as to never feel the pain of the mistake. If you've made a factual error, you never admit it – you claim that everyone else is wrong, and flounce away in anger, never revisiting the subject. If you've hurt someone, you convince yourself either that you didn't hurt them, or that they deserved it."
— Hank Fox discussing accepting that you are wrong.
"Look at the first three days.That's not apologizing. Then look at his exit. That red-faced embarrassed flounce, he knew what he did. That flounce reminded me of my sister. One day, I didn't see her on the bus home from school. She showed up ten minutes after me, pounding on the door. I opened it quickly and she said "Are you happy now?!? I peed my pants!!!" As if it was my fault, or as if to suggest that she just peed her pants and wouldn't have, if only I hadn't 'locked the door' like an evil brother. It was clear that she peed her pants much earlier."
— Justin Griffith about Greg Laden.
'Flounce' as used by commenters on FreeThoughtBlogs
Here are some examples of FTB commenters using the word 'flounce'.
"Sex is not a binary, and I honestly don't feel like explaining this to you because you're clearly arguing in bad faith. "TERF" is a slur? Don't make me laugh. Please stick the flounce."
"hopeful that soporificat sticks xer flounce. xe seems to be confusing transgender with transvestism."
"Am I wrong about that? [sorry, you flounced, so I cannot expect an answer]"
"This is getting ridiculous. The most reasonable explanation for someone reacting like this and continuing to react like this is that they wanted to be offended for some reason. I really hope he sticks his flounce this time."
"I had a remark for believerskeptic, but I'll wait and see if he sticks the flounce first."
"The Great and Glorious Doctor Magnifico himself, Robert Gross, did indeed honour us with his presence. I believe I've captured the essence of his sermon here: 1. Loook at meeeeee…. 7. Tanty and flounce."
"I do not like thee, Dr. Gross, You put yourself upon that cross. To have you flouncing is no loss, I do not like thee, Dr. Gross."
"I'd rather have a new ally than have him flounce, but he needs to change his attitude a bit if that's going to happen."
"Just for reference, here's why I flounced out of here a year or so ago, before I delurked momentarily to offer my support in the Grenade thread."
"Mind you, now that lizzie has flounced and taken us off her bookmark list (we're all so heartbroken by that I'm sure) I'm not sure if she will see any of this."
"Right…he was ALL READY to get off his ass and devote his entire life to the cause — but then some people disagreed with something he said, and suddenly all his pretty dreams are torn and we've all blown our big chance to benefit from the (unspecified) work he was just about to promise to do. Funniest. Flounce. EVER."
A discussion about the word 'flounce' on Pharyngula
Extracts here. Follow this link for full discussion.
307 Chigau: "So. Is 'flounce' a homophobic insult or a gendered insult?"
308 Thumoer: "… or the etymological derivative of a Norse word meaning "to leave in a hurry"?"
310 Chigau: "well…etymology is less important than current usage'
317 Caine: "It's never come across as homophobic to me, because in my mind, it's always been applicable to all people, and I don't think of gay men as some sort of effeminate monolith. I do think it could be used in a sexist way, however, I haven't seen it used that way here."
318 RahXephon: "since I'm a gay dude I feel like I do have an opinion on whether it's homophobic, and I don't. If flounce were derived from being inherent to gay people, or if it were used primarily towards gay people (like "mince", which was brought up in the thread), then I think there'd be an argument for that…. The excessive word policing is annoying enough without straight people treating me as some fragile little flower with tiny little diaphanous gay ears that can't stand a word with even a teensy imagined whiff of gay undertones that aren't 100% positive."
319 Nightjar: "One thing I've learned over the years is that if a word has sexist connotations (or homophobic, or racist, or ableist, or…), there is one place you can go to see them laid down in all their ugliness. It almost never fails: Urban Dictionary. So I looked up "flounce". Didn't see anything particularly damning, so I'm inclined to think the word is fine."
320 Thumper: "Indeed. So the modern meaning "to leave in a huff having lost an argument" supercedes any hypothetical etymological connection to a woman's dress?"
322 Caine: "Erm, clothing styles have undergone vast changes since flounce could be commonly and oft used in regard to womens' clothing."
325 Loud: "I've been reading here for many years, and I've seen 'flounce' used hundreds of times, with nary a word said against it, and on Pharyngula, that probably means it's unlikely to carry any baggage. That's not to say Pharyngula commentators can't be wrong, but just good evidence to me that there's no compromising association, as these things usually get flagged pretty quickly."
331 Tony the Queer Shoop: "FFS, I go to sleep and wake up to "flounce is homophobic"?? Is this in a parallel reality next to annejones'? Its funny, but I had never heard of flounce before reading here. I always assumed it a term made up here (that never happens). Guess I was wrong. Still, I have never encountered the word in hetero- or homo- sexual dealings in meatspace."
338 Caine: "You're absolutely right. I was trying to come up with 'flounce' alternatives, but nothing else seems to capture the action as well. Hopefully, something will kick in eventually."
349 Polistes: "Re: "flounce" – eh, it's fine w/ this lesbian. Reads like, "Well haRUMPF I say – I'm LEAVing. Good day. I say Good Day!" Which is pretty funny."
356 Caine: "Reads that way to me as well. I don't think Elizabeth has a good case for tossing flounce out the window."
371 Cicely: "Not seeing gender, or even tailoring. My admittedly uneducated guess would be that any "genderization" of the word takes place where huffiness and fancy skirts collide."
374 Caine: "*snortle* Perfect!"
449 Caine: "Elizabeth, I hope you noted the discussion regarding the usage of flounce. Right now, the consensus is that the usage is fine and not problematic when it comes to splash damage. Your concern was taken seriously and discussed. I hope you'll realize that it's fine to bring up such subjects, and the horde is always happy to discuss them."
Bonus: 'flounce' as defined on Pharyngula Wiki
Pharyngula Wiki is an unofficial set of fan pages, published mostly during 2011 and 2012 by fans of PZ Myers. It describes the word 'flounce' as follows:
"As a verb, to 'flounce' is to depart a discussion in a comments thread with a degree of theatre, generally declaring in so doing one of the following as reasons:

that the opposition's tone is unacceptable to one's delicate sensibilities
that the opposition is arguing like a buncha third graders, unlike the flouncer's much more refined and mature self
that the flouncer has work to do (and, by implication, the opposition are a buncha unemployed bums with nothing better to do than make the flouncer look stupid by, say, actually engaging their argument meaningfully, those jerks)

As a noun, a 'flounce' is the act of flouncing, as described above.

There is some noted variability in the ability of flouncers to remain flounced. Speculation as to the flouncer's ability to 'stick the flounce' is a common topic, post-flounce. It is the totally unfair and unwarranted observation of this author — as implied by the above set of reasons for flounces–that flouncing is a particularly common maneuver amongst tone trolls.

Flounces are generally rated much as is done in judging in figure skating, with separate scorings for technical and artistic merit."
Summary
Yet again I have had to take a break from campaigning for an ethical secular society, to address the latest defamatory smear that some people on the Internet like to shovel in my direction. This one is particularly saddening because it comes from somebody who I considered a friend, who knows from personal experience that the smear is not only untrue but that the opposite is true. I ask Aoife to withdraw and apologise for it.
If people who should know better call me homophobic and misogynistic, what words have they left to use when they have to deal with actual homophobia and misogyny? Also, this makes me more cautious to take at face value descriptions of anybody else as homophobic or misogynistic, as I know how casually the terms can be falsely deployed.
The outrageous smear that I am using homophobia to defend misogyny