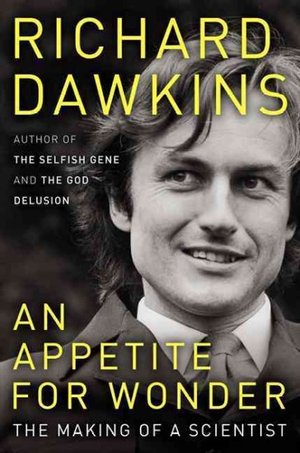 An Appetite for Wonder by Richard Dawkins is a generous, nuanced and ethical memoir, and the recent personal smears against Richard by some atheists are unjust, hurtful and irresponsible. Some other atheists have disagreed with Richard in more considered terms, as should be expected and encouraged in any freethinking community.
Some critics may dislike his outspoken criticism of religion, his distillation of complex arguments into the 140-character limit of Twitter, and his use of ridicule as a weapon of choice against what he sees as ridiculous. But the recent pattern of personal smears against him is disproportionate to any reasonable disagreement that his critics may have with him on issues, and it grossly misrepresents the man conveyed in his memoir.
Richard's memoir
When Richard Dawkins recalls losing his virginity he concludes "But I'll say no more on the subject, and will betray no confidences. It isn't that sort of autobiography." And indeed it isn't. It is a generous and empathetic recollection of the first part of a remarkable life, in which he gives credit to those who helped him to channel his sense of wonder into science, expresses regret and guilt about some things that he feels he could have done better, and tries to see in a compassionate way the faults of those who have hurt him. It could not be further from the cold caricature of Richard that some of his critics, within and outside the atheist movement, like to inaccurately convey to the public.
His parents traveled widely throughout Africa before bringing Richard to England. Many of his childhood memories recall his natural gullibility, and his willingness to believe tall tales told to him by adults, including a man who convinced Richard that he had become invisible while playing hide and seek. He was terrified by ghosts, and he prayed to God to help him in various ways, before becoming an atheist after his confirmation. A common theme in the early part of his memoir is the need to teach children critical thinking skills, and to evaluate plausibility. He adds a caveat that he did not keep a childhood diary, so he may be mistaken in some recollections, and he reminds us that false and true memories can be indistinguishable.
Early schooldays
Richard compares his schooldays in England with some aspects of the movie 'If'. He writes of a headmaster who caned boys with such severity that the bruises took several weeks to fade, turning from purple to blue to yellow on the way. Yet he does not believe that this man was guilty of cruelty or sadism, but sees this as an example of the speed with which customs and values change. He recalls that the same man was also capable of great kindness. He read stories to the boys, comforted frightened boys during severe thunderstorms and, on Sundays when parents took their children out for a day, he and his wife would take boys whose parents were absent for a picnic with their own children.
Richard writes of the cruel bullying that took place between boys at school, and declines to name one boy who was badly bullied in case he happens to read it and the memory is still painful. He recalls being empathetic towards boys who were in trouble with the school authorities, and thanks to reading Doctor Dolittle he was empathetic with nonhuman animals, but he expresses retrospective guilt that he did not have the empathy to try to stop the bullying between boys at the school. He compares the dynamic of this school bullying with the verbal cruelty and bullying in some internet forums today.
Because academic ability was not admired among his peers, Richard would sometimes pretend to know less than he did. Also, he disliked saying out loud when he got ten out of ten, because he had a stammer that made the word ten hard to say. He tells of a teacher who once put his hand down his pants, and when he told his friends, he discovered that many of them had the same experience. He writes that he doesn't think that this teacher did any of them any lasting damage, but that some years later he killed himself. He also tells of his extracurricular immersion in beekeeping, poetry and music.
Life at Oxford
Richard's life was transformed when he started to study at Oxford, where undergraduates tried to act like adults, dressing in waistcoats and listening to Bach. He forgot a pen at one lecture and was unable to take detailed notes, which led him to realize that he got more out of lectures when he was free to think and to watch the lecturer thinking out loud. The tutorial system inspired him to discover facts rather than learn them, and he lovingly recalls some of his best tutors and mentors. He describes early experiments on the behaviour of chicks, testing his predictions with a drive threshold model which he considered more important as a model in itself than for its particular application. He also confesses his developing addiction to computer programming, using early computers that were far more time consuming to program than today's.
He married and moved briefly to California, where he worked as an assistant professor, marched against the Vietnam War, and noticed some of the flower-power sexism that he is glad has changed today. He regrets having failed to stand up against activists who bullied staff into canceling lectures, and he again compares the dynamic of this bullying with bullying in today's internet forums. He returned to Oxford two years later for a job that with hindsight he feels should have gone to a competitor, but which he thinks he grew into and was worthy of in the end. He describes in detail some fascinating experiments including measuring the wave peaks of musical notes, trying to demonstrate the existence of fixed action patterns in animals, coding a computer program to try to understand linguistics, measuring how much crickets like particular songs, and examining how goals can be hierarchically embedded within each other.
The Selfish Gene
The 1973 miners' strike in England was the genesis of The Selfish Gene. With electricity being rationed, Richard could no longer focus on his experiments and so he turned to his manual typewriter to begin the book that would explain and popularise Darwinian evolution for a new generation. His aim was to counter the false notion that that natural selection makes species good at surviving. This may happen as a fortunate by-product, but natural selection has no foresight, and it takes place at the level of the gene, not the individual or the species. He introduced the phrase 'survival machine' to describe the role of mortal individual organisms vis-a-vis their potentially immortal genes. He did not see this idea as being novel, but as being misunderstood.
He stopped writing the book when the miners' strike ended, and returned to it some years later in a frenzy of creative energy when Desmond Morris introduced him to a publisher who tried to convince him to rename it The Immortal Gene. In retrospect, he agrees that would have been a better title. Desmond Morris also designed the book jacket, and Richard used his advance to purchase a painting by Desmond. Early reviews were positive, more so than you might expect from the later controversies it inspired. Richard sees the publication of The Selfish Gene as marking the end of the first half of his life, and a convenient point at which to pause and look back. He does just that in the final chapter of his memoir, pondering what he has learned about himself.
Unjust personal smears against Richard
In stark contrast to the nuanced individual that his memoir conveys, some atheists have recently been publishing increasingly irrational and hostile personal smears about Richard. These range from implicit to explicit claims that he is Islamophobic, racist, bigoted, sexist, misogynistic and an apologist for pedophilia. These personal smears are inaccurate, unjust, unkind and hurtful. Sometimes critics also describe him as being white, male, heterosexual, old and/or wealthy, instead of focusing their argument on whatever actual disagreement that they have with him.
The smears typically follow parts of the following pattern. Some people place the most uncharitable meaning they can on a comment by Richard, or else exaggerate it out of proportion to reasonable debate, and continue to do so even after he clarifies what he meant. Then, instead of correcting these false allegations, which are pounced upon by his enemies, some people either ignore the clarification or else blame Richard further for allowing himself and/or atheism to be misrepresented.
Some people might then formally demand an apology, which they might in turn analyze and criticize further, as if they are the moral arbiters of not only the need for but also the content of apologies, to be made by people other than themselves, to different people other than themselves. The escalation into moral melodrama often happens quickly, with some people seemingly reluctant to check facts or consider the issue over time before publishing allegations.
Smears about Islamophobia, racism and bigotry
Last August, I addressed some of these personal smears against Richard in a BBC radio interview with Daniel Trilling, editor of New Humanist magazine, who had written an article associating Richard with Islamophobia, racism and bigotry.
You can read the transcript of the interview here.
I argued that, as Daniel was basing his piece on comments made by Richard, the interpretation could be that he was suggesting that Richard is racist or bigoted. I said that this was clearly untrue; that Richard is a gentle, decent man who is very ethical, and he speaks the truth as he sees it without any racism or bigotry. I said that if, as I suspected, Daniel's position was that Richard is technically correct in what he is saying, but that Daniel doesn't like the way that he says it, then it might be more helpful if Daniel focused on Richard's later clarification, and corrected that misinterpretation rather than repeat it.
Also in August, Owen Jones wrote an article in The Independent titled: "Not in our name: Dawkins dresses up bigotry as non-belief – he cannot be left to represent atheists."
Owen wrote: "Dawkins has a habit of talking about Muslims in the most dismissive, generalising and pejorative fashion. "Who the hell do these Muslims think they are?" he once tweeted. Another of his tweets accused UCL of "cowardly capitulation to Muslims" because it "tried to segregate sexes" in a debate between Lawrence Krauss "and some Muslim or other." "
Actually, the "Who the hell do these Muslims think they are?" was not a generalising comment about Muslims. It was specific to the Muslims involved in the incident that the article describes as "another of his tweets". The full tweet in question said: "Who the hell do these Muslims think they are? At UCL of all places, tried to segregate the sexes in debate between @LKrauss1 and Muslim."
Owen wrote in his final paragraph: "As a non-believer, I want the atheist case to be made. I want religious belief to be scrutinised and challenged… But I feel prevented from doing so because atheism in public life has become so dominated by a particular breed that ends up dressing up bigotry as non-belief. It is a tragedy."
Actually, not only was Owen not prevented from making the case (that he said he wants to make) for atheism and challenging religious belief, but he had more opportunity than most people have to do so, as he was writing for a credible national newspaper. But instead of using that opportunity to make the case he said he wants to make, he instead attacked somebody who is actually making that case. To quote Owen himself, it is a tragedy.
Richard's clarifications
This particular wave of smears began when Richard tweeted the following:
"All the world's Muslims have fewer Nobel Prizes than Trinity College, Cambridge. They did great things in the Middle Ages, though."
Richard responded on Twitter to some of the misrepresentations. He wrote:
"A statement of simple fact is not bigotry. And science by Muslims was great in the distant past."
"Why mention Muslim Nobels rather than any other group? Because we so often hear boasts about (a) their total numbers and (b) their science."
Richard then published a more detailed clarification on his website.
He said that Muslim spokespersons often cited that there are 1.6 billion Muslims, and that they are growing fast; and that Islamic science deserves enormous respect as the Quran anticipated modern science and Muslim scholars kept the flame of Greek learning alight while Christendom wallowed in the Dark Ages.
He said that putting these two claims together, shouldn't you be able to point to some pretty spectacular achievements emanating from among those vast numbers? If you can't today but once could, what has gone wrong for the past 500 years? Whatever it is, is there something to be done about it?
He responded to several categories of attacks made against him on Twitter.
He said that Islam is not a race. However you define race, if you can convert to something (or convert or apostatize out of it) it is not a race.
He said that the Jews are not a race. You can argue about whether Judaism is a religion or a cultural tradition, but whatever else it is it is not a race.
He said that there may be sociologists who choose to redefine words to their own purpose, in which case we have a simple semantic disagreement.
He said that he doesn't think skin colour has the slightest bearing on ability to win Nobel Prizes, whereas it is highly probable that childhood education in a particular religion does.
He asked how can the assertion of an undeniable fact be bigotry? And whether, and under what circumstances, we should refrain from stating uncomfortable facts for fear of giving hurt and offence?
He said that he did not imply any innate inferiority of intellect in those people who happen to follow the Muslim religion. But he did intend to raise in people's minds the question of whether the religion itself is inimical to scientific education.
He said that he had no comeback to such devastating arguments as "Your a dick," "I'm an athiest but you make me ashamed to be an athiest," and "Your a disgusting piece of shit."
It is important to restate that other atheists who disagree with Richard have expressed their disagreement in more considered terms. The pattern of personal smears makes it more difficult to discuss these reasonable disagreements in a constructive way.
Personally, I have had the same experience as Richard, when I have debated Muslims who rely on arguing that Islam has brought major contributions to science, not alone in the Middle Ages, but with claims that the Quran foresaw modern scientific discoveries. They promote far-fetched interpretations of the big bang and embryology, and assert nonsense like mountains being pegged into the earth to keep it stable, and freshwater and saltwater not mixing.
And those type of claims, in conjunction with the turmoil that Islamic science is in in the Middle East, with leading scientists complaining about the Islamic world's failure to fund the science contributions that it has promised to over recent years, shows that Richard was making a comment that is factually correct. He was saying it in a thought-provoking way, and within the 140-character limit imposed by Twitter, but it in no way suggests that he is bigoted or racist.
Smears about attitudes to pedophilia
In September, the publication of Richard's memoir led to a new wave of personal smears. This time it was a disproportionate controversy about attitudes to pedophilia, built on uncharitable interpretations of one recollection in his memoir and of unscripted comments made to an interviewer in The Times.
This is the quote, from the interview in The Times, that triggered much of the subsequent criticism:
"I am very conscious that you can't condemn people of an earlier era by the standards of ours. Just as we don't look back at the 18th and 19th centuries and condemn people for racism in the same way as we would condemn a modern person for racism, I look back a few decades to my childhood and see things like caning, like mild paedophilia, and can't find it in me to condemn it by the same standards as I or anyone would today."
Several online publications, including Huffington Post and Salon, misrepresented what Richard said in this interview. Typically, they reported that Richard "could not condemn" what happened to him at school, without adding his qualification "by the same standards as I or anyone would today." The misrepresentations continued on Twitter.
Several atheist commentators joined in with these unjustified smears. I will focus on one example, a blog post by PZ Myers, partly because I have previously defended PZ against smears made against him.
PZ published a blog post that was melodramatically titled "I beseech you in the bowels of Christ, please stop".
PZ wrote that Richard "seems to have developed a callous indifference to the sexual abuse of children." This is an unjustified extrapolation to make from Richard's comments, particularly when PZ is aware that Richard has actively campaigned against the sexual abuse of children and its cover-up by religious institutions.
PZ asked: "Should I have raised my children with such a lack of self-respect that they should allow dirty old men to play with their genitals?" This suggests that Richard as a child lacked self-respect because he allowed himself to be abused, and also implies that Richard's parents are responsible for his lack of self-respect. It also suggests the same about other victims of child sexual abuse and their parents.
PZ asked: "Just when did it stop being okay for acquaintances to put their hands inside Richard Dawkin's shorts?" But Richard had never said that it was okay for anybody to put their hands inside his shorts. What he said was: "It was extremely disagreeable (the cremasteric reflex is not painful, but in a skin-crawling, creepy way it is almost worse than painful) as well as embarrassing."
PZ wrote: "Should we be giving pedophiles the idea that a 'mild touching up' is reasonable behaviour? It's just a little diddling…. It does no 'lasting harm'. Christ, that sounds like something out of NAMBLA." Well, that may well sound like something out of NAMBLA, but it is not what Richard said. It is what PZ made up as his interpretation of what he chose to convey Richard as saying.
PZ wrote: "We do not excuse harm to others because some prior barbaric age was indifferent to that harm." But Richard did not excuse harm to others. He said that he would not condemn what happened 50 years ago "by the same standards as I or anyone would today." A reasonable inference is that he would condemn it by a different standard, not that he would not condemn it.
There was a range of different comments under this post, including the following three outrageous personal smears:
"If no one else is going to say it I will… Someone needs to tell Dawkins that if he's not actually a child molester he's dangerously close to wearing the uniform of one."
"Are you fucking kidding? A racist misogynist piece of shit who thinks child molestation doesn't count unless there's rape or murder? That's not "fucking good". We can do better."
"Dawkins and his rape cheerleaders can fuck a power socket."
These smears were not representative of the variety of comments by different people. But PZ did not remove any of these three smears, while he banned another commenter, who was defending Richard, by telling them:
"Goodbye. We don't need your petty resistance to any dissent from the sacred position of your great heroes around here. Fuck off."
Richard's clarifications
Richard responded on Twitter to some of the misrepresentations. He wrote:
"Non-consensual sex is always bad. But raping an 8-year-old to death is quantitatively worse than "touching inappropriately". Shades of grey."
"There seem to be people here who seriously deny that some degrees of crime are worse than others."
"Is anyone seriously denying that raping an 8-year-old to death is worse than putting a hand inside a child's clothes? Are you that absolute?"
Richard then published a more detailed clarification on his website.
He said that the criticism of his comments, that he would not judge that teacher by the standards of today, represent a misunderstanding which he would like to clear up. He said that the standards of today are conditioned by our increasing familiarity with the traumatising effect that pedophile abuse can have on children, sometimes scarring them psychologically for life. He said that only slightly less culpable than the abusers themselves are the institutions that protected them.
He said that his own thirty seconds of nastiness back in the 1950s did not deserve the sympathy due to a victim who had been truly damaged for the rest of their life. He said that to frame it in such a way would have been to belittle and insult those many people whose lives really were blighted and cursed, perhaps by year-upon-year of abuse by a father or other person who was deeply important in their life. He said that to excuse pedophiliac assaults in general, or to make light of the horrific experiences of others, was a thousand miles from his intention.
He said that he was perhaps presumptuous when he said that he did not think that the teacher's fondling had caused lasting damage to his school companions. He said that he could not know that for certain, which is why he said only "I don't think he did any of us lasting damage". They had discussed it on many occasions, especially after his suicide, and there was general agreement that his suicide was more traumatic than his sexual depredations. He said that if he was wrong about the effect that it had had on any of his companions, he apologized.
He also tweeted a link to this clarification, saying:
"If anybody seriously believed that I 'defended pedophiles' please read this."
In my opinion, Richard is correct to acknowledge that he may be mistaken about the impact on his companions. If so, that is a matter between him and them, not between him and other people on the Internet who do not know any of them. While I am not asking anybody to apologize for anything, I believe that if there are any further apologies to be made arising from this controversy, they should be made to Richard and not by him.
Smears about sexism and misogyny
Many of the personal smears by some atheists against Richard have their origins in a comment that Richard made two years ago on PZ's blog.
It was one of many comments made by many people on many websites, about an escalating series of issues that began when Rebecca Watson made a video about an incident at a conference in Dublin and then criticized, from the podium of a later conference, a woman in the audience who had made a response video.
There have been so many interpretations of that series of incidents that I am not going to attempt to add to them here, other than to say that I think that the escalation is an extreme example of some of the patterns I have already mentioned, and that I reject the personal smears that Richard is sexist or misogynistic in the same way as I reject the personal smears that he is Islamophobic, racist, bigoted or an apologist for pedophiles.
Many people, including some atheists, have made unjust, hurtful and irresponsible personal smears against Rebecca. I have previously defended Rebecca against these smears, and will continue to do so.
Rebecca has recently made two significant unjust comments about Richard.
In a video interview on AOL, she said that Richard's intervention:
"was also insulting to Muslim women and women from Muslim dominated cultures who are basically being used by people like Richard Dawkins. He pretends to be interested in their personal human rights but it seems like all that he is actually interested in is using them as a tool to further his own gains, in this case putting a western feminist in her place. So after Dawkins weighed in of course the harassment took another upwards spike, and Dawkins fan-boys to this day continue to chase after me. They make new Twitter accounts every time I block them, they harass me by email on Facebook, they post photoshop images of me naked, pornographic images that they draw and post online."
And in an interview with Macleans, she said:
"If Richard Dawkins hadn't weighed in, I wouldn't be getting half the abuse I get. If Dawkins says attack, they attack."
It is unjust, hurtful and irresponsible to suggest that Richard 'pretends to be interested' in the personal human rights of Muslim women while 'basically using' them 'as a tool to further his own gains', or to suggest that Richard has told people to attack Rebecca, or to suggest that 'Dawkins fan-boys' are posting photoshopped naked pornographic images of her online.
I appreciate that Rebecca has been hurt by many things said by many people, and that this has contributed to her unfair comments about Richard. I believe that the last two years have led to a situation where good people with sincerely held beliefs have been unfairly criticizing other good people with sincerely held beliefs, with the added seasoning of some people wanting to stir up division.
This has developed into a complex interacting set of issues affecting some (mostly American, mostly online) atheist and skeptic communities, including sexism and harassment, ideological disagreements about issues including feminism and free speech, personal abuse and bullying, and a tendency to hype up disagreements and attribute malign motivations and escalate hostility.
Earlier this year, I and others tried but failed to address these issues through an online dialogue process. The attempt to do is archived here.
Summary
I am summarizing these issues, along with a review of Richard's memoir, in order to have on record in one place a contrast between what Richard has said and what some people have misrepresented him as saying.
It is important to repeatedly emphasize that some other atheists have expressed disagreements with Richard in more considered terms, as should be expected and encouraged in any freethinking community.
But, in my opinion, the pattern of personal smears against Richard in recent times is disproportionate to any reasonable disagreement, and is instead unjust, hurtful and irresponsible.
It is both an example and a warning of how people can use online media to unfairly harm the reputation of a good person, and how joining in with that process can accelerate and intensify the harm.
Richard Dawkins' nuanced memoir and the unjust personal smears against him