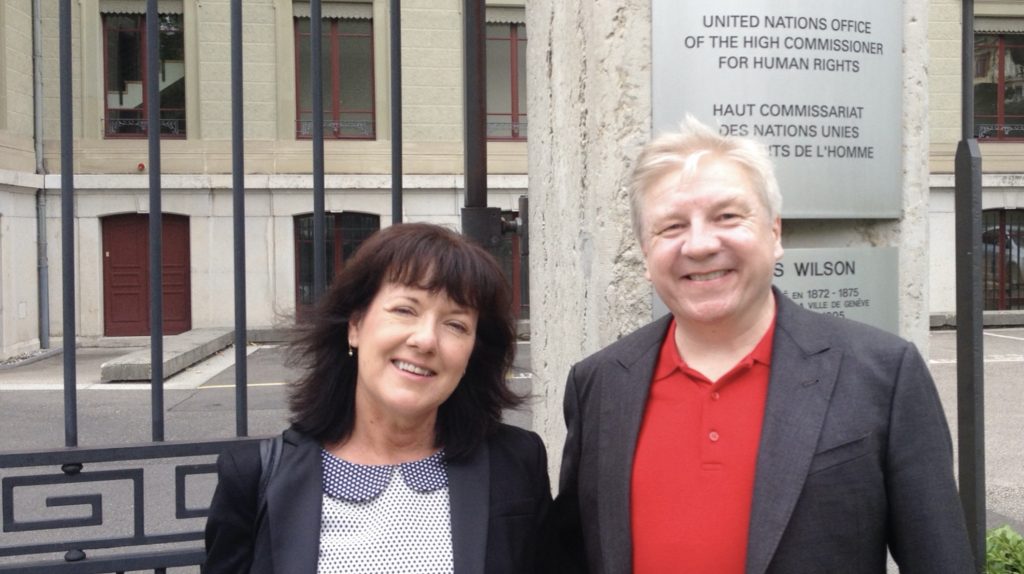 23 March is international Atheist Day. By coincidence, on this day ten years ago, Jane Donnelly and I were at a conference in Ireland at which two Catholic theologians said that atheists are not fully human.
Prof Gavin D'Costa, a Catholic theologian from the University of Bristol, said religious revelation tells us what being fully human is, and atheists are not fully formed.
Dr Rik Van Nieuwenhove used an analogy of atheists seeing a photograph in two dimensions and Catholics seeing the same photograph in three dimensions.
This nonsense flows from the Catechism of the Catholic Church, which reads: "Man is by nature and vocation a religious being. Coming from God, going toward God, man lives a fully human life only if he freely lives by his bond with God."
Most of the time they phrase it subtly, by saying that you require religious faith to be fully human, and sometimes they let the mask slip and explicitly say we are not fully human. For example, Cardinal Cormac Murphy O'Connor told BBC Radio 4 that atheists are not fully human because we leave out of our philosophy the search for what he calls God.
Progress in Ireland since 2012
Ironically, the conference Jane and I attended ten years ago was titled "Towards Mutual Ground: Religious Pluralism in Educational Practice in Irish Schools". It was organised by the Mater Dei Irish Centre for Religious Education, the PDST, and hosts Mary Immaculate College.
Since then, Atheist Ireland has evolved into an established advocacy group. We raise secular issues within Ireland and at the United Nations and other human rights oversight bodies. We have led a successful campaign to remove the Irish blasphemy law.
Mary Immaculate College now takes a more inclusive position on learning about atheism. Jane and I have twice spoken about atheism and secularism to teacher training students at the college, and we are due to speak at a related event next month.
However, the Irish education system still treats atheists as second-class citizens, the state plans to give control of our new National Maternity Hospital to a Catholic religious order, and the constitution still requires the President, judges, and Taoiseach to swear a religious oath in order to take office.
Persecution in other countries
While we continue to fight this discrimination, atheists in other parts of the world face persecution. Humanists International annual Freedom of Thought Report says that:
At least 16 countries punish apostasy, 11 with death (Afghanistan, Iran, Nigeria, Malaysia, Saudi Arabia, Mauritania, Maldives, Qatar, Somalia, UAE, and Yemen), and 5 with prison (Bahrain, Comoros, Gambia, Kuwait, and Oman).
At least 83 countries punish blasphemy, 6 with death (Afghanistan, Iran, Nigeria, Pakistan, Saudi Arabia, and Mauritania), 56 with a prison sentence, and 21 with a fine.
We must work together as atheists around the world to challenge these abuses of human rights. We should also work on this issue with members of minority religious faiths who are also persecuted in many countries.
For example, Atheist Ireland attended the United Nations Human Rights Committee when it was questioning Pakistan. We went with the Evangelical Alliance of Ireland and the Ahmadiyya Muslim Community of Ireland, both of whose members are also persecuted in Pakistan.
Are atheists fully human yet?
Obviously we are, and we always have been. But we are not always treated as such. We are still discriminated against in Western countries and persecuted in many other countries.
But the world is becoming more secular, according to the World Values Survey, a long-term project run by a team of interdisciplinary social scientists.
As people move away from survival values and towards self-expression values, societies move away from traditional religious values and towards secular rational values. The world is moving in this direction, at different speeds in different regions.
Atheist Ireland will continue to campaign for an ethical, secular, world where States treat everybody equally regardless of our religious or nonreligious beliefs.
Are atheists fully human yet?