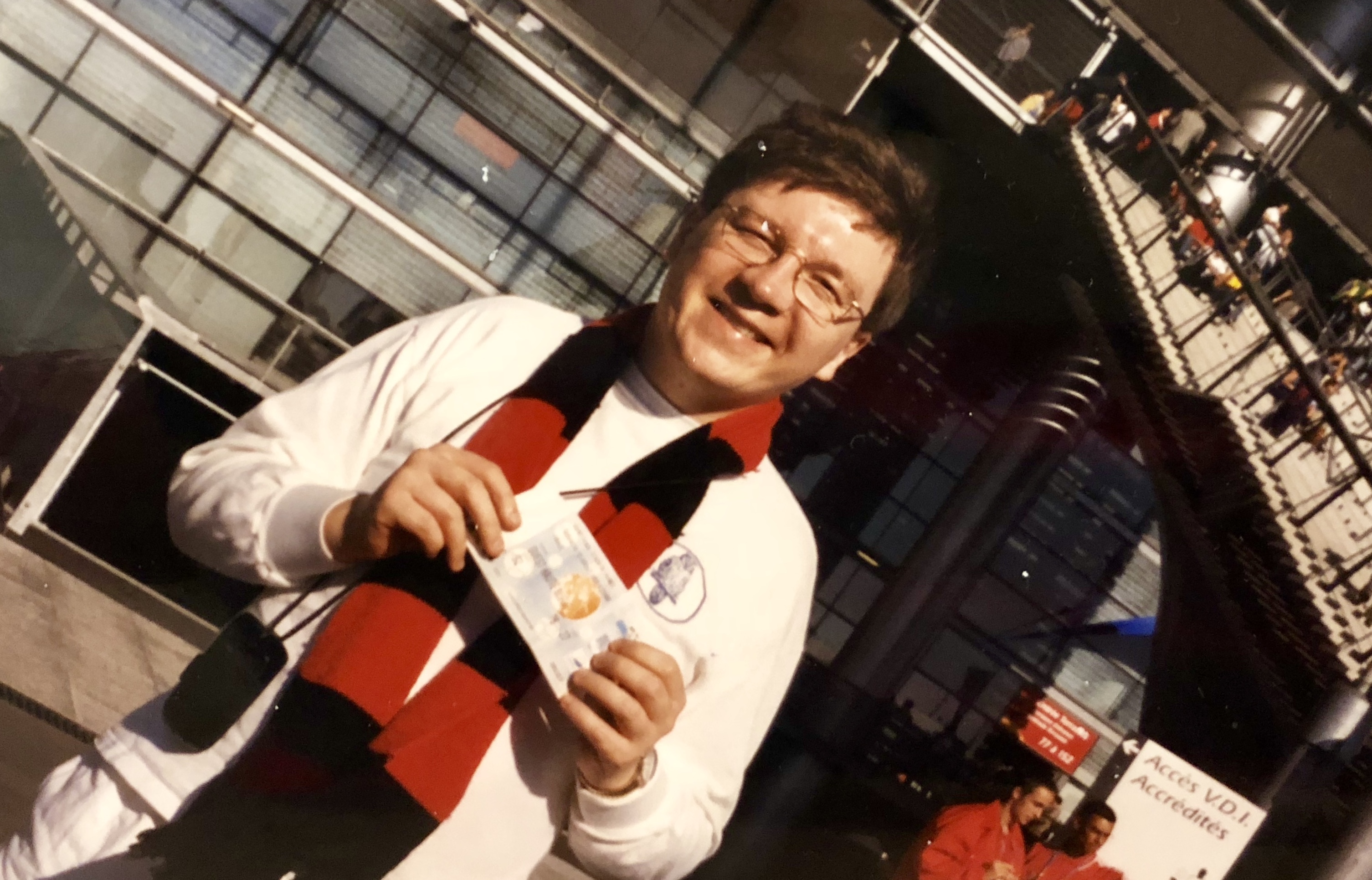 Twenty years ago this weekend, my wife Anne and I were in Paris to watch the 1998 World Cup final. It remains the culmination of my football-watching life. Nothing since has matched the scale of the atmosphere of seeing the inspired French defeat the magical Brazilians before a passionate home crowd to capture the world's biggest sporting prize.
Our day had two unexpected moments. Traveling across on the Eurostar train, we were woken from our snoozing by a loud Scottish voice asking about tickets. I assumed it was a ticket inspector. It was a drunk Tommy Docherty, the former Manchester United manager. He wanted to watch the final somewhere in Paris, and was optimistically asking passengers if they had spare tickets.
I wore a nostalgia-trip outfit of my plain white early seventies Leeds shirt with the blue-stitched owl badge, topped off with my old red-and-white Bohemians scarf. That outfit caused the French police to search me at the railway station, and when I caught up with my wife Anne she was sitting on the ground, chatting to former England World Cup winner Nobby Stiles about his visits to Dublin. Anne photographed Nobby autographing my match programme.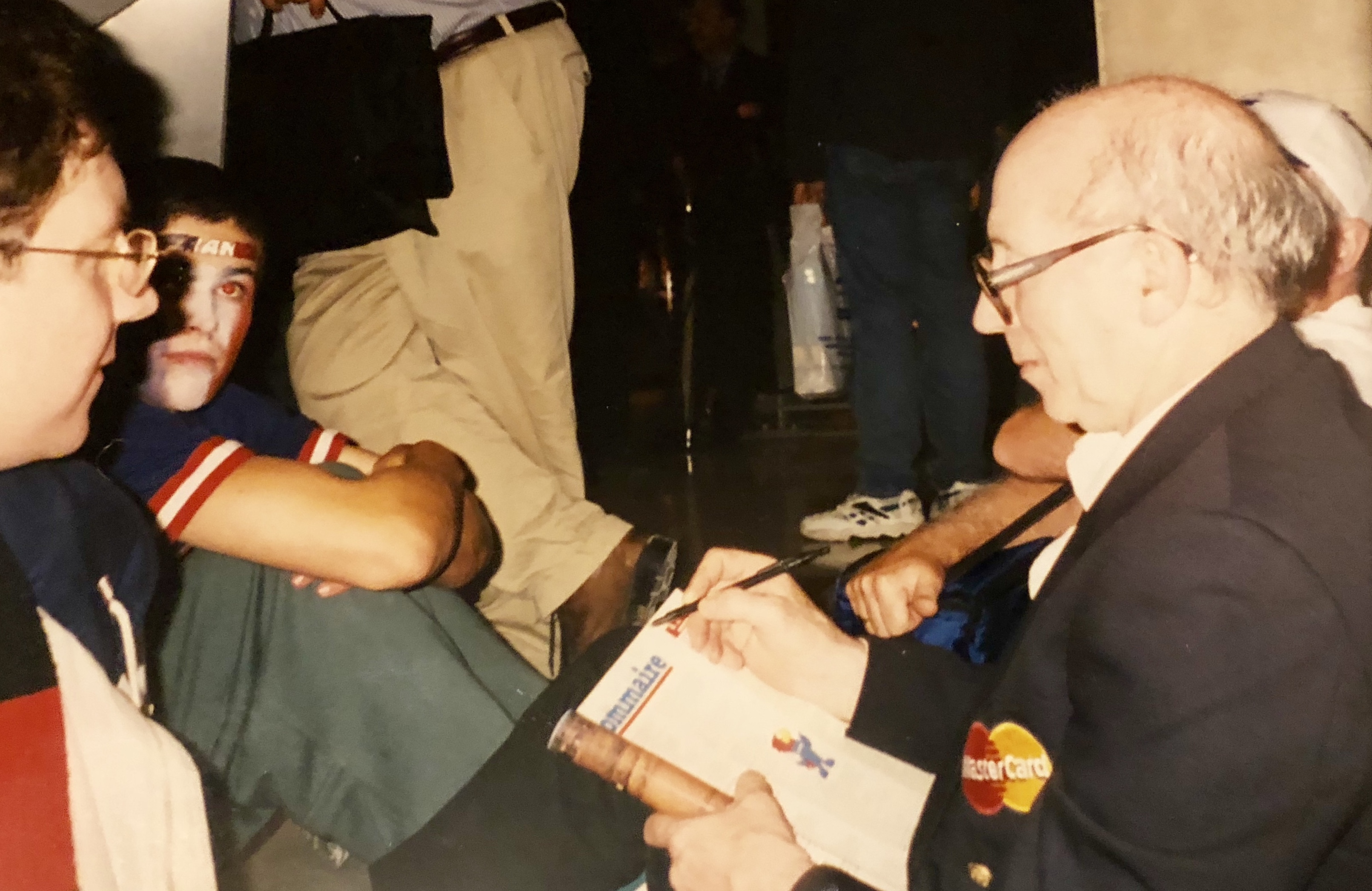 Both of the finalists had topped their qualifying groups, as had Italy, Nigeria, Netherlands, Germany, Romania, and Argentina. Scotland had finished last in Brazil's group. England had crept through to the knockout stages behind Romania, before losing to Argentina. That was the game with Michael Owen's spectacular goal, David Beckham's petulant sending-off, and Paul Ince and David Batty playing the traditional role of missing penalties.
Brazil had the more exciting route to the final. Sampaio and Ronaldo each netted twice as they beat Chile 4-1. Rivaldo added two to Bebeto's opener as they beat Denmark 3-2. Brazil then beat the Netherlands on penalties, after Ronaldo found the net in their 1-1. France had a more industrious route. Laurent Blanc scored as they beat Paraguay 1-0, and they then beat Italy on penalties after a scoreless draw, before Lilian Thuram scored the only goal of their semi-final against Croatia.
As we entered Stade de France for the final, the atmosphere was amazing. Eighty thousand mostly French fans filled the air with the simple yet powerful rhythmic chant of 'Allez les bleus, Allez les bleus, Allez les bleus.' I was comparing the stadium to my usual haunt of Dalymount Park, while the Bray Wanderers supporter sitting beside us was comparing it to the Carlisle grounds. Here's our view of the stadium, from behind and to the left of the goal that France was attacking in the first half.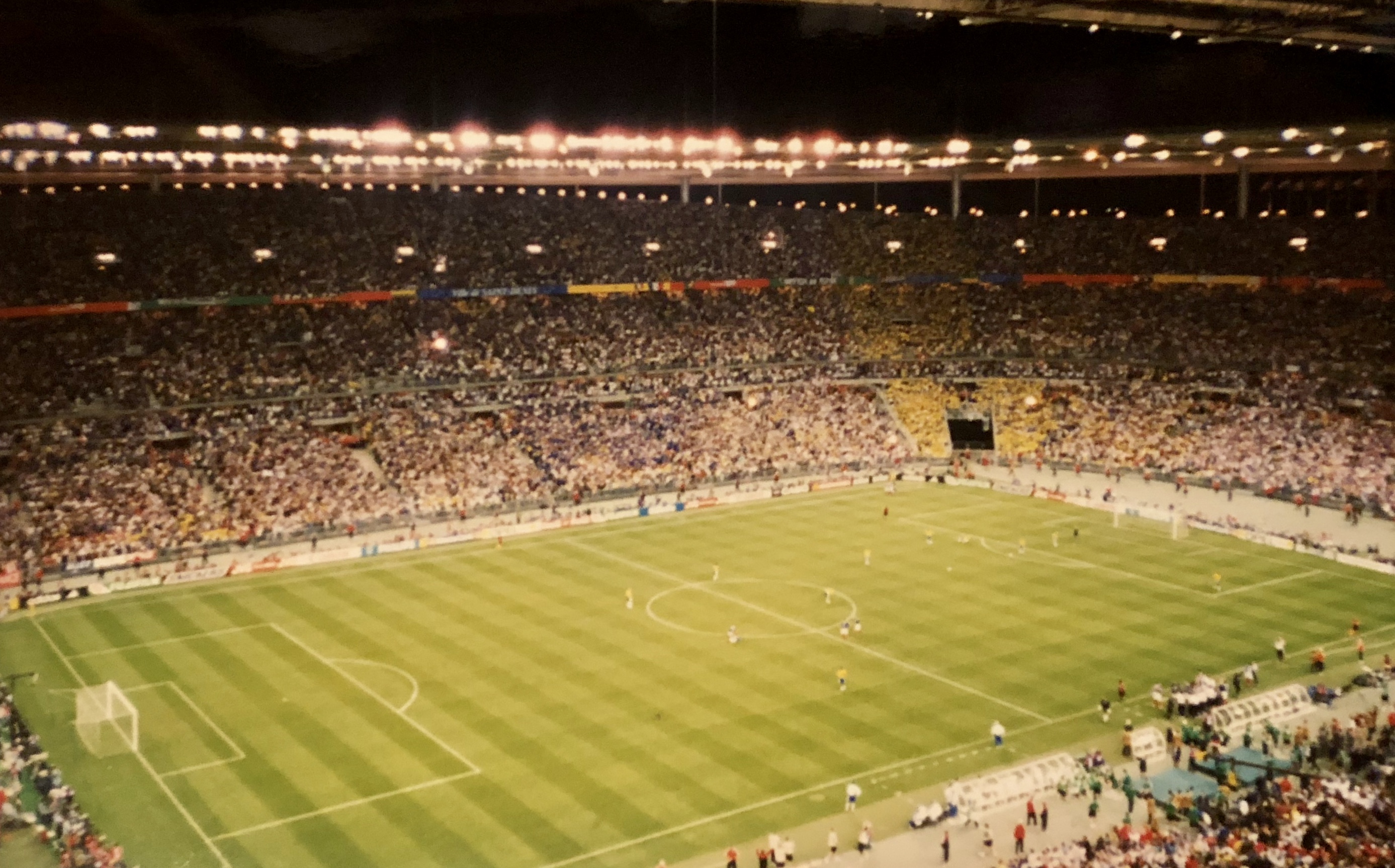 There was confusion before the match, as Brazil's superstar Ronaldo was omitted from the line-up, then reinstated just before the kick-off. They played an attacking 4-2-4 system, with Taffarel in goal; a back four of Cafu, Aldair, Junior Baiano, and Roberto Carlos; a central midfield of Cesar Sampaio and Dunga; Rivaldo and Leonardo on the wings; and Bebeto and Ronaldo up front.
France played what looked like a more conservate 4-3-3 system. They had Fabian Barthez in goal; a back four of Lilian Thuram, Frank Leboeuf, Marcel Dessailly, and Bizente Lizarazu; Didier Deschamps as a holding midfielder flanked by attacking midfielders Christian Karembeu and Emmanuel Petit; and a front three of Zenidine Zidane and Youri Djorkaeff supporting Stephane Guivarch.
Ronaldo nearly scored early in the game, forcing a good save from Fabian Barthez. Then on the half-hour, Zenedine Zidane headed home a corner from Emmanuel Petit. One nil! Here's Zidane's goal, as photographed by me from the stands with a thing called a camera, which we used to have in 1998. This was a physical object, not an 'app', that we carried around separately from the mobile phones that we didn't have.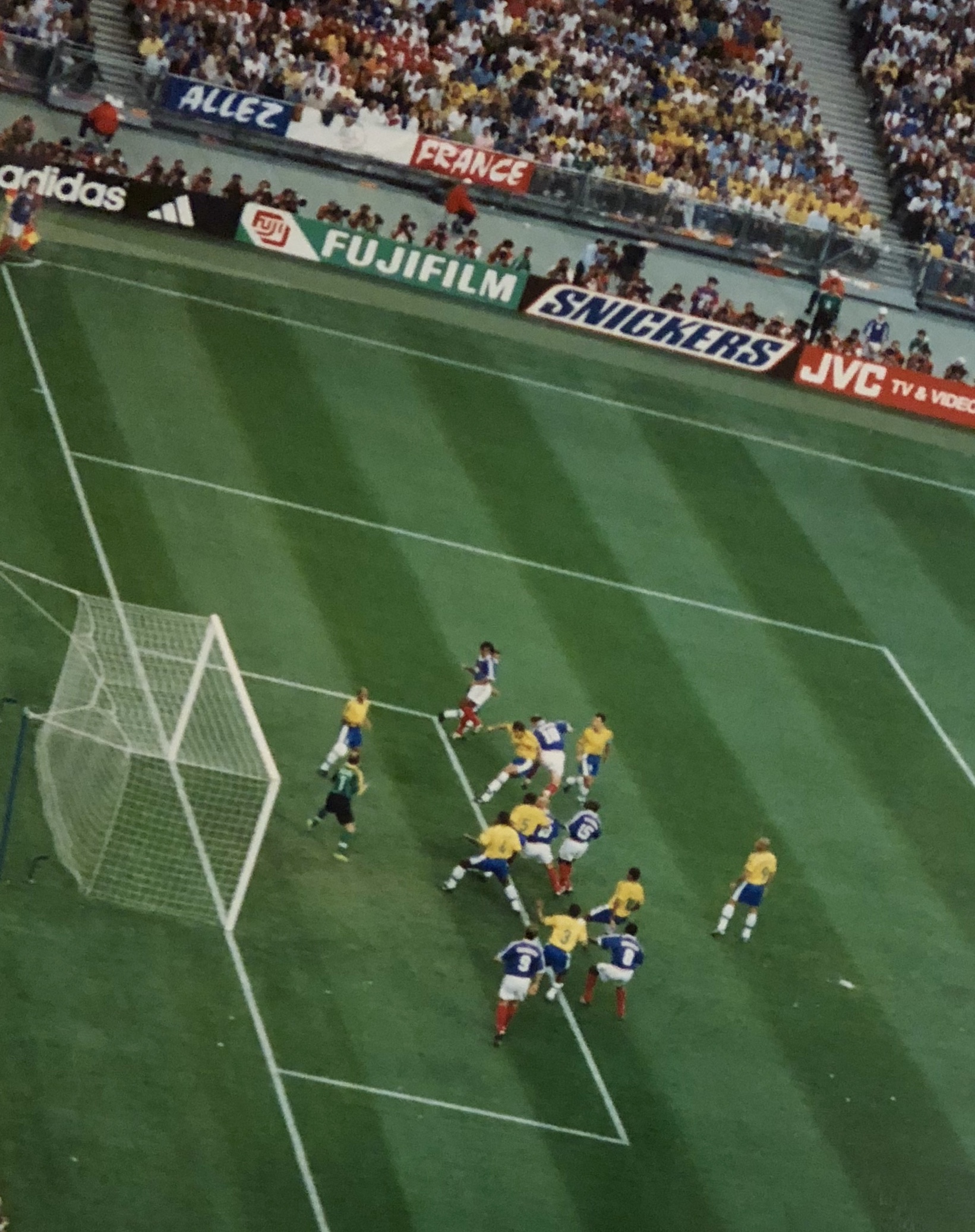 Barthez flattened Ronaldo on his next run towards the French goal, before Zidane scored an almost identical header to his first just before half-time. Two ahead at the interval! The home crowd sensed a magical victory, and the noise intensified, with a variation of the Allez chant: 'Allez les bleus, Allez les bleus, Allez… Allez les bleus, Allez les bleus, Allez.'
Brazil put more pressure on the French in the second half. Barthez again saved from Ronaldo, and Denilson hit the bar. The two goal lead began to look vulnerable with twenty minutes to go, when defender Marcel Dessailly was sent off after a second booking. Yet not only did the French hold out, but Emmanuel Petit added a third goal in stoppage time. France were world champions!
Probably because I was at the final, France 1998 is my third-favourite World Cup, after my childhood wonder at watching Pele at Mexico 1970 and Mario Kempes at Argentina 1978. I've loved this year's tournament, with its exciting games, surprise results, and the gradual impact of Video-Assisted Refereeing on cutting down fouls. But it will require a magical final to break its way into my all-time top three. Allez les bleus!
One last memory of the 1998 World Cup:
Allez les bleus, twenty years on