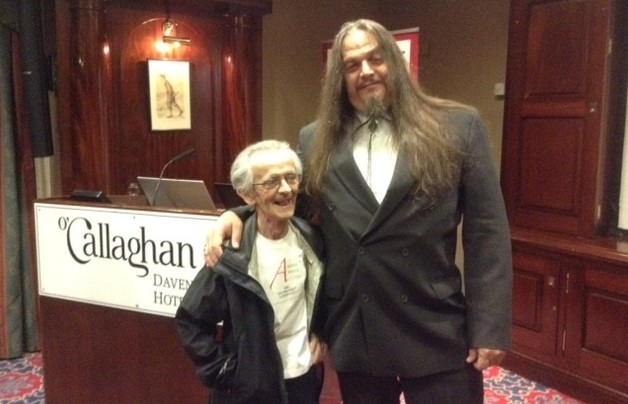 Joe Davis, one of Atheist Ireland's earliest and most-loved members, died this week. For most of his life, he felt like an outsider as an atheist living in Ireland, and he was delighted to have found a like-minded community when Atheist Ireland was founded a decade ago. We were delighted to have had the privilege of knowing such an honourable man.
Joe was kind, philosophical, conscientious, well-read, and funny. He loved to talk for hours on the nuances of atheism, religion, history, sociology, economics, and politics. He regularly turned up to Atheist Ireland events with CDs that he had recorded of philosophical interviews or debates, and shared them with those of us who had not heard them.
Joe was active in the Ballymun community as a socialist, promoting secular internationalist republicanism, and he was a font of information about the history of Irish and global politics. He was delighted to have lived to see the Irish people finally reject the control of the Catholic Church, and he campaigned until his death to get the politicians to catch up with the people.
Joe was one of the five people who took part in the first ever Atheist Ireland information table in Dublin, along with Brendan Maher, me, Jane Donnelly, and John O'Grady. He donated generously to various Atheist Ireland projects, including our book for children Is My Family Odd About Gods? He then purchased many of the books to give away as presents.
Joe was a regular at our Secular Sunday lunches and our Atheists in the Pub sessions. At one of our international conferences, Joe had a very enjoyable evening socialising with American evolution expert Aron Ra. Joe was as small as Aron Ra is tall, and when we were leaving Aron carried a happy Joe in his arms up the hotel stairs and outside to a taxi.
Joe was in and out of hospital in his final years. During one stay, he nearly died, yet he spent two hours propped up on his hospital pillow discussing Aristotle, Plato, and Socrates with me. His voice was weak, and it was drowned out by a nearby patient loudly abusing the nurses. Joe beckoned me to lean closer so that I could hear him, and I awaited his next words of philosophical wisdom. Joe slowly whispered: 'I wish that wanker would shut the fuck up.'
Joe was back in hospital last week, where he sadly died after a heart attack. He donated his body to the Royal College of Surgeons, so there will not be a funeral for some years. Everyone in Atheist Ireland who knew him admired him and loved him, and we will miss him.
Remembering Joe Davis, who died this week