PZ Myers has again shown his inability to behave ethically, and his willingness to trivialise rape by casually making serious unsubstantiated allegations, by upgrading his already serious allegation that I defend and provide a haven for rapists, to the even more serious allegation that I also support rapists.
Coincidentally, PZ did this shortly before the Freethought Blogs Executive Committee investigated and took disciplinary action against one of its bloggers for repeated plagiarism. In light of this, I have now emailed Freethought Blogs to ask for details of the procedures by which I could ask the Executive Committee to investigate this complaint against PZ.
PZ's new defamatory smear that I support rapists
It is now three months since PZ Myers falsely accused me of defending and providing a haven for rapists, and said that the evidence for this is that certain people comment on my blog.
He said this in response to my highlighting of the hurt that he had caused to other people, and the harm he has caused to the atheist movement, by earlier smears and misrepresentations.
Not only has PZ refused to withdraw and apologise for this defamatory smear, but yesterday he has actually intensified it.
He has now gone beyond accusing me of defending rapists, by saying it is accurate and forthright to accuse me of defending and supporting rapists.
Here is the relevant exchange in the comments section of his blog: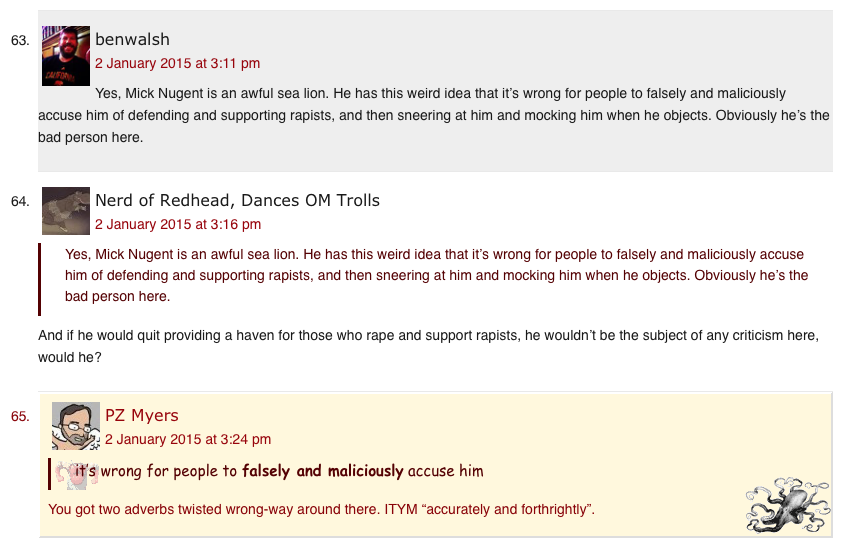 Ben Walsh: "Yes, Mick Nugent is an awful sea lion. He has this weird idea that it's wrong for people to falsely and maliciously accuse him of defending and supporting rapists, and then sneering at him and mocking him when he objects. Obviously he's the bad person here."

Nerd of Redhead: "And if he would quit providing a haven for those who rape and support rapists, he wouldn't be the subject of any criticism here, would he?"

PZ Myers: "Quote from Ben Walsh: 'it's wrong for people to falsely and maliciously accuse him…' Comment by PZ: You got two adverbs twisted wrong-way around there. I think you mean "accurately and forthrightly"."
At this stage it seems unclear whether PZ is deliberately upgrading an already serious allegation to an even more serious allegation, or whether he thinks that defending and supporting are similar allegations, or whether he just doesn't think about what he writes.
Whatever his thinking, it is increasingly clear that people who care about an ethical and compassionate atheist movement based on integrity should dissociate themselves from the hurt and harm caused by PZ's behaviour.
My email today to the Freethought Blogs Executive Committee
To Ed Brayton,
Manager,
Freethought Blogs Network
Dear Ed,
Can you please bring this request to the attention of the Freethought Blogs Executive Committee, and can you please ask PZ Myers to excuse himself from discussion of it due to conflict of interest?
Dear Executive Committee members,
I would like to make a complaint about the writings of PZ Myers on your blog network, with regard to his false allegations that I defend, provide a haven for, and support rapists.
Can you please let me know the procedures for bringing details of this complaint to the attention of the Executive Committee, along with supporting documentation which I will supply, and the procedures that the Executive Committee will employ to investigate my complaint?
Thank you in advance,
Yours sincerely
PZ Myers' new defamatory smear that I support rapists