Here's the Euthyphro dilemma as enacted on Twitter:
Socrates: "Ought we to enquire into the truth of this, Euthyphro, or simply to accept the mere statement on our own authority and that of others? What do you say?"

Euthyphro: "We should enquire; and I believe that the statement will stand the test of enquiry."

Socrates: "We shall know better, my good friend, in a little while. The point which I should first wish to understand is whether the pious or holy is beloved by the gods because it is holy, or holy because it is beloved of the gods?"

Euthyphro: "Oh fuck off, Socrates, you Sea Lion. Blocked!"
PZ Myers has published a post titled 'At last! A comprehensive reply to sea lions', based on a cartoon by David Malki ! that can be interpreted in several ways. In one interpretation, a couple is being harassed by a sea lion persistently asking them polite questions. In another interpretation, a couple expresses prejudice about sea lions as a group, and then 'doubles down' when a member of that group politely asks them to justify their prejudice. Combining both of these interpretations, PZ supports the prejudiced couple, because the target of their prejudice is persistent in politely questioning them.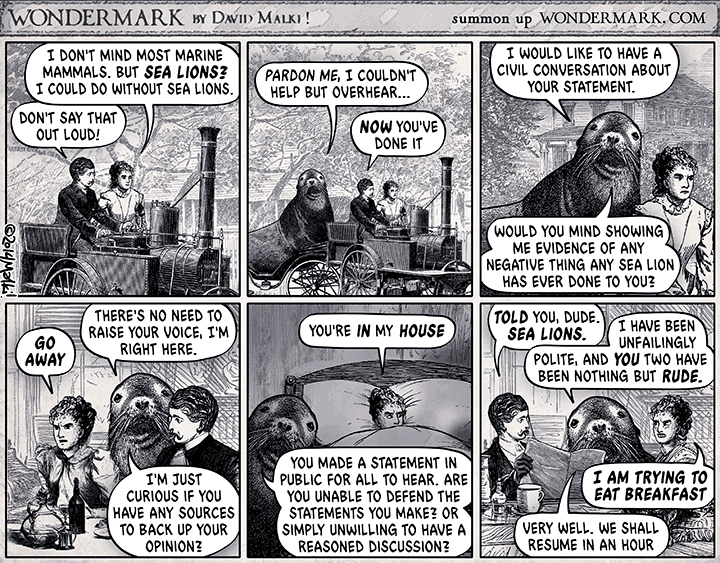 I addressed this this issue (and this cartoon) two months ago, in a post titled 'On satire, sea lions, civility and smears – please support the primacy of reasonable dialogue', after a Twitter account called Mick The Sea Lion parodied me for persistently asking PZ Myers to withdraw and apologise for his defamatory smear that I defend and provide a haven for rapists.
What I wrote in my previous post about this
Here's some of what I wrote then:
There is a strange online meme called 'tone-trolling', whereby some people who are rude and abusive to you will complain if you ask them to be polite. Now there is a new turbo-charged version called 'sea-lioning', whereby they will also complain that you are being persistently polite yourself.

It is as if some people want to reverse the evolution of civilisation, to make being rude and abusive something to be proud of, and being polite and civil something to be ashamed of. Also, they want to remain unaccountable for their unethical smearing of other people.

This new meme has recently been popularised by a cartoon by David Malki ! titled The Terrible Sea Lion. It is part of his very funny cartoon series called Wondermark, that I would recommend to anyone with a quirky sense of humour and a respect for 19th century woodcuts and engravings.

As far as I can make out, the meme is meant to convey that politely persisting in asking questions might be considered to be harassment. Which indeed it might be, if the topic is trivial, or was introduced by the person asking the questions. But, as with everything, context matters.

Satire can delightfully undermine claims that are silly or unsupported by evidence. But satire depends on a shared set of underlying assumptions, mental shortcuts and stereotypes. Without that shared starting-point, the same joke can reinforce opposing beliefs in different people.

The Terrible Sea Lion is very funny in a ludicrous way, but the moral message depends on your starting point. If you come to the cartoon cold, and if you dislike prejudice and arrogance and cowardice, and if you like civility and reason and accountability, then the sea lion is clearly the goodie, seeming to represent minority groups who are victims of prejudice by the baddies in the car.

The Terrible Sea Lion overhears a prejudiced comment about its group, and asks the person to justify their prejudice. In the terminology of PZ Myers and friends, the Sea Lion is 'calling out' a prejudiced couple, who respond by 'doubling down' and trying to ignore the consequences of publicly expressing their prejudice.

The Terrible Sea Lion may be criticised for being excessively persistent, by following the prejudiced couple into their house, so maybe that is where its terribleness comes in. Maybe the Sea Lion should just accept that some people are unreformably prejudiced, and allow them to remain so, as long as they restrict their prejudice to the privacy of their homes.

Yesterday's new anonymously-authored Mick The Sea Lion twitter account parodies me for being politely persistent, despite slightly undermining itself by using all-caps shouting. That's funny if you think being politely persistent is a wrong response to being smeared as a defender of rapists, and strange if you think the opposite. That is, if it isn't a Poe.

It misses even the most benign interpretation of the Malki ! cartoon. Imagine if Malki !'s cartoon began with the couple alleging that a named individual was defending rapists, and the target of that smear was then asking them to substantiate or withdraw that smear, and they persistently refuse to do either. In that case, a very different dynamic ensues.
The case for being upset by persistent questions
In fairness, I can see why some people could get upset by some kinds of persistently asked questions. Here are some reasons expressed by James Murff in a post titled 'Why Sealioning Is Bad', which PZ linked to in his post.
Why Sealioning Is Bad – Chances are you've seen this comic by David Malki if you frequent Twitter at all these days. It even coined a new verb – 'sealioning' – to describe the act of jumping into a discussion with demands for evidence and answers to questions….

Sunk Time – The biggest reason why people hate sealioning is because responding to it is a complete waste of time… Of course, these questions are not asked because the person genuinely wants to know. If they did, they would do their own digging based on your statements… This is the "debate principle"; when you go to a debate, you educate yourself on the topics at hand…

Asking in Bad Faith – When you ask a question in bad faith, you are essentially looking for a way to demean, degrade, or otherwise destroy your target… The purpose of sealioning never to actually learn or become more informed. The purpose is to interrogate.

Load the Question Cannons – When the target is continually asked questions – especially the same question under a different phrasing, which is very common when sealioning – it's rattling… Compound this with being sealioned but multiple people, as is common on Twitter, and you've got a recipe for a very frustrating and fruitless timeline.

Lose/Lose – Being sealioned is a lose/lose situation, unfortunately. The only winning move is not to play. In this case, block or dismiss sealioners and go about your normal business, letting them vent their frustrations out where you can't see them. It's much healthier for your psyche… You owe nothing – especially not answers – to a mob whose intent is to harass you.
This is a reasonable reaction to a particular set of circumstances – where a mob of people is intentionally harassing you by wasting your time or undermining your reputation as a reasonable person.
However, it is not a reasonable reaction to other sets of circumstances, where you are being politely asked questions for legitimate reasons.
And it is not reasonable to simply apply this label to all circumstances of being politely asked questions, and then use that label to justify your own behaviour.
When you should answer persistent polite questions
I suggest that there are several circumstances when you should answer persistent polite questions.
1. Assume good faith – The first is when the questioner is, or may be, asking the question in good faith. For most people, Twitter is not a formal debate where people are obliged to study material before participating. It is more typically a discussion platform where people can exchange opinions. You should start with a charitable interpretation of a questioner's intent, and only change your interpretation when their intent is proven (not assumed) to be otherwise.
2. Substantiate personal claims – The second is when you yourself have made a statement that, if unchallenged, would lower the reputation of other identifiable people. If your statement is true, then you should be prepared to substantiate it. If your statement is false, then you should withdraw it and apologise. These are reasonable consequences that you should be prepared to face if you make statements that would lower the reputation of other people.
3. Question your assumptions – The third is when the questioning is intended, in good faith, to cause you to question your own assumptions. This is a valid form of philosophical questioning, popularised by Plato as the Socratic Method. In this method, assumptions are questioned to see whether they stand up to critical analysis, or whether the questioning reveals internal contradictions in the position of one or other of the participants.
There are valid reasons why you might not want to answer questions even in these three circumstances. You might mistakenly believe that you are being asking questions in bad faith, or you might fear the legal consequences of discussing a defamatory claim you have made, or you might not want to have your assumptions tested by critical questioning using the Socratic Method because you are happy to believe what you already believe regardless of its truth. You might not have time to answer, or you might want to do something else, or you might just be in a bad mood and not want to discuss the issue.
But you cannot reasonably justify any of these reasons by describing these types of questioning as 'sea-lioning', or by describing the questioner as a 'sea-lion'. Doing that is simply an evasion of personal responsibility, and an attempt to close down a legitimate line of questioning by deflecting attention onto an inaccurate label.
What if Plato used the Socratic Method of questioning on Twitter?