There is a strange online meme called 'tone-trolling', whereby some people who are rude and abusive to you will complain if you ask them to be polite. Now there is a new turbo-charged version called 'sea-lioning', whereby they will also complain that you are being persistently polite yourself.
It is as if some people want to reverse the evolution of civilisation, to make being rude and abusive something to be proud of, and being polite and civil something to be ashamed of. Also, they want to remain unaccountable for their unethical smearing of other people.
This new meme has recently been popularised by a cartoon by David Malki ! titled The Terrible Sea Lion. It is part of his very funny cartoon series called Wondermark, that I would recommend to anyone with a quirky sense of humour and a respect for 19th century woodcuts and engravings.
As far as I can make out, the meme is meant to convey that politely persisting in asking questions might be considered to be harassment. Which indeed it might be, if the topic is trivial, or was introduced by the person asking the questions. But, as with everything, context matters.
Malki !'s Terrible Sea Lion
Satire can delightfully undermine claims that are silly or unsupported by evidence. But satire depends on a shared set of underlying assumptions, mental shortcuts and stereotypes. Without that shared starting-point, the same joke can reinforce opposing beliefs in different people.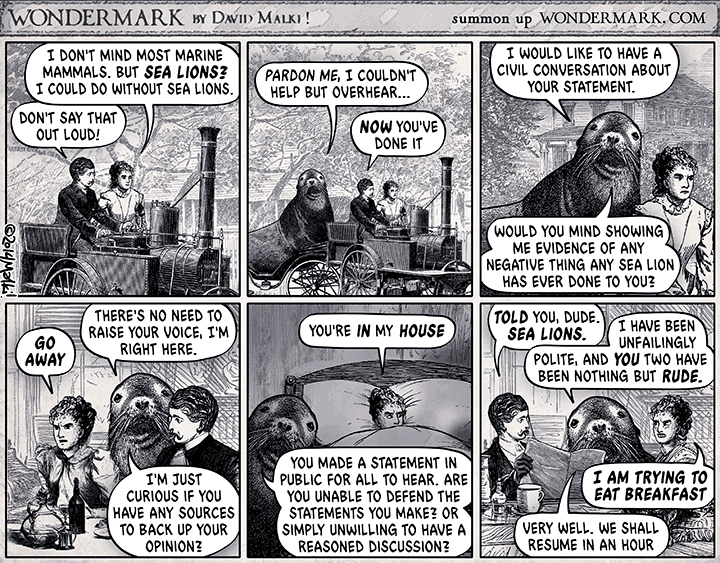 The Terrible Sea Lion is very funny in a ludicrous way, but the moral message depends on your starting point. If you come to the cartoon cold, and if you dislike prejudice and arrogance and cowardice, and if you like civility and reason and accountability, then the sea lion is clearly the goodie, seeming to represent minority groups who are victims of prejudice by the baddies in the car.
The Terrible Sea Lion overhears a prejudiced comment about its group, and asks the person to justify their prejudice. In the terminology of PZ Myers and friends, the Sea Lion is 'calling out' a prejudiced couple, who respond by 'doubling down' and trying to ignore the consequences of publicly expressing their prejudice.
The Terrible Sea Lion may be criticised for being excessively persistent, by following the prejudiced couple into their house, so maybe that is where its terribleness comes in. Maybe the Sea Lion should just accept that some people are unreformably prejudiced, and allow them to remain so, as long as they restrict their prejudice to the privacy of their homes.
Malki !'s Old Dog, Oldest Trick
Malki ! also published another recent cartoon that shows how, without shared assumptions, the same joke can reinforce opposing beliefs in different people.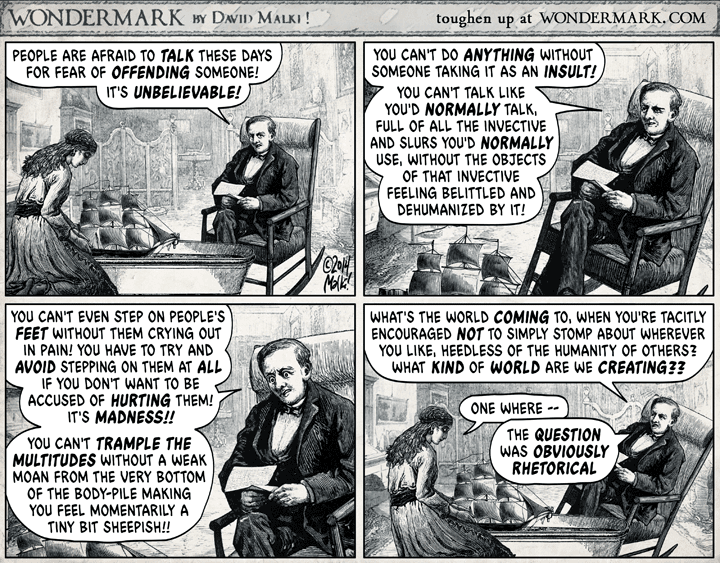 In Old Dog, Oldest trick, a man complains that he cannot talk as he normally would, using invective and slurs, without the objects of his invective and slurs feeling belittled and dehumanised. He complains that he is tacitly discouraged from stomping about disregarding the humanity of others. What is the world coming to, he asks?
I can imagine PZ Myers and some of his commenters identifying themselves as the targets of this hypothetical archetype's invective and slurs. And in some cases, that is true. Some of them have been subject to many unjust personal smears, and I have defended them against those smears.
But some of them seem not to recognise that they are on both sides of this cartoon. Some of them also spread invective and slurs, and belittle and dehumanise others, as they metaphorically stomp about through the posts and comment sections of certain blogs.
PZ has accused separate named people of seeming to have developed a callous indifference to the sexual abuse of children, of being a lying fuckhead, and of defending and providing a haven for rapists. He has said that a shopkeeper who apologised for an offensive sign should be fucked to the ground. He has described Robin Williams' suicide as the death of a wealthy white man dragging us away from news about brown people.
His commenters may have moved on from telling people to put a three week old decaying porcupine dipped in tar and broken glass up their arse sideways. But some of them still label named people, with no justification for the substance never mind the language, as a racist misogynist piece of shit, or a horrible slimy little man oozing misogyny from every pore.
Mick The Sea Lion
Yesterday's new anonymously-authored Mick The Sea Lion twitter account parodies me for being politely persistent, despite slightly undermining itself by using all-caps shouting. That's funny if you think being politely persistent is a wrong response to being smeared as a defender of rapists, and strange if you think the opposite. That is, if it isn't a Poe.
It misses even the most benign interpretation of the Malki ! cartoon. Imagine if Malki !'s cartoon began with the couple alleging that a named individual was defending rapists, and the target of that smear was then asking them to substantiate or withdraw that smear, and they persistently refuse to do either. In that case, a very different dynamic ensues.
It is interesting that Ophelia Benson likes this account. She has favourited one of its tweets, despite it using an epithet and a photoshopped image, both of which behaviours she has previously complained about when directed at herself.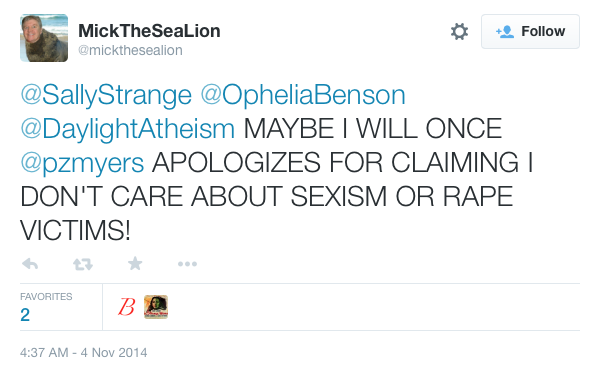 Ophelia's recent joint statement with Richard Dawkins said that "It should go without saying" that there should be "no photoshopping people into demeaning images, no vulgar epithets."
Ophelia later clarified in a comment on PZ's blog that:
"I chose "vulgar" in order to avoid more contested or loaded adjectives. Of course I don't consider "fuckwit" to be vulgar. But seriously, the word is "epithets" – that's the important part."
Well, "Mick the Sea Lion" is an epithet, and photoshopping my head onto the body of a sea lion is demeaning. Personally, I don't mind either, but by Ophelia's own standards it seems strange that she would favourite it.
Summary
For absolute clarity, the cartoonist David Malki ! does not engage in any of the vulgar and abusive behaviour I have described in this post. He produces a very funny and thought-provoking cartoon series, as well as various other creative artistic ventures.
But those who do use the memes of 'tone-trolling' and 'sea-lioning' as ways to try to reverse the evolution of civilisation, should be aware that they will face polite and persistent resistance from those of us who want to build an ethical world based on empathy, compassion, cooperation, reciprocity, fairness and justice.
On satire, sea lions, civility and smears – please support the primacy of reasonable dialogue