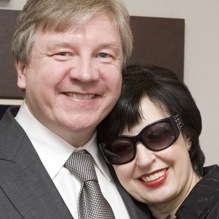 When my wife Anne Holliday died three years ago, she donated her body to Trinity College Medical School.
This Thursday and next Thursday, RTE is showing a documentary titled A Parting Gift, which follows a year in the life of medical students learning from anatomical donations, including Anne's, at Trinity College.
Gabrielle Monaghan has previewed the documentary for the Irish Independent. Here is an extract from Gabrielle's review:
Anne Holliday dedicated her life to helping others. When she was diagnosed with cancer in 2009 and told she had just six months to live, Holliday saw death as another opportunity to do something useful for society. So she signed up to donate her body to Trinity College Dublin's anatomy department.

Instead of giving friends a funeral she couldn't attend, Holliday opted for a party, and, shortly after her diagnosis, she married Michael Nugent, her partner of 25 years. Holliday defied medics' expectations and lived for a year and a half, dying in 2011 at the age of 57.

Holliday was a founder member of New Consensus, a group that campaigned for the revision of the republic's territorial claim on the North. She organised the first rail journey by the Peace Train between Dublin and Belfast, aimed at challenging the IRA's disruption of the North-South rail link.

Donating her body was "something we had often talked about in theoretical terms, but it became more real when she was diagnosed with cancer," said her husband Michael, who is chairman of Atheist Ireland. "We had always been involved in community activities, promoting secularism, and campaigning against terrorism. So this act seemed a natural extension to that. It's her final project, really."

Holliday and Nugent feature in A Parting Gift, a new two-part documentary for RTE One about Trinity's body donation programme. The university's medical school is one of five in the country that rely on anatomical donations to teach medical, dental and science students.
You can read the full review here:
Life after death? Leaving your body to medical science
You can read the tribute I wrote to Anne shortly after she died here:
My tribute to my late wife Anne Holliday
My late wife Anne Holliday's final project – see RTE documentary this Thursday on leaving your body to medical science