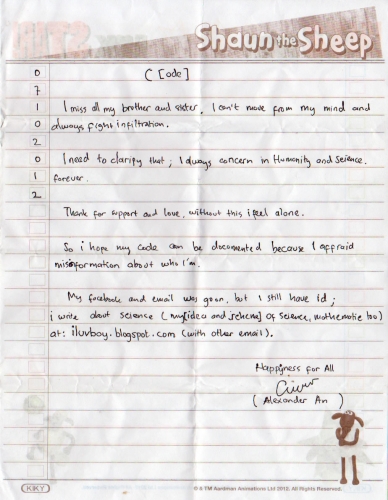 Alexander Aan, who was jailed for blasphemy last month in Indonesia, has sent a message from prison thanking his supporters around the world, saying that he would feel alone without our support and love. He says that he is always concerned with science and humanity, and that he is also concerned about misinformation about him. While his Facebook and email accounts are gone, he also wrote about science and mathematics at iluvboy.blogspot.com.
Alexander is a 31 year old atheist civil servant from Indonesia. In January 2012, he wrote on Facebook that God does not exist, he debated online with Muslims, and he posted pages from a comic-book story of the life of Muhammad. A group of villagers entered his office, checked his Facebook page, assaulted him and reported him to the police. In June 2012, he was jailed for two and a half years.
Alexander was originally charged with blasphemy and persuading others to embrace atheism, but was instead convicted under the Electronic Information and Transactions Law of deliberately spreading information inciting religious hatred and animosity. This shows the dangers of mixing the ideas of blasphemy and incitement to religious hatred, as prosectors can easily interchange one with the other. His defense team is appealing the sentence, while astonishingly the prosecution is appealing the leniency of the sentence!
Atheist Ireland has already briefed Irish politicians about Alexander's case, following which Senators Ivana Bacik and Jillian van Turnhout raised the issue in the Irish Seanad. But we now need to redouble our efforts to campaign for Alexander's release and the repeal of the Indonesian and Irish blasphemy laws. Atheist Alliance International is very active on this issue, and will forward messages of support to Alex if you email info [at] atheistalliance [dot] org with "Message for Alex" in the subject line.
What you can do to help
Contact your politicians and your Indonesian embassy
Send a message of support for Alex to info [at] atheistalliance [dot] org with "Message for Alex" in the subject line
Post "God Does Not Exist" on your Facebook wall
Tweet a message of support with hashtag #goddoesnotexist
Ask your friends to speak out about the case
Further Information
Blasphemy law victim Alex Aan sends a message from prison