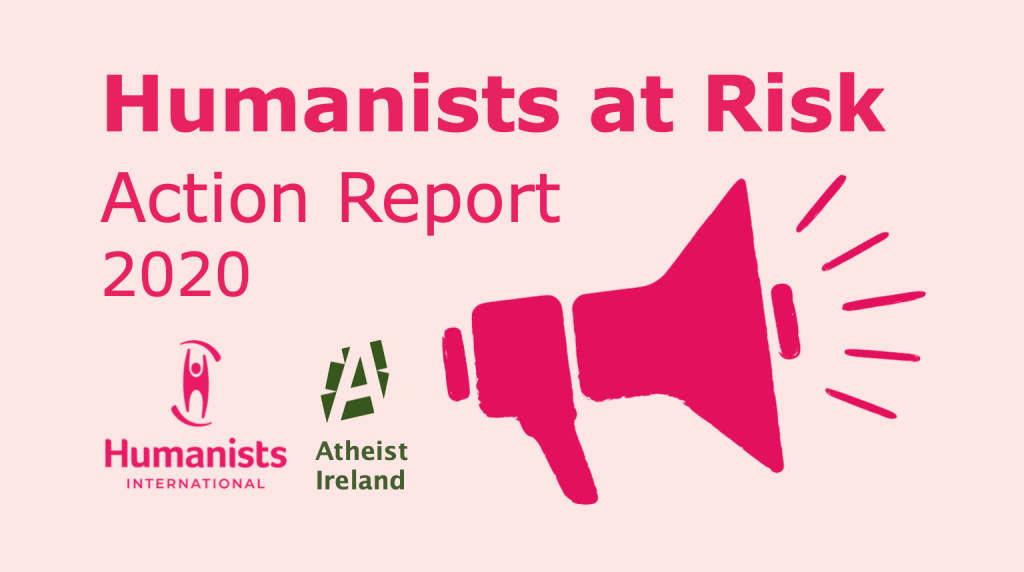 Atheist Ireland is a member of Humanists International, who today published the Humanists at Risk Action Report 2020. It exposes discrimination against atheists, humanists, and nonreligious people in eight countries: Colombia, India, Indonesia, Malaysia, Nigeria, Pakistan, the Philippines, and Sri Lanka.
These States limit the rights to freedom of thought, conscience, and religion, or the right to freedom of expression, association and assembly, including through:
Laws against blasphemy, apostasy and religious insult
Impunity for attacks and killings
The privileging of one or some religions by the State
Bullying, discrimination, ostracism and social isolation
Atheist Ireland supports persecuted minorities in authoritarian religious regimes. We went to Geneva to address the UN Human Rights Committee about religious persecution in Pakistan, in a joint delegation with our secular colleagues from the Evangelical Alliance of Ireland and the Ahmadiyya Muslim Community of Ireland.
In these and other countries, humanists and atheists face intimidation, threats, arrest and prosecution, and even death, for sharing their views on social media. For some, while challenging legislation is important in the long-term, their most immediate concern is simply achieving recognition and respect.
Gary McLelland, Chief Executive of Humanists International, says:
"For too long humanists and other nonreligious people have been invisible in the eyes of their own governments and international organisations. This report shines a light on the targeted violence, continued harassment and social discrimination faced by humanists in many countries and opens the door to conversations on how best to protect humanists worldwide. What is clear is that all laws and policies which criminalise blasphemy should be repealed."
Emma Wadsworth-Jones, Humanists International's Humanists at Risk Coordinator, says:
"Typically, humanists at risk across the globe report that they have rejected religion and all the associated traditional/conservative norms which have placed constraints on their personal lives, education, or career prospects; they feel trapped by circumstance owing in part to the conservative religious values that they reject. They report having received abuse or been threatened for their beliefs, many have faced ostracism or difficulty in securing employment."
Colombia
The situation for humanists in Colombia is relatively less severe than other countries in the report. They can meet openly in public without fear of violence or gross discrimination. Social stigma against humanists is acutely felt. Like many countries throughout Latin America, Colombians' reported affiliation to the Catholic Church has been on the decline in recent decades, but it continues to dominate socially.
India
Many humanists (primarily known as rationalists, freethinkers or atheists in India) are deeply involved in the campaigns to end the Caste system, and promote the rights of so-called Dalits or "untouchables". This is a highly contentious issue responsible for considerable violence and social tension.
Many humanist activists have been harassed, or worse, as a result of their advocacy in favour of Dalits. In recent years there have been greater barriers created for international organisations wishing to work with grassroots partners in India, including but not limited to restrictions on funding from foreign sources.
Indonesia
The humanist movement is not well established in Indonesia, in a large part due to the hostile environment for those who are perceived as critical of the majority Islamic belief. There has been no research which explores the treatment and experiences of humanists and other nonreligious individuals and groups in Indonesia.
Malaysia
Malaysia is a country where humanists and atheists face outright violence and persecution, and as a result the movement is not well organised. Pressure should be brought to bear on Malaysia to encourage it to harmonise with international human rights standards, especially on freedom of religion or belief. More research is needed to understand the situation faced by humanists and other nonreligious people in Malaysia.
Nigeria
Nigeria benefits from many secular protections within its constitution, however this is not seen in practice. Humanists and other nonreligious individuals face a variety of serious discrimination and are largely invisible within Nigerian society. The President of the Humanist Association of Nigeria, Mubarak Bala, has been held in detention since his arrest on 27 April 2020 on charges of insulting the prophet Mohammed.
Pakistan
Religious and nonreligious minorities in Pakistan are directly and indirectly discriminated against by their own government. Directly by the institutional and legislative restraints, and indirectly by the government's discourse and the climate of impunity. Almost all cases of discrimination against humanists in Pakistan fall under the broad umbrella of "blasphemy laws".
The Constitution of Pakistan establishes Islam as the state religion and, although the constitution gives the premise of protection for minorities to practice their religious beliefs freely, many of the laws and policies of the Pakistani state unduly restrict freedom of religion or belief in a repressive way.
The existence of such harsh laws and punishments against humanists and the threats of targeted violence combined with impunity from the government leads to the 'invisibility' of humanists in Pakistan. There is no doubt that humanists in Pakistan are at grave and immediate risk of targeted violence if their beliefs and identity are exposed.
Philippines
The humanist movement in the Philippines is a young and dynamic movement. Run by a group of vocal activists, they are closely aligned with the LGBTI+ movement and other progressive social groups. The humanist community, along with other social groups, faces widespread social discrimination as well as legal discrimination
Sri Lanka
Sri Lanka does not have a coordinated humanist movement. There is an active group of 'Ex-Muslims' in Sri Lanka who suffer from serious discrimination and social stigma. Humanists and atheists in Sri Lanka face significant social stigma and discrimination, but more information and research is needed in this area.
Recommendations
The report includes detailed recommendations on specific changes that are needed in each of these eight countries. It also includes general recommendations to help improve the human rights situation for humanists and nonreligious people across the world.
Inclusive and accurate language is important, both for its descriptive and prescriptive roles. The right to freedom of religion or belief covers a whole host of religious and nonreligious beliefs (as made clear in the UN Human Rights Committee's General Comment 22)118 and as such, should not be reduced in its description to less inclusive terms (such as 'religious freedom').
Humanists, and other nonreligious groups, should be clearly identified as a constituent group with a positive and coherent worldview for the purposes of funding and research for development aid, social research, and stakeholder engagement.
When human rights monitors look at structural discrimination against religious minorities – for example, discrimination flowing from apostasy and blasphemy laws or from religious tests for citizenship, or from religious control of family law – they should also look at how this discrimination would impact humanists and nonreligious people as well as those who identify with an organised religion.
There needs to be convincing international condemnation and response to those country leaders who use 'hate speech' or incitement against any religious or belief minorities. It needs to be clear that this includes those with no religion.
There needs to be more research into the specific needs of humanists and nonreligious people, to inform on how to better protect these people in view of such needs.
Political and legal separation of religion and state (secularism) is a prerequisite for the full enjoyment of human rights, democracy, and the rule of law. Despite this, there has been minimal attention at an international level. More research needs to be committed to the issue of secularism, and its importance and integral link to human rights, and how it should be understood or indeed how the principles of secularism might be applied in practice.
You can read the full report here.
Humanists at Risk Action Report 2020