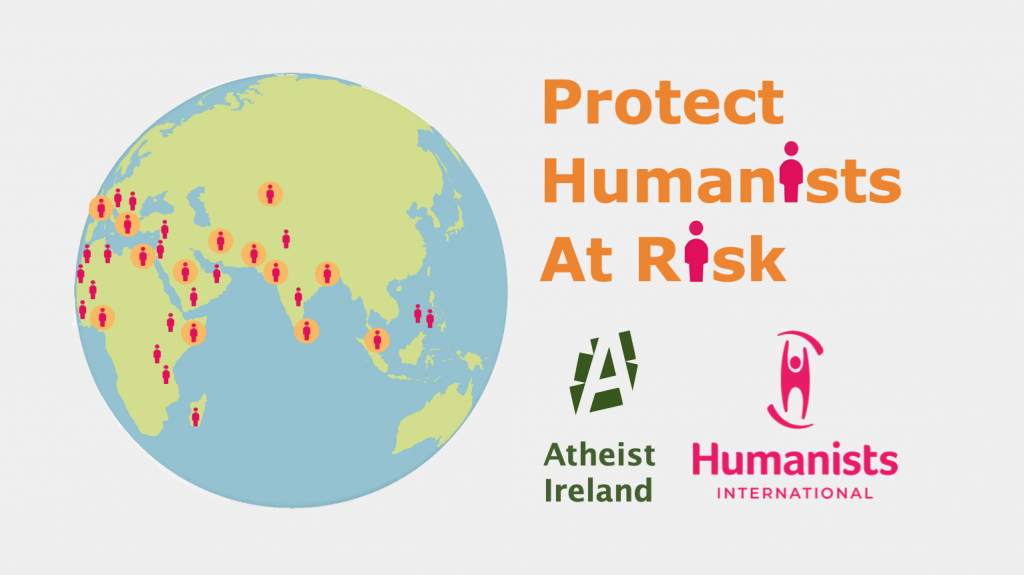 Many atheists and humanists across the world cannot live freely in accordance with their values. As well as campaigning politically in Ireland, Atheist Ireland campaigns as a member of Humanists International to protect people at risk of persecution around the world.
When we led the successful campaign to remove the Irish blasphemy law, one benefit was that the Islamic States at the United Nations could no longer point to our blasphemy law to defend their own persecution of religious and non-religious minorities.
Pakistan is a serious violator of human rights. Atheist Ireland has addressed the UN Human Rights Committee in Geneva about the persecution of atheists and minority faith members in Pakistan. We did this along with our secular colleagues in the Evangelical Alliance of Ireland and the Ahmadiyya Muslim Community of Ireland.
Iran, Iraq, Saudi Arabia, and Bangladesh are other countries in which many atheists and humanists are forced to live their lives in the closet. If they are open about their beliefs, they risk discrimination, persecution, prison terms, or even death from State-sanctioned punishment or vigilante violence.
No atheist or humanist group can solve these world problems alone, but our global representative body Humanists International is here to help. We are a democratically accountable international network with decades of campaigning experience. We coordinate political advocacy for human rights both within countries and at the United Nations.
Every week Humanists International receives many requests for help from atheists and humanists at risk from all over the world, particularly from Asia and the Middle East. In each of these cases we always give the best support and assistance we are able to.
The global Covid-19 crisis has dramatically affected the lives of atheists and humanists at risk: many are in prison with little or no access to medical assistance and exposed to the contagion. The poor conditions in many prisons, and disregard for their welfare, makes them all the more susceptible to contracting the virus.
There is clear and growing evidence of the targeting of atheist and humanist activists on the basis of their rejection of a majority religion or their promotion of humanist values, such as human rights, secularism, critical thinking, and democracy.
Humanists International has big plans to ramp up the support we offer to humanists at risk in 2020. Here are just some of these plans:
We will ensure a quick response to all enquiries we receive from humanists at risk, aiming for a 24-hour response
We will hire the world's only full-time Humanists at Risk Coordinator, to effectively manage the response of our whole network in a coordinated way
We will launch a brand new Humanists at Risk Report, which will highlight the growing body of evidence of discrimination against humanists and atheists.
But Humanists International cannot do this alone – and this is where you can help us to make the difference.
Please donate here to the #ProtectHumanistsAtRisk campaign.
Help to protect atheists and humanists at risk of persecution around the world.
Protect Humanists at Risk 2020