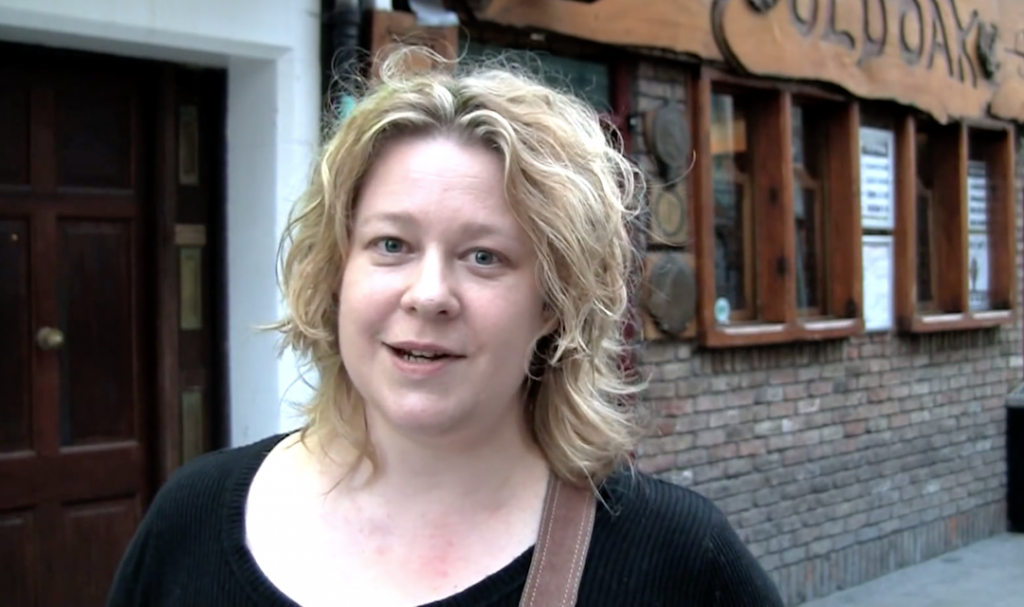 We at Atheist Ireland were shocked to hear of the untimely death of our friend Grania Spingies, who died on Sunday 16 June 2019, a week before her 49th birthday. She was one of the founders and the first Secretary of Atheist Ireland, and one of the moderators of the online forum out of which Atheist Ireland evolved.
She died suddenly in Cork while visiting the doctor to discuss a stomach ailment, and we will not know what caused her death until we get the results of an autopsy. I would like to thank her friend Kathryn Moffat for letting us know the sad news.
Grania was an intelligent and organised activist, a rational and effective communicator, and a lovely friendly person who combined compassion for people with a clinical commitment to truth, whether discussing creationism, medical placebos, or genetically modified food.
As a child in South Africa, she was reading books by the age of four, and she supported the Biblical character Eve's decision to choose knowledge as a good one. Even then, she saw God's retribution as an unfair and completely out of proportion reaction.
Despite this, Grania grew up believing that the Catholic Church was one of the milder, more reasonable religions. Then she noticed that their statements about faith and morality were based on either fundamentalism or obfuscation.
Her childhood fanaticism about Lourdes was also undone by her never-ending need to read about her interests. She realised that stories about apparitions and miracles had the same lack of substantiation as stories about UFOs and aliens.
As an adult she admired the books of Richard Dawkins, from the more intellectual Selfish Gene to the more popular Ancestor's Tale. She also admired Brian Cox as a respected physicist with a gift for explaining concepts, as well as having an endearing goofy smile and a pretty face.
Living in Ireland, Grania got involved in atheist activism to promote reason, truth, and human rights based on secularism. She had little time for people who wanted to redirect it into other arguments or to use it to generate controversy.
She was a strong advocate of sexual equality. She expected men to treat her as an equal, not as what she described as a helpless victim who potentially could not cope with anything that life threw at her that was not entirely in her favour.
Grania combined her Atheist Ireland work with making a living and feeding her addiction to Role Playing Games, the Sid Meier Civilization series, and perhaps unusually Pokémon. She once joked (I think!) that she would regard it as entirely acceptable to apply for leave from work so that she could spend a week gaming.
She also loved Star Trek. She thought the Original Series was daring but had too many fist fights, the Next Generation was too politically correct, Deep Space Nine allowed the women characters to be people first, and Voyager allowed a vehemently anti-science, pro-woo moron (or more than one?) to write stories designed to put them uppity science-believers in their place.
Grania was central to the online discussions, and the first meeting in the Central Hotel in November 2008, which led to the first Annual General Meeting of Atheist Ireland in 2009. Grania, Seamus Murnane and I spent many hours coordinating these developments, and Grania and Helen O'Shea moderated our Atheist Ireland forum before we migrated to Facebook.
At our first AGM in 2009, we launched our constitution, promoting atheism, reason, and an ethical secular State. Our first priorities included promoting secular schools, and challenging the new blasphemy law introduced by the then Minister for Justice.
Grania strongly supported parents opting their children out of religion class. She sympathised with parents in that dilemma, but argued that every time someone decides to keep their head down and pretend, they condemn Ireland to another generation of bigotry.
In early 2010, Grania welcomed Paul Gill to Cork to launch his walk from Cork to Donegal to highlight the dangers of the blasphemy law. In 2010 she was part of the Atheist Ireland delegation to the Gods and Politics international atheist conference in Copenhagen, Denmark.
Later that year Grania and I traveled to Brussels, where Atheist Ireland became the first Irish philosophical organisation, and the first European atheist advocacy group, to meet with the Presidents of the European Commission, European Parliament and European Council.
During the 2011 General Election, Grania and Conor McGrath coordinated our questions to and responses from candidates regarding secular issues, which we published to enable voters to know where the candidates stood.
Grania and Stephen Duggan organised Atheist Ireland's first international conference, the World Atheist Convention held in Dublin in June 2011. I was grateful for her personal support at that event, as it took place shortly after my late wife Anne Holliday died of lung cancer.
During that conference, we launched the Dublin Declaration on Secularism and the Place of Religion in Public Life. We also launched a restructured constitution for Atheist Alliance International, to make it more democratic and internationally representative.
Shortly after that, Grania stood down as Secretary of atheist Ireland to focus on personal matters. She remained a supporter of our activities, and I sometimes met her for coffee or a meal when I was visiting Cork.
She began to channel her atheist and secular activities into guest writing for Jerry Coyne's website Why Evolution is True, and she helped Jerry to edit the website when he was on vacation or unavailable. Jerry has written a touching obituary here.
Grania was one of the clearest and most rational thinkers in the New Atheism movement. It is a pity that her life has ended too soon, as she had much more to contribute.
We will remember Grania's legacy as we continue to campaign for the aims for which she dedicated her time and energy while working with Atheist Ireland, and we will miss her when we are working, socialising and reflecting.
Remembering Grania Spingies Part 1