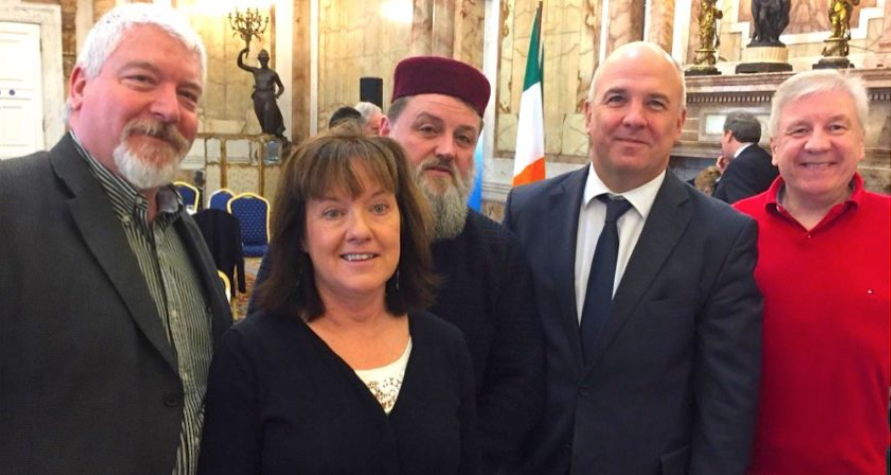 Atheist Ireland, the Evangelical Alliance of Ireland and the Ahmadiyya Muslim Community of Ireland met twice with Nils Muiznieks, Human Rights Commissioner with the Council of Europe, during his four-day visit to Ireland which ended today.
During his visit, the Commissioner examined breaches of the human rights of women, children, travellers, refugees and other groups. He will publish a full report on his visit within the next three months, but he has already said that discrimination against non-Christian children in the school system has to end.
On Tuesday, Commissioner Muiznieks met with representatives of Atheist Ireland, the Evangelical Alliance of Ireland and the Ahmadiyya Muslim Community of Ireland, to discuss the rights of children. We outlined the problems that we face as minorities both in access to school and, more importantly, within the schools, where religion is integrated throughout the whole curriculum. You can read our report of that meeting here.
We told him that parents can legally opt their children out of the formal Religious Instruction classes. But the schools don't provide alternative classes, so their children have to sit at the back of the religion class they are supposed to be opted out of. But more importantly, the Catholic ethos is integrated throughout the State Curriculum and the entire school day. Children cannot opt out of this religious ethos.
We explained that, even if the State provided the 400 multi-denominational schools that it is promising fifteen years from now, that would still be a small proportion of the more than three thousand primary schools with a religious ethos. And the Catholic Church is trying to negotiate that, in return for divestment of some schools, it should have a stronger Catholic ethos in the majority of schools that it retains. That would leave most atheist and minority faith parents in an even worse position than they are now.
Commissioner Muiznieks told us that he had never seen anything like the Irish education system, and he wondered why no parent had taken a legal challenge against it. We explained that one difficulty is that parents would have to fight a legal case while their child was in the school they were challenging, and that the child would be likely to have left the school system by the time the case ended. However, we remain open to facilitating such a case if we can.
Before he left Ireland, Commissioner Muiznieks told The Irish Times that the Irish State is "being held hostage to an extent by school patron bodies." He said that: "Ireland is bound by international human rights standards and has to provide access to education on a non-discriminatory basis, however it does it."
Also, in a post on the Council of Europe website, the Commissioner called on Ireland to move towards more inclusive education that would respond to the needs of an increasingly diverse society.
"I have a particular interest in inclusive education as I consider it vital for social cohesion in diverse societies, an issue that is particularly topical in Ireland" said the Commissioner. The current Irish education system, whereby over 95% of primary schools are denominational and run by private institutions, poses a number of challenges in terms of access to school without discrimination, particularly on religious grounds. "I was informed about the Government's commitment to open 400 additional non-denominational and multi-denominational schools by 2030. However, it is urgent that the state addresses the remaining barriers, including legal barriers, faced by students in securing access to school without discrimination and takes measures to ensure that all schools better reflect the diversity of Irish society."
Council of Europe Human Rights Commissioner says Irish school patrons are holding State hostage