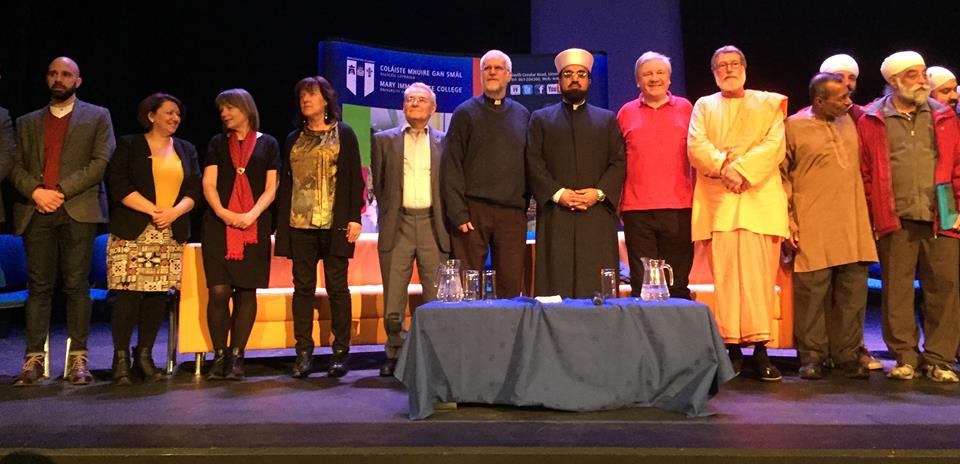 Jane Donnelly and I took part in a very positive Inter Belief Dialogue conference in Mary Immaculate College Limerick yesterday. There were representatives from the NCCA, which is currently preparing a State course for primary schools about religion, beliefs and ethics, as well as speakers from various religious and nonreligious perspectives.
Jane Donnelly and I of Atheist Ireland, Pastor Nick Park of the Evangelical Alliance of Ireland, and Imam Ibrahim Noonan of the Ahmadiyya Muslim Community in Ireland spoke together in support of separation of church and state, particularly in the Irish education system. This was on behalf of a historic joint initiative that launched last week.
While the three groups have very different worldviews, we all agree that each person should be treated with respect, our right to hold our beliefs should be treated with respect, and the State should treat us all equally before the law by remaining neutral between religious and nonreligious beliefs. That is what a true Republic should look like.
Our joint aims include:
We will promote the fundamental human rights of freedom of conscience, religion and belief, equality before the law, and freedom from discrimination for all citizens.
We will promote these human rights within Irish society and Irish political institutions, and at United Nations and other international human rights regulatory bodies.
We will ask General Election candidates to support Separation of Religion and State. We will publish an analysis of the secular content of the political parties' manifestos.
We will specifically seek Separation of Religion and State in our schools. We want a State-funded secular education system that is neutral between religious and atheistic beliefs.
Shayk Umar Al-Qadri also addressed the conference. He said that, as a Muslim theologian, he has not sent his children to the local Muslim national school. Instead he has sent them to the local Community National School. His reason: in a plural society like Ireland, we have to live and interact with each other after school, so what is the point of having children interact only with Muslim children in school?
He also said that he opposed children being taken out of class to be taught about their own religion only. He believes that all children should be in the same class and should be taught about all traditions, whether religious or nonreligious. He favours schools having LGBT weeks to promote respect, tolerance and acceptance, and says that schools should also have Muslim, Christian, Jewish and atheist weeks for the same purpose.
During the closing panel, I made the above concluding remarks on behalf of the new secular alliance of atheists, Evangelicals and Ahmadiyya Muslims.
Finally, above are the concluding remarks of all of the panel of the conference speakers and/or guests representing different worldviews. The conference was organised by Anna Lindh Foundation, Chester Beatty Library, Dublin Interfaith Forum and Mary Immaculate College.
Jane, Nick, Ibrahim and I were very happy with the progress made at the conference, and we made some valuable new contacts with whom we will continue our dialogue for secularism generally and a secular education system in particular.
Irish Atheists, Evangelicals and Muslims unite for Secularism at Inter Belief Day