In recent weeks, since I defended Richard Dawkins and the atheist movement from misrepresentations and smears in mainstream media articles, I have become the target of similar smears on various blogs. You can read details here.
Now PZ Myers has crossed a new line by publicly alleging that I am defending rapists (that's rapists, plural) because certain people comment on my blog. The desensitisation process is ratcheting along, with increasingly serious allegations now being casually made as if they were normal discourse.
Given the limit of hours in a day, I'm not going to follow every Gish Gallop of increasingly bizarre smears that are now targeted at me, particularly given the flexibility of interpretation that some people grant themselves in using phrases like providing a haven for harassers and misogynists.
But I will not let go unanswered the serious and unambiguous smear that I am defending rapists, made publicly by a prominent atheist and academic. I ask PZ to withdraw it and apologise. I also include some recent advice from PZ himself about how to properly apologise.
Please be responsible when commenting on this post. Thanks.
PZ's allegation and his justification
PZ made the allegation on Twitter last Saturday.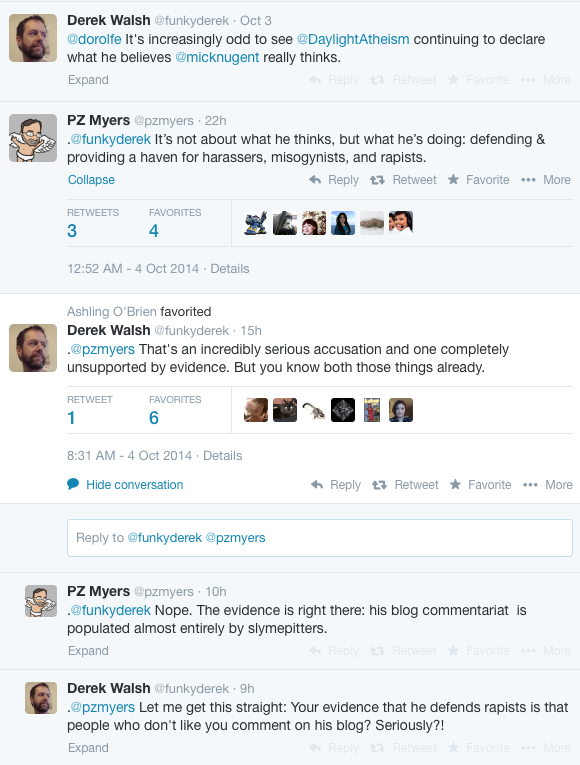 Here's the exchange in text format:
Derek Walsh wrote that: "It's increasingly odd to see @DaylightAtheism continuing to declare what he believes @micknugent really thinks."

PZ replied to Derek: "It's not about what he thinks, but what he's doing: defending & providing a haven for harassers, misogynists, and rapists."

Derek replied to PZ: "that's an incredibly serious accusation and one completely unsupported by evidence. But you know both those things already."

PZ replied to Derek: "Nope. The evidence is right there: his blog commentariat is populated almost entirely by slymepitters."

Derek replied to PZ: "Let me get this straight: Your evidence that he defends rapists is that people who don't like you comment on his blog? Seriously?!"
Peter Ferguson also replied to PZ: "How does slymepitters commenting on his blog = defending a rapist?" PZ declined to answer this question from either Derek or Peter.
Parking for a moment PZ's tactic of guilt-by-association, his allegation that some people who comment on my blog are rapists is a very serious matter if it is true. Victims of rape deserve justice, and potential future victims deserve to be protected from rapists.
If PZ believes that some people commenting on my blog are rapists, I ask him to please report them to the police, along with any evidence that he believes he has about these serious crimes, rather than talk about it on Twitter.
Returning to his tactic of guilt-by-association (or more precisely, guilt by association with unsubstantiated allegations), and whatever he may believe about people who comment on other websites, PZ is simply factually wrong when he writes that I am defending rapists.
It is a serious and defamatory allegation, and I ask him to withdraw it and apologise for making it.
PZ's advice on how to apologise
Last Thursday, two days before accusing me of defending rapists, PZ wrote a post on his blog about how to apologise properly.
PZ was criticising Neil deGrasse Tyson for what PZ considered to be an inadequate apology for falsely quoting George Bush (Tyson had paraphrased President Bush saying that God had named the stars, and had been mistaken about the context in which he said it).
This is what PZ wrote:
NO. That's not how you respond. Allow me to help out, Dr Tyson. Here's how it should go:

Appreciate the assistance with improving your accuracy.
Thank you for pointing that out to me.
A brief explanation is appropriate.
Human memory is fallible, and I clearly confabulated and misattributed the quote.
Admit and apologize.
I was wrong, and retract that comment.
Promise to correct the behavior (this is important, and note, if you continue to do the same thing in the future, you've really screwed over your reputation.* Sincerely change).
I won't use that quote in the future.

See? Not hard. Keep it short. Keep it simple. Keep it clear. Move on. Critic is either satisfied, or looks petty if they keep harping on it. But jeez, you were wrong, as all of us mere humans are now and then, acknowledge it and do better.

Otherwise, congratulations: you've just given a group of conservative religious morons who already despise you a hammer to bash you with, and bash you accurately. The extended dodge just gives more ammunition to the critic, which he can use appropriately (to find more examples of errors, and use them to accuse you of being fast and loose with the facts) or inappropriately (as this critic does, to start quoting theology and use your evasiveness to prop up idiotic arguments about god). Either way, you're doing yourself, and the rest of us, no favor.

* That would be the Duane Gish approach, who repeatedly had factual errors in his presentations pointed out to him, but would then blithely continue using them in subsequent presentations. Creationists can do that because they don't have a reputation for honesty, anyway. Don't be Duane Gish.
I invite PZ to take his own advice when apologising to me.
Postscript
As an aside, when giving this advice, PZ was criticising Neil deGrasse Tyson for what PZ considered to be an inadequate apology for falsely quoting George Bush.
This the section that PZ quoted from the apology he was criticising:
When eager scrutinizers looked for the quote they could not find it, and promptly accused me of fabricating a Presidential sentence. Lawyers are good at this. They find something that you get wrong, and use it to cast doubt on everything else you say. Blogosphere headlines followed, with accusations of me being a compulsive liar and a fabricator.
And this is what PZ left out when quoting from the apology he was criticising:
For a talk I give on the rise and fall of science in human cultural history I occasionally paraphrase President George W. Bush from one of his speeches, remarking that our God is the God who named the stars, and immediately noting that 2/3 of all star-names in the night sky are Arabic…

As others had uncovered, the President indeed utter the following sentences: "In the words of the prophet Isaiah, "Lift your eyes and look to the heavens. Who created all these? He who brings out the starry hosts one by one and calls them each by name. Because of his great power and mighty strength, not one of them is missing." The same creator who names the stars also knows the names of the seven souls we mourn today."

But I was wrong about when he said it. It appears in his speech after the Columbia Shuttle disaster, eighteen months after September 11th 2001. My bad. And I here publicly apologize to the President for casting his quote in the context of contrasting religions rather than as a poetic reference to the lost souls of Columbia. I have no excuse for this, other than both events — so close to one another — upset me greatly. In retrospect, I'm surprised I remembered any details from either of them.
Perhaps PZ might also consider taking his own advice and apologising to Neil deGrasse Tyson for misrepresenting what he wrote in his apology to President Bush.
Edit – Some guidelines on commenting here
Please don't say that named people are lying unless you can support that they know they are saying something untrue. Please feel free to say (and support) that they are saying something that is untrue or false or any similar description. But saying that they are lying implies that they know that it is untrue, which is judging their motive for saying it.
I have removed several comments by GMeters that were prejudging a specific allegation against a named person, as well as making the bizarre implication that I have a financial stake in ignoring the crimes of my compatriots, whatever that might mean. Please don't do that again.
Also, I have removed some comments that were speculating on unproven allegations of sexual assault or rape against three other people. For clarity, none of these people post on the website that PZ has linked to rapists, and they each revealed these allegations themselves on another network.
So please respect these guidelines while commenting here:
Please feel free to discuss the best ways to combat and minimise rape, by individuals, organisations, rape crisis professionals, the police or society generally.
Please feel free to discuss your own experiences, as some people have.
Please don't speculate on specific unproven allegations against other specific named people.
Thanks.
The smears get increasingly serious as PZ Myers crosses a new line