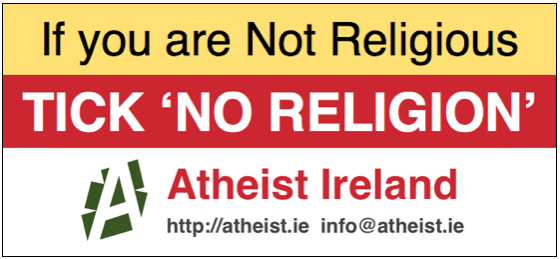 Atheist Ireland welcomes today's census report on religion published by the Central Statistics Office. We are increasingly optimistic that a secular Ireland is inevitable, free of religious privilege and religious discrimination against any citizens.
The census results on religion broke a significant barrier – more Irish people now have no religion (468,400) than members of all minority religions combined (439,000). That should encourage more atheists to stand up for our rights, particularly in the education system, and to support equal treatment for everyone, regardless of religious or nonreligious beliefs.
Another 125,300 people declined to answer the religion question. Some of the 'not stated' may be religious, but certainly not all of them. So the actual figure for No Religion, whatever it is, is over 10%. Also, in Dublin City, Dun Laoghaire and Galway, more than one in three of the population is non-Catholic.
{ 0 comments }