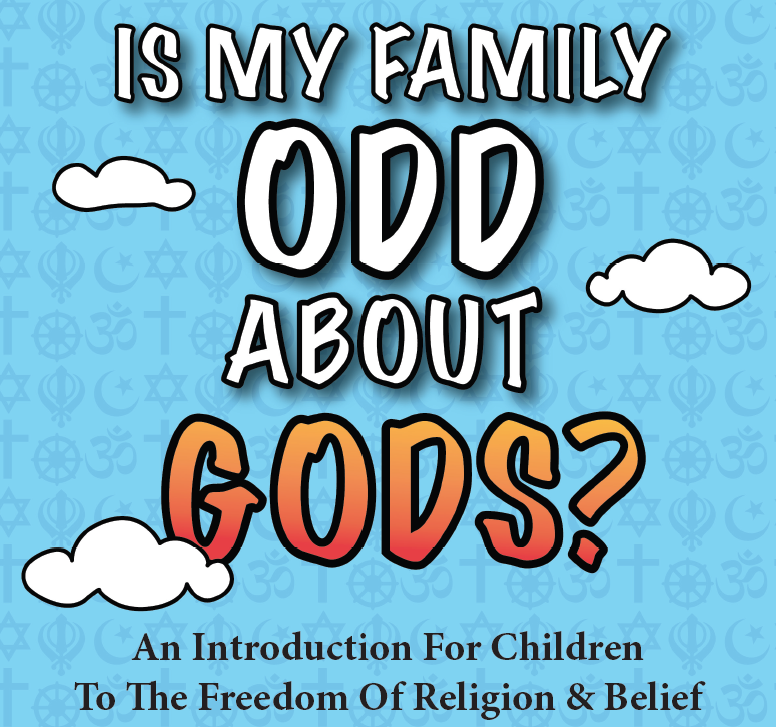 Atheist Ireland is today launching an illustrated book for children about freedom of religion and belief.
It will be launched at 3pm in the Harbour Hotel, Galway, after our AGM this morning in the same venue.
The book is titled 'Is My Family Odd About Gods?'
It does not ask children to believe that atheism is true. It describes how we can best know what is true, and the difference between reason and faith.
It encourages children to find out more about religious and nonreligious beliefs, and make up their own mind based on what they discover.
We will be promoting the book to schools, and to parents who want their child to grow up with an open mind.
Chairperson's Address to AGM
Below is my chairperson's report to today's Atheist Ireland AGM in Galway
Atheist Ireland is now beginning our tenth year in existence.
When we started, our first task was to normalise the use of the words atheist and secular in Irish society and politics. We have succeeded in doing that. We now address Oireachtas Committees and Constitutional Conventions, and we lobby TDs, the Government, the United Nations, the Council of Europe, the OSCE and other bodies.
The Census results now show that one in ten Irish people have no religion. More people now have no religion than members of all minority religions combined. Even those figures overestimate the strength of religion in Ireland.
We continue to campaign for a State-funded secular education system, based on human rights, and with no privilege for any religious institution, and to help parents facing such religious discrimination. This afternoon, we will be launching a book on freedom of religion and belief for children who are opted out of religious education classes in school.
We continue to lobby the Irish Government to protect the fundamental human rights of atheists and minority faith citizens to freedom of religion or belief, freedom from discrimination, equality before the law, and the right to an effective remedy.
After years of lobbying, we are pleased that the Government has finally announced its intention to hold a referendum on the issue of blasphemy next year. We remain part of the campaign to repeal the eighth amendment, to enable the Oireachtas to legislate for abortion. We have also this year joined the National Women's Council of Ireland.
We continue to lobby internationally at the United Nations, Council of Europe and OSCE, and to work within Atheist Alliance International to defend atheists and minority faith members who are persecuted in theocratic regimes, including by blasphemy and apostasy laws. We have also this year joined the International Humanist and Ethical Union.
We continue to work alongside minority faiths who also support human rights and secularism, such as the Evangelical Alliance of Ireland and the Ahmadiyya Muslim Community of Ireland. Our three groups went together to the UN to challenge human rights abuses in Pakistan.
I would like to thank our Committee members, who have put in countless hours of voluntary work during the year. We sometimes describe our work as having all of the attributes of a full time job apart from the salary.
Finally, I would like to thank all Atheist Ireland members for helping to make our work happen. In particular, our regional coordinators and everyone who contributed to our crowd funder for our Freedom of Information appeal. You should all be proud of your contribution to bringing about a more rational, ethical, secular Ireland and world.
I believe that political breakthroughs on secularism will not happen incrementally. I believe that pressure will continue to mount, and there will be a series of sudden breakthroughs. It would be great if one of those breakthrough were to happen before we celebrate our tenth anniversary this time next year.
Human Rights Officer's Address to AGM
Below is Human Rights Officer Jane Donnelly's address to today's AGM
We have had a very busy year on human rights issues. Today I am going to focus on our campaign for secular education, and our international work.
The education system remains a priority for us. After years of robust lobbying, the Government seems to be finally addressing the issue of religious discrimination in schools. However, it is doing so by proposing the smallest changes that it can get away with. We continue to campaign for fundamental reform on the four equally important issues of patronage, access, curriculum and teaching.
The Minister for Education is now promoting Community National Schools run by State Education and Training boards, as his preferred alternative when adding some multi-denominational schools.
But, as Atheist Ireland has revealed through documents that we obtained through the Freedom of Information Act, ETB schools also promote a Christian, and mostly Catholic, ethos even though they are run directly by the State. We will be revealing more information about this in the coming weeks.
We have met with the Council of Europe Commissioner for Human Rights, and briefed him on the problems with religious discrimination in Irish schools. He said that he had never come across anything like the Irish education system, and that it seemed that the patron bodies are holding the State hostage.
I addressed the Oireachtas Joint Committee on Education about the Admission to Schools Bill, on behalf of our unique secular alliance. This was the first time an Oireachtas Committee has been jointly addressed on behalf of Atheists, Evangelicals and Ahmadi Muslims.
We are regularly publishing comprehensive analyses of developments in the education system. Please read our education campaign website teachdontpreach.ie on a regular basis, to keep up to date with the latest issues and how we are addressing them.
This year Atheist Ireland, together with the Ahmadi Muslims and Evangelical Alliance, briefed the United Nations Human Rights Committee in Geneva about persecution in Pakistan against atheists, Ahmadi Muslims, Christians and other minorities. The UN Committee has called on Pakistan to end these human rights breaches.
Michael and I spoke about freedom of expression and abortion law at a conference hosted by the Polish Atheist Foundation in Warsaw, where Michael was honoured to accept an award as international atheist of the year.
We also spoke at an international conference in London about freedom of conscience and freedom of expression. And we attended the annual gathering in Britain of 30,000 Ahmadiyya Muslims from around the world.
Atheist Ireland has now joined the International Humanist and Ethical Union, and we remain members of Atheist Alliance International. This enables us to support, and be supported by, other atheist and secular groups around the world, some of whom are in democracies and others in more dangerous theocracies.
Atheist Ireland launches book for children at AGM