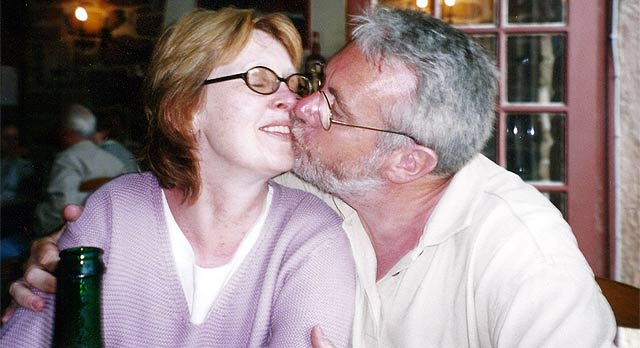 Marie Fleming died three years ago today. She was an inspirational and courageous woman. She did more to promote an ethical compassionate Ireland for dying people and their families, than have the Irish politicians who have yet to legislate for assisted dying.
Marie's partner Tom Curran is the European Spokesperson at Exit International. He is a tireless and selfless campaigner for assisted dying and medical cannabis. Tom is also a good friend who helped my late wife Anne Holliday and I, when Anne was dying of cancer five years ago.
Thankfully, Marie died the way she wanted to. Scandalously, assisted dying still illegal, despite the Supreme Court ruling that the Oireachtas has the power to legislate. Even more scandalously, the State is still investigating Tom instead of vindicating his compassion and integrity.
Marie's High Court statement
Here is part of what Marie told the Irish High Court in 2012, when she was seeking the right to assisted dying:
"I do not wish to end my life immediately. However, I know that there will come a point when I will wish to do so. That time may, for example, be when I can no longer tolerate the pain in which I find myself; when I am wholly dependent on others for basic feeding or hydration so that someone has to put a sponge to my lips to give me water; when I have completely lost bowel or bladder control or both; when (as is possible with my condition) I lose my eyesight. I would in these or similar circumstances, arising from my terminal illness, wish to end my life. However, because of my disability I am unable to end my own life without assistance and, given the inexorably progressive nature of my illness, I will never be able to do so. I will therefore require assistance to end my own life.

I wish to stop living when I choose and I will know when that time is and, at that time, I will request that my life be ended. I know that my partner, Tom, is a person who would be willing to assist me in ending my own life at a time I decide, in order to reflect my wishes and to end my suffering. I want to know that I will be able to end my own life and that any person who might aid or abet me in the exercise of my autonomous free will will not face criminal prosecution were that person to help me to end my life with my consent and in accordance with my express wishes. I want to know that I can die at a time of my choosing in Tom's arms and with my family around me, without the fear that any person would be subjected to criminal prosecution."
The High Court and Supreme Court ruled that the Irish Constitution has no automatic right to assisted dying, but the Supreme Court added that the Oireachtas has the right to legislate for a case such as Marie's, if it includes sufficient safeguards.
Law must catch up with reality
Ultimately, this is an issue where the law will have to catch up with reality. The law can not control what terminally ill people will choose to do, because terminally ill people have their own ethical priorities and their own autonomy.
Tom and I, along with Mairin de Burca, have since founded the advocacy group Right To Die Ireland.
We support the right of terminally or seriously ill people, who want to live as long as they can, to get the best possible medical resources to enable them to do this. Nobody should be forced to die earlier than they want to, and the law should have safeguards to deal with this concern.
We equally support the right of of rational terminally or seriously ill people, who want to die peacefully at a time of their choosing, to be supported in carrying out this wish. Nobody should be forced to endure unnecessary suffering, particularly when it is a question not of whether they will die but of how and when.
Please join with us in asking your public representatives to protect the right to live, respect the right to die, and legalise assisted peaceful dying for rational terminally or seriously ill people in Ireland.
Remembering the inspirational Marie Fleming