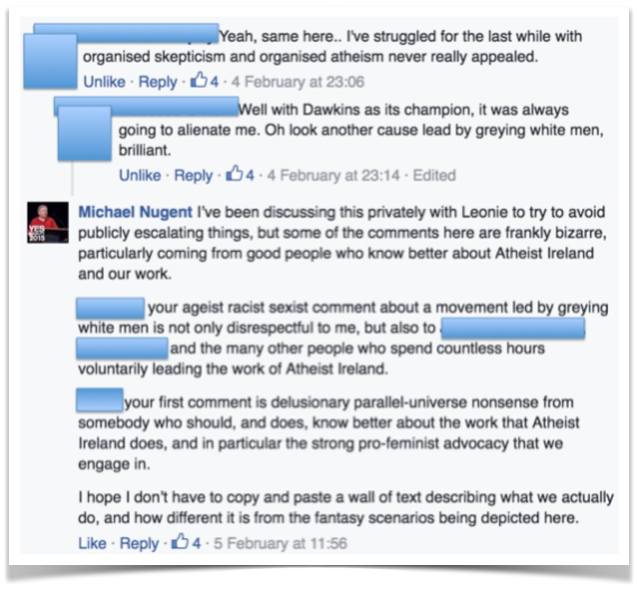 Leonie Hilliard has published on Twitter a comment that I made in February on her Facebook page. In it, I referred to a comment that somebody else made criticising "a movement led by greying white men". That comment, as published now, has since been edited, and I don't recall what was edited out of or into it. I replied at the time that this comment, not the person, was "an ageist sexist racist comment".
I apologise unreservedly for any implication that the person who made that comment is ageist, sexist or racist. She is not. I like and respect the people involved in that discussion, and they were expressing frustration at unjust experiences that they have had in their positive, constructive and helpful voluntary work as activists. It was hurtful and unfair of me to associate her even indirectly with ageism, sexism or racism on the basis of that comment.
Atheist Ireland promotes equality and inclusivity in our policies and activities, and we oppose prejudice against anybody based on their age, race, gender, or any other relevant aspect of their identity. I should have explicitly included this context in my comment, or else written about it more extensively elsewhere in a way that would not have singled her out in this way. I also apologise to Leonie for publishing the comment on her Facebook page.