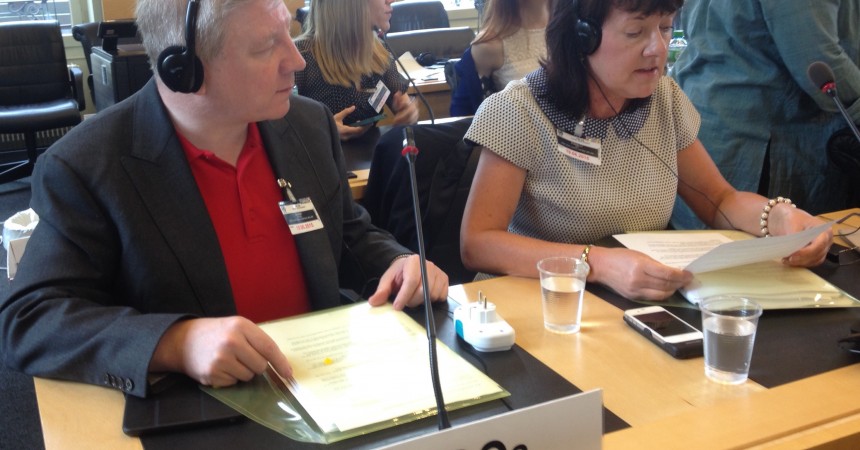 Atheist Ireland today told a meeting of United Nations state delegates in Geneva that Ireland's Constitution is incompatible with our human rights obligations in freedom of religion, blasphemy laws, religious discrimination in schools and religious oaths for politicians and judges.
The UN is preparing to question Ireland in May about our human rights obligations under all UN treaties. Today there was a pre-session meeting where the Irish Human rights and Equality Commission, the Ombudsman for Children and four advocacy groups including Atheist Ireland told State delegates about problems in Ireland.
Atheist Ireland is also holding separate meetings with State delegates from France, Belgium, United Kingdom, Iceland, Netherlands and Slovenia, asking them to make recommendations for separation of Church and State in Ireland.
The Irish Government says it is constitutionally obliged to maintain religious discrimination in Irish schools, in order to buttress religion. 90% of state-funded Irish primary schools are run by the Catholic Church, with exemptions from our equality laws that allow them to discriminate against atheists and minority faith families.
Islamic States have quoted wording from Ireland's blasphemy law in their attempts to have blasphemy laws extended internationally. And conscientious atheists cannot become President, a judge or Toaiseach in Ireland because you have to swear a religious oath that is written into our constitution.
The other Irish advocacy groups here are the Irish Council for Civil Liberties, the Irish Family Planning Association and Mercy Law Resource Centre.
Atheist Ireland tells UN about religious discrimination