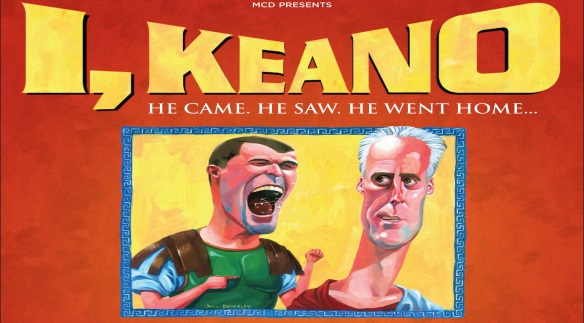 We now have three cast members confirmed for the return of the comedy musical I, Keano to the Olympia in Dublin from 28 March to 12 April 2015.
The rebellious warrior Keano will be played by Johnny Ward, who has appeared on Fair City, The Centre, and most recently as Paulie in Love/Hate.
The beleaguered General Macartacus will again be played by Dessie Gallagher, whose film credits include Dead Man Walking, Reign of Fire and King Arthur.
The ferocious Fergie and the wood nymph Dunphia will again both be played by satirist and impressionist Gary Cooke of Apres Match fame.
You can buy tickets from Ticketmaster outlets nationwide and online.
See details on the MCD website.
Johnny Ward, Dessie Gallagher and Gary Cooke to star in the return of I, Keano this March