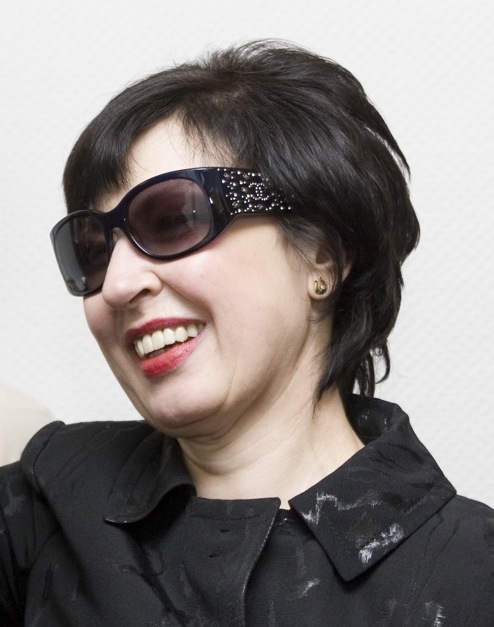 My late wife Anne Holliday will be buried today in Glasnevin Cemetery, three years after she died of cancer and donated her body to Trinity College.
Today, in a positive move towards an inclusive Ireland, the Dublin Medical Schools have respected Anne's wish for a secular burial. They have replaced the decades-old religious memorial stone at their burial plot in Glasnevin Cemetery with a new, neutral inclusive one.
This means that, from now on, when anybody donates their body for medical education and research, their loved ones can now remember them at their grave in accordance with their own personal beliefs, whether those beliefs are religious or atheistic, and nobody need feel excluded or marginalised.
It also means that Anne is still helping others through the only afterlife that we know actually exists, not in a comforting but untestable imagined heaven, but in the reality of our memories of how she lived and loved, and our continuation of her life's work for a peaceful, liberal and caring Ireland.
The old religious stone and the new secular stone
Pictured below is the old religious memorial stone, that used to mark the burial plot of the Dublin Medical Schools. It read: "Here lie those who have assisted us in the study of man. Pray O traveller for their souls that they rest in the peace of God." That sentiment was perfect if you believed in God, but it excluded you if you had different beliefs. In fairness, it was a mark of its time, erected when the plot was renovated in the 1970s.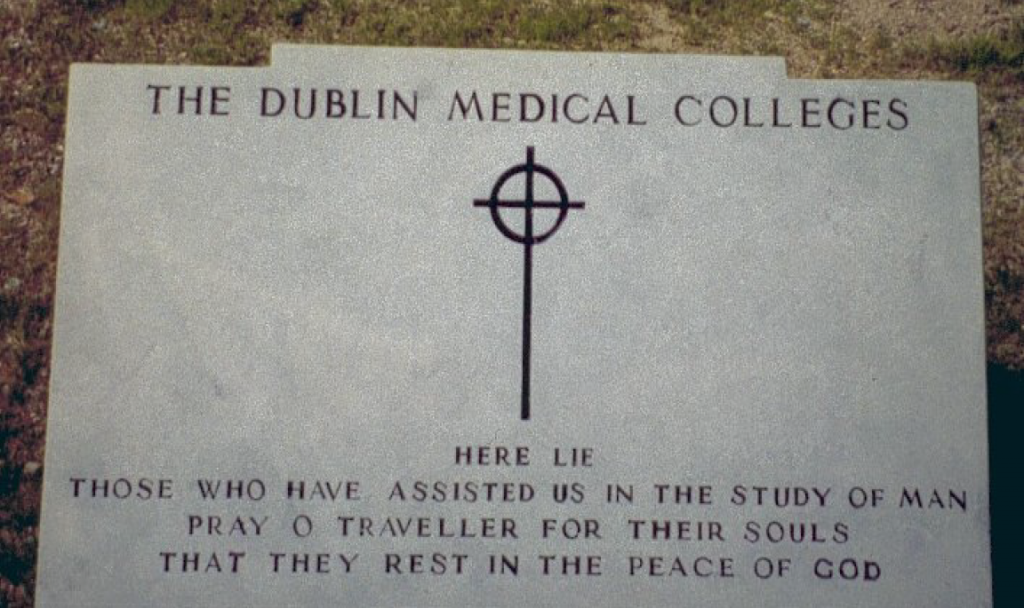 And pictured below is the new secular memorial stone that the Dublin Medical Colleges have replaced it with. When Anne's body was ready for burial, I asked them to consider replacing the stone with one that either mentioned no religious or philosophical beliefs, or else referred to all such beliefs. The three Medical Schools (RCSI, TCD and UCD) met and decided on this secular approach. It reads: "This ground is dedicated to the memory of all those who have contributed their bodies to medical education and research."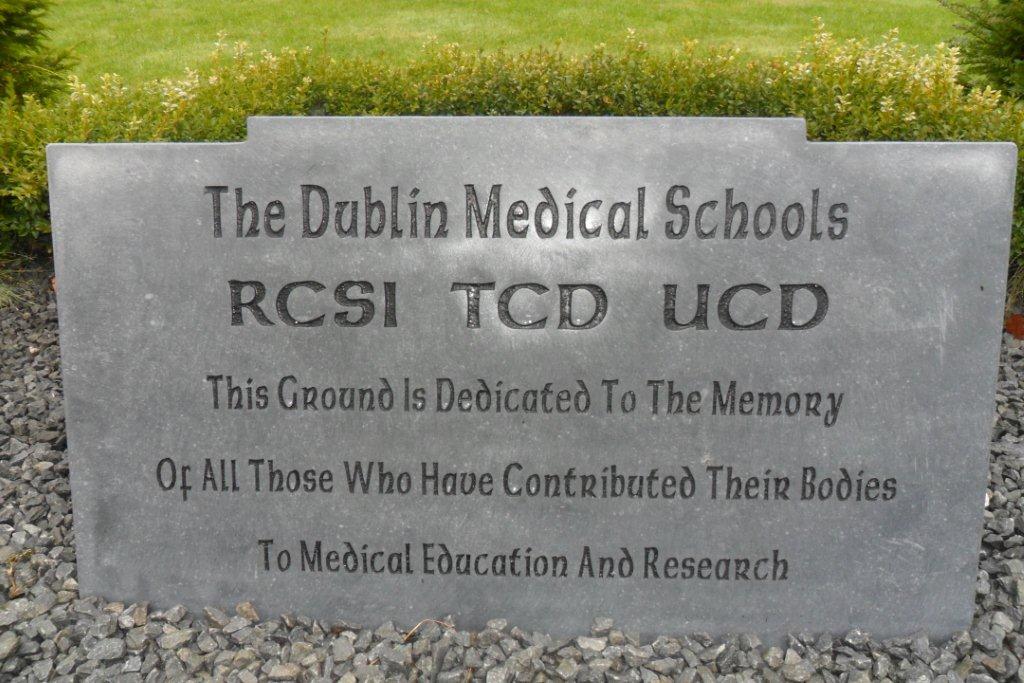 I would like to thank the Medical Schools for their compassion and empathy, and their recognition of the changing nature of Irish society where everybody deserves equal respect regardless of their beliefs. I would particularly like to thank Nick Mahony, Philomena McAteer and Siobhan Ward. I would also like to thank Patsy McGarry of the Irish Times for this nice record of the new memorial stone and Anne's life.
Anne's contributions to society since she died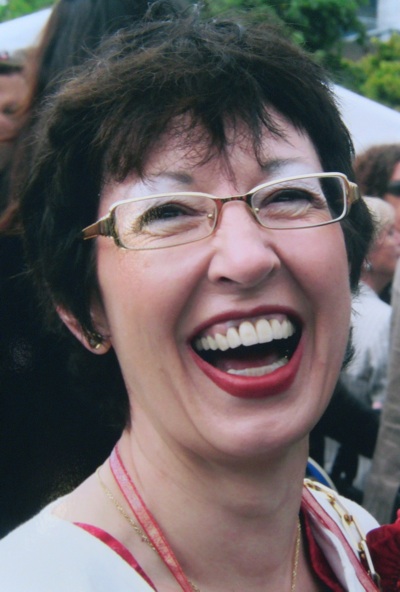 The erection of this new secular memorial stone is Anne's third important contribution to Irish society since she died.
The most direct contribution was through donating her body to Trinity Medical School.
These donations enable students to attain a mastery of anatomy unobtainable by other means. It allows surgeons in training to practice and evaluate their skills without risk to life. And it facilitates research into the detailed anatomy relevant to new surgical procedures.
If you want to contribute your own body to Trinity College after you die, you can get more information from the Anatomy Department in the Biomedical Sciences Institute, Trinity College, Pearse Street, Dublin 2, or online here.
Anne was also central, and her memory is still central, to the campaign to legalise assisted dying. Anne did not want to die, and nor did she fear death. But she wanted to die peacefully and painlessly rather than have to suffer needlessly before dying.
She had decided that, if she had reached that stage, she would have ended her own life and I would have have helped her to do this. Once she had made that decision, her quality of life soared and we were able to fully enjoy our time together until she died naturally.
Mostly because of Anne's experience, I now campaign for the right to assisted dying with Tom Curran, whose partner Marie Fleming took a court case last year on this issue, and with others who want a compassionate ethical approach to impending death.
Anne's contributions to society while she was alive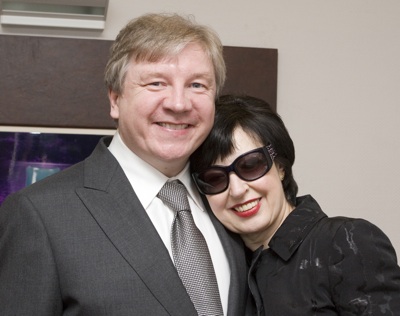 Anne and I loved each other very much, and we lived together for twenty five wonderful years. Anne was smart, sexy, funny and courageous, she combined her busy career with helping me to edit my writing, she was loving and loyal to her family and friends, she campaigned to build a peaceful, liberal and caring Ireland, and she was inspirational while living with cancer.
We worked together to promote a liberal and caring Ireland. We campaigned on the losing side when Ireland voted to retain a Constitutional ban on divorce, and on the winning side a decade later. She was, in Irish terms, a Protestant atheist who didn't believe in gods but felt part of the Church of Ireland community at a time when her local TD Alice Glenn was saying that protestants were the enemy of the people.
Together with our friend Michael Fitzpatrick, we founded New Consensus, a peace group that picketed the Sinn Fein and UDA offices in opposition to terrorism, and promoted a peaceful democratic Northern Ireland based on mutual respect, civil liberty and freely given allegiance to the State. Anne was also the first Dublin coordinator of the Peace Trains that challenged the IRA disruption of the rail line between Dublin and Belfast.
While in her teens, Anne worked as a Simon Community volunteer and was a founder member of the Limerick chapter of the Irish Georgian Society. She moved to London to train as a nurse, but returned to Limerick to care for her parents when they were ill. Both died of cancer, each at about the same young age as Anne was when she later died of the same disease.
Anne then moved to Dublin, working as a legal secretary in Matheson Ormsby Prentice, as a personal assistant to several TDs in the Oireachtas and to the Director of the National Museum, and in several posts in the Department of Arts, where she coordinated the Irish end of the Sea Stallion Viking ship project, and the Department of Enterprise.
While she was dying, she tried to normalise discussion of cancer and dying, and helped RTE with a documentary on assisted dying. She was active until the end: she spent the evening before she died out with her sister Carrie who was visiting from Scotland, then Anne and I spent our last night together planning another trip to Paris. Only hours later I was at an Atheist Ireland event with Jane Donnelly when Carrie rang to say Anne had died.
After Anne died, I wrote a longer personal tribute which you can read here:
My tribute to my late wife Anne Holliday
This new secular memorial stone is a fitting tribute to my late wife Anne Holliday who is buried today