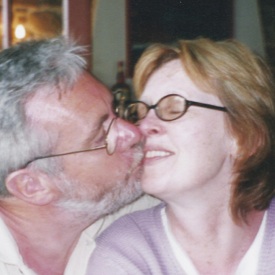 Yesterday three Irish High Court Judges came down from their benches to sit in the press box near the back of the court, where they could sit beside and listen to Marie Fleming, who could not reach the witness box because the courtroom could not accommodate her wheelchair.
Marie is a 58 year old mother of two, and a retired lecturer at UCD. She is in the terminal stages of multiple sclerosis, and she wants to be assisted in dying with peace and dignity. She is physically unable to take her own life without help, and if her partner Tom Curran assists her, he could face fourteen years in prison.
Before yesterday's hearing, Marie Fleming feared that her voice might not last the cross-examination. She is undergoing speech therapy as a result of her illness, and she chokes up to four times a day. But she need not have feared any inability to communicate to the High Court.
Marie's voice was proud, inspirational and defiant, as she calmly explained that she was at peace with the world, and that she was ready to die with dignity. Her quiet moral authority towered over the legal authority that is limiting her right to do this.
Tom Curran sat supportively beside her, as he has done for the past eighteen years since they first met and fell in love. Tom cares for Marie full time. Five years ago, to avoid the prospect of a painful death in Ireland, Marie decided to travel to die in Switzerland.
Tom promised to help Marie to instead die at home, if she reached the stage that she felt that she needed to. Because of that loving mutual decision, Marie and Tom have so far had five more years of sharing life together.
As I listened to Marie address the High Court, I was also hearing the voice of my late wife Anne Holliday. Anne died naturally of lung cancer in April of last year, but like Marie she had made arrangements to take her own life if she needed to.
Indeed, Anne had made the same plans as Marie. She was going to die, if she felt that she needed to, by inhaling gas through a face mask. If carried out properly, this is a painless, peaceful and reliable way to die. But because of Irish law, you cannot get medical assistance to do so.
'That is Not Acceptable to Me'
At one stage Marie used a powerful phrase, a phrase that Anne had also used, a phrase that cuts to the heart of the issue of assisted dying. When asked about the option of palliative care, Marie simply said: 'That is not acceptable to me.'
Marie said that she does not want to be kept alive, her symptoms masked by massive doses of painkillers, while she is unable to smell the flowers, to see her beautiful garden, or to see the changes in the seasons. That, Marie said, would be doing herself an injustice. And it is not acceptable to her.
'That is not acceptable to me' is a phrase that cuts to the heart of the issue of assisted dying, because it places the moral authority for the decision firmly where it should be: within the personal conscience of the person who has to face the consequences.
And the phrase has a moral authority far greater than the legal authority of the High Court because, even if the Court denies Marie the right to lawfully be assisted to die with dignity, then that decision will not be acceptable to her, any more than the option of palliative care is.
Our civic discourse on living and dying has been ethically corrupted into a sad parody of what it should be in a compassionate country.
We have to ask our legislators to pass a law, to enable doctors to help save the life of a woman who wants to live. And we have to ask our courts to make a ruling, to enable doctors, or loved ones, to help end the life of a woman who wants to die.
Our ethics have been turned upside down, with human empathy and compassion and reason being toppled by imaginary theology and abstract law.

Marie Fleming's Right to Die
Marie Fleming lives in constant pain, and she has reached the dosage limit of available pain killers without being rendered comatose. She has unbearable pain in her shoulders, limbs and joints. She has pains in the back of her neck so severe that she thinks her head will burst open. She has spasms that she says wrack her body and pierce her very heart.
Marie wakes every day at 8 am to take 22 pills, she is assisted in everything she does by Tom and seven other carers, and she goes to sleep at 6 pm. She is in the terminal stages of her illness, and she wants to die with peace and dignity. She has discussed her wishes at length with her family and, after a lot of tears and questions, they support her.
Marie has planned every detail of her funeral. She wants her body to be in a wicker coffin, with jazz music playing as her family and friends celebrate her life. But she does not want to leave a legacy of her partner Tom, or other members of her family, facing prison sentences for helping her to die as she wishes.
Marie's speech is deteriorating, and she hates the prospect of being unable to communicate with her loved ones. She courageously decided to attend personally at the High Court, so that she could use her voice while she still had it, to ask for help in having a peaceful, dignified death.
Let us hope that the three High Court judges, who came down from their bench to hear her evidence, have heard her clearly. Because, if they haven't, that will not be acceptable to Marie Fleming. And it will not be acceptable to the many other rational people who every year find themselves in Marie's circumstances.
The Legal Arguments
Suicide is not illegal in Ireland, but the Criminal Law Suicide Act 1993 makes it illegal to help somebody else to die, and imposes a prison sentence of up to fourteen years.
Marie wants an order declaring Section 2(2) of the 1993 Act invalid under the Constitution, and incompatible with the European Convention on Human Rights. She says this law breaches her rights to live and to die, bodily autonomy and self-determination, privacy and to be held equal before the law.
The State denies that the Act breaches Marie's constitutional rights, and specifically denies that the Constitution expressly or implicitly confers a right to die upon any person. The State says the law is needed for the common good and the public interest, to cover the many circumstances in which one person might aid another in a suicide.
Alternatively, Marie wants an order requiring the DPP to issue guidelines setting out what factors are taken into account in deciding whether to prosecute a person who assists her in ending her life. The State denies that the DPP has any obligation to publish any such policy or information, and argues that the absence of such guidelines does not breach Marie's rights.
Putting aside the inevitable coldness and lack of empathy in the State's arguments, it is missing the fundamental point that human rights apply to individuals persons, not groups of people.
It is ethically disproportionate to deny a specific person a fundamental human right, because of fears that a different person might break the law if the right is granted.
Clearly we must have legal safeguards to prevent depressed people from needlessly committing suicide. Clearly we must have legal safeguards to prevent people from pressurizing elderly people to die earlier than they want to.
But, in the specific case of a rational person, who is suffering from a terminal or serious illness, and who has decided to the satisfaction of medical professionals that she wants to die with dignity, there is no reason to force her to stay alive against her wishes.
Right to Die Ireland
Tom Curran is a personal friend of mine. He chairs the Irish branch of Exit International, which supports other Irish people facing this dilemma.
Last year, Tom and I and civil rights activist Mairin de Burca decided to establish a lobby group to seek legislative change in Ireland on this issue.
With Tom now focusing full time on supporting Marie, I and Mairin de Burca recently founded Right to Die Ireland, which already has more than 600 supporters on our Facebook page.
Right to Die Ireland is a support and lobbying group, protecting the right to live, respecting the right to die, and seeking to legalise assisted dying for terminally or seriously ill people in Ireland.
Right to Die Ireland will support the right of any person, who wants to continue to live, to do so with the best available medical care and love and dignity. Nobody should feel pressurized in any way into feeling that they should die sooner than their natural death.
Right to Die Ireland will also support the right of any person, who is terminally or seriously ill and is thinking rationally, to choose how and when to die peacefully and reliably, with the support and assistance of their loved ones and the medical profession and the law.
If you believe that rationally-thinking people, who are terminally or seriously ill, should have the right to choose whether to live or to die on their own terms, please join us in bringing compassion, dignity and respect to our loved ones at the end of their lives.
Coverage of Marie's Case
'That is not acceptable to me' – Marie Fleming asks High Court for help to die